Truck buyers have spoken. F-Series® Pickups are America's best-selling trucks 46 years straight. *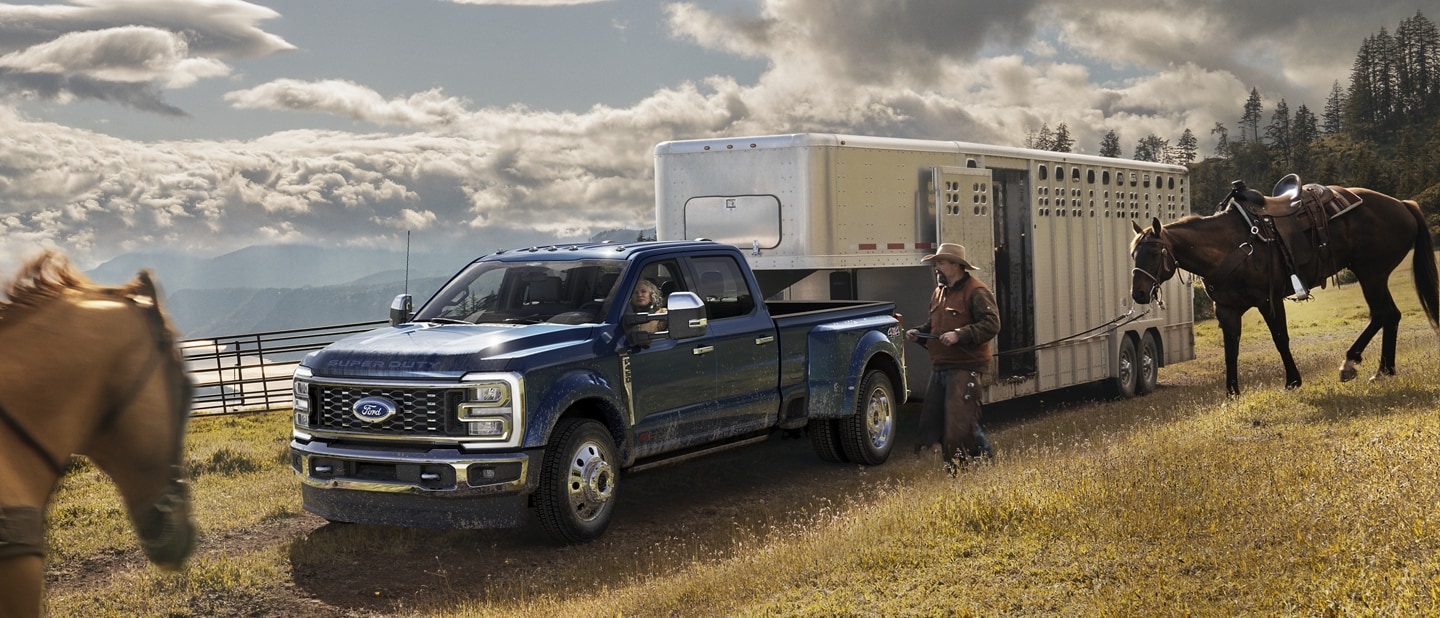 Models
Current Starting at MSRP
F-250® XL
6.8L 2-Valve DEVCT NA PFI V8 Gas Engine
TorqShift®-G 10-Speed Transmission
AdvanceTrac™ with RSC® (Roll Stability Control™) and Trailer Sway Control
Integrated Box Side Steps and Rear Corner Bumper Steps
5G Wi-Fi Connectivity
Trailer Brake Controller
SYNC® 4 With 8-Inch LCD Touchscreen
F-350® XL
6.8L 2-Valve DEVCT NA PFI V8 Gas Engine
TorqShift®-G 10-Speed Transmission
AdvanceTrac™ with RSC® (Roll Stability Control™) and Trailer Sway Control
Integrated Box Side Steps and Rear Corner Bumper Steps
5G Wi-Fi Connectivity
Trailer Brake Controller
SYNC® 4 With 8-Inch LCD Touchscreen
F-450® XL
6.7L Valve OHV Power Stroke® V8 Turbo Diesel Engine
TorqShift® 10-Speed Transmission
AdvanceTrac™ With RSC® (Roll Stability Control™) and Trailer Sway Control
Integrated Box Side Steps and Rear Corner Bumper Steps
5G Wi-Fi Connectivity
SYNC® 4
F-250® XLT
8-Way Power Driver's Seat
Integrated Trailer Brake Controller
AdvanceTrac™ With RSC® (Roll Stability Control™) and Trailer Sway Control
Front Cloth 40/20/40 Split Bench Seats
Automatic High Beams Headlights
SYNC® 4 With 8-Inch LCD Touchscreen
F-350® XLT
8-Way Power Driver's Seat
Integrated Trailer Brake Controller
AdvanceTrac™ With RSC® (Roll Stability Control™) and Trailer Sway Control
Front Cloth 40/20/40 Split Bench Seats
Automatic High Beams Headlights
SYNC® 4 With 8-Inch LCD Touchscreen
F-450® XLT
8-Way Power Driver's Seat
Integrated Trailer Brake Controller
AdvanceTrac™ With RSC® (Roll Stability Control™) and Trailer Sway Control
Front Cloth 40/20/40 Split Bench Seats
Automatic High Beam Headlights
SYNC® 4 With 8-Inch LCD Touchscreen
F-250® LARIAT
Power Driver and Passenger Leather-Trimmed Front Heated/Ventilated Seats
PowerScope® Trailer Tow Mirrors
LED Reflector Headlamps
Heated Steering Wheel
360-Degree Camera Package
Digital Instrument Cluster
SYNC® 4 With 12-Inch LCD Touchscreen
F-350® LARIAT
Power Driver and Passenger Leather-Trimmed Front Heated/Ventilated Seats
PowerScope® Trailer Tow Mirrors
LED Reflector Headlamps
Heated Steering Wheel
360-Degree Camera Package
Digital Instrument Cluster
SYNC® 4 With 12-Inch LCD Touchscreen
F-450® LARIAT
Power Driver and Passenger Leather-Trimmed Front Heated/Ventilated Seats
PowerScope® Trailer Tow Mirrors
LED Reflector Headlamps
Heated Steering Wheel
360-Degree Camera Package
Digital Instrument Cluster
SYNC® 4 With 12-Inch LCD Touchscreen
F-250® King Ranch®
Kingsville Antique Affect Leather Interior
20-inch Bright-Machined Cast-Aluminum Wheels With Unique King Ranch® Center Cap (SRW)
B&O® Unleashed Sound System by Bang & Olufsen® with HD Radio™ (14 Speakers Including Subwoofer)
Ford Co-Pilot360™ 2.0
Onboard Scales with Smart Hitch
Pro Trailer Backup Assist™, Trailer Reverse Guidance and Pro Trailer Hitch Assist™
Power Tailgate with Tailgate Down Camera, Reverse Sensing System, Tailgate Step and King Ranch® Chrome Appliqué
2.0 kW Pro Power Onboard
12-Inch Digital Instrument Cluster With Head-Up Display
F-350® King Ranch®
Kingsville Antique Affect Leather Interior
20-inch Bright-Machined Cast-Aluminum Wheels With Unique King Ranch® Center Cap (SRW)
B&O® Unleashed Sound System by Bang & Olufsen® with HD Radio™ (14 Speakers Including Subwoofer)
Ford Co-Pilot360™ 2.0
Onboard Scales with Smart Hitch
Pro Trailer Backup Assist™, Trailer Reverse Guidance and Pro Trailer Hitch Assist™
Power Tailgate with Tailgate Down Camera, Reverse Sensing System, Tailgate Step and King Ranch® Chrome Appliqué
2.0 kW Pro Power Onboard
12-Inch Digital Instrument Cluster With Head-Up Display
F-450® King Ranch®
Kingsville Antique Affect Leather Interior
20-inch Bright-Machined Cast-Aluminum Wheels With Unique King Ranch® Center Cap (SRW)
B&O® Unleashed Sound System by Bang & Olufsen® with HD Radio™ (14 Speakers Including Subwoofer)
Ford Co-Pilot360™ 2.0
Onboard Scales with Smart Hitch
Pro Trailer Backup Assist™, Trailer Reverse Guidance and Pro Trailer Hitch Assist™
Power Tailgate with Tailgate Down Camera, Reverse Sensing System, Tailgate Step and King Ranch® Chrome Appliqué
2.0 kW Pro Power Onboard
12-Inch Digital Instrument Cluster With Head-Up Display
F-250® Platinum
Power Deployable Running Boards
B&O® Unleashed Sound System by Bang & Olufsen® with HD Radio™ (14 Speakers Including Subwoofer)
Heated/Ventilated Driver and Passenger seats
Onboard Scales with Smart Hitch
Power Tailgate w/Tailgate Down Camera, Reverse Sensing System, Tailgate Step and Platinum Satin Chrome Appliqué
12-inch Digital Instrument Cluster With Head-Up Display
LED Projector Headlamps and LED Taillamps
2.0 kW Pro Power Onboard
F-350® Platinum
Power Deployable Running Boards
B&O® Unleashed Sound System by Bang & Olufsen® with HD Radio™ (14 Speakers Including Subwoofer)
Heated/Ventilated Driver and Passenger seats
Onboard Scales with Smart Hitch
Power Tailgate w/Tailgate Down Camera, Reverse Sensing System, Tailgate Step and Platinum Satin Chrome Appliqué
12-inch Digital Instrument Cluster With Head-Up Display
LED Projector Headlamps and LED Taillamps
2.0 kW Pro Power Onboard
F-450® Platinum
Power Deployable Running Boards
B&O® Unleashed Sound System by Bang & Olufsen® with HD Radio™ (14 Speakers Including Subwoofer)
Heated/Ventilated Driver and Passenger seats
Onboard Scales with Smart Hitch
Power Tailgate w/Tailgate Down Camera, Reverse Sensing System, Tailgate Step and Platinum Satin Chrome Appliqué
12-inch Digital Instrument Cluster With Head-Up Display
LED Projector Headlamps and LED Taillamps
2.0 kW Pro Power Onboard
F-250® Limited
6.7L High Output Power Stroke® V8 Turbo Diesel Engine
Onboard Scales with Smart Hitch
LED Projector Headlamps and LED Taillamps
Unique Two-Tone Limited Admiral Blue/Light Slate Leather Seats
Heated/Ventilated Driver and Passenger Seats
Power Twin-Panel Moonroof
Power Deployable Running Boards
Power Tailgate with Tailgate Camera, Reverse Sensing System, Tailgate Step and Limited Satin Chrome Appliqué
12-Inch Digital Instrument Cluster With Head-Up Display
2.0 kW Pro Power Onboard
F-350® Limited
6.7L High Output Power Stroke® V8 Turbo Diesel Engine
Onboard Scales with Smart Hitch
LED Projector Headlamps and LED Taillamps
Unique Two-Tone Limited Admiral Blue/Light Slate Leather Seats
Heated/Ventilated Driver and Passenger Seats
Power Twin-Panel Moonroof
Power Deployable Running Boards
Power Tailgate with Tailgate Camera, Reverse Sensing System, Tailgate Step and Limited Satin Chrome Appliqué
12-Inch Digital Instrument Cluster With Head-Up Display
2.0 kW Pro Power Onboard
F-450® Limited
6.7L High Output Power Stroke® V8 Turbo Diesel Engine
Onboard Scales with Smart Hitch
LED Projector Headlamps and LED Taillamps
Unique Two-Tone Limited Admiral Blue/Light Slate Leather Seats
Heated/Ventilated Driver and Passenger Seats
Power Twin-Panel Moonroof
Power Deployable Running Boards
Power Tailgate with Tailgate Camera, Reverse Sensing System, Tailgate Step and Limited Satin Chrome Appliqué
12-Inch Digital Instrument Cluster With Head-Up Display
2.0 kW Pro Power Onboard
6.8L 2-Valve DEVCT NA PFI V8 Gas Engine
TorqShift®-G 10-Speed Transmission
AdvanceTrac™ with RSC® (Roll Stability Control™) and Trailer Sway Control
Integrated Box Side Steps and Rear Corner Bumper Steps
5G Wi-Fi Connectivity
Trailer Brake Controller
SYNC® 4 With 8-Inch LCD Touchscreen
6.8L 2-Valve DEVCT NA PFI V8 Gas Engine
TorqShift®-G 10-Speed Transmission
AdvanceTrac™ with RSC® (Roll Stability Control™) and Trailer Sway Control
Integrated Box Side Steps and Rear Corner Bumper Steps
5G Wi-Fi Connectivity
Trailer Brake Controller
SYNC® 4 With 8-Inch LCD Touchscreen
6.7L Valve OHV Power Stroke® V8 Turbo Diesel Engine
TorqShift® 10-Speed Transmission
AdvanceTrac™ With RSC® (Roll Stability Control™) and Trailer Sway Control
Integrated Box Side Steps and Rear Corner Bumper Steps
5G Wi-Fi Connectivity
SYNC® 4
8-Way Power Driver's Seat
Integrated Trailer Brake Controller
AdvanceTrac™ With RSC® (Roll Stability Control™) and Trailer Sway Control
Front Cloth 40/20/40 Split Bench Seats
Automatic High Beams Headlights
SYNC® 4 With 8-Inch LCD Touchscreen
8-Way Power Driver's Seat
Integrated Trailer Brake Controller
AdvanceTrac™ With RSC® (Roll Stability Control™) and Trailer Sway Control
Front Cloth 40/20/40 Split Bench Seats
Automatic High Beams Headlights
SYNC® 4 With 8-Inch LCD Touchscreen
8-Way Power Driver's Seat
Integrated Trailer Brake Controller
AdvanceTrac™ With RSC® (Roll Stability Control™) and Trailer Sway Control
Front Cloth 40/20/40 Split Bench Seats
Automatic High Beam Headlights
SYNC® 4 With 8-Inch LCD Touchscreen
Power Driver and Passenger Leather-Trimmed Front Heated/Ventilated Seats
PowerScope® Trailer Tow Mirrors
LED Reflector Headlamps
Heated Steering Wheel
360-Degree Camera Package
Digital Instrument Cluster
SYNC® 4 With 12-Inch LCD Touchscreen
Power Driver and Passenger Leather-Trimmed Front Heated/Ventilated Seats
PowerScope® Trailer Tow Mirrors
LED Reflector Headlamps
Heated Steering Wheel
360-Degree Camera Package
Digital Instrument Cluster
SYNC® 4 With 12-Inch LCD Touchscreen
Power Driver and Passenger Leather-Trimmed Front Heated/Ventilated Seats
PowerScope® Trailer Tow Mirrors
LED Reflector Headlamps
Heated Steering Wheel
360-Degree Camera Package
Digital Instrument Cluster
SYNC® 4 With 12-Inch LCD Touchscreen
Kingsville Antique Affect Leather Interior
20-inch Bright-Machined Cast-Aluminum Wheels With Unique King Ranch® Center Cap (SRW)
B&O® Unleashed Sound System by Bang & Olufsen® with HD Radio™ (14 Speakers Including Subwoofer)
Ford Co-Pilot360™ 2.0
Onboard Scales with Smart Hitch
Pro Trailer Backup Assist™, Trailer Reverse Guidance and Pro Trailer Hitch Assist™
Power Tailgate with Tailgate Down Camera, Reverse Sensing System, Tailgate Step and King Ranch® Chrome Appliqué
2.0 kW Pro Power Onboard
12-Inch Digital Instrument Cluster With Head-Up Display
Kingsville Antique Affect Leather Interior
20-inch Bright-Machined Cast-Aluminum Wheels With Unique King Ranch® Center Cap (SRW)
B&O® Unleashed Sound System by Bang & Olufsen® with HD Radio™ (14 Speakers Including Subwoofer)
Ford Co-Pilot360™ 2.0
Onboard Scales with Smart Hitch
Pro Trailer Backup Assist™, Trailer Reverse Guidance and Pro Trailer Hitch Assist™
Power Tailgate with Tailgate Down Camera, Reverse Sensing System, Tailgate Step and King Ranch® Chrome Appliqué
2.0 kW Pro Power Onboard
12-Inch Digital Instrument Cluster With Head-Up Display
Kingsville Antique Affect Leather Interior
20-inch Bright-Machined Cast-Aluminum Wheels With Unique King Ranch® Center Cap (SRW)
B&O® Unleashed Sound System by Bang & Olufsen® with HD Radio™ (14 Speakers Including Subwoofer)
Ford Co-Pilot360™ 2.0
Onboard Scales with Smart Hitch
Pro Trailer Backup Assist™, Trailer Reverse Guidance and Pro Trailer Hitch Assist™
Power Tailgate with Tailgate Down Camera, Reverse Sensing System, Tailgate Step and King Ranch® Chrome Appliqué
2.0 kW Pro Power Onboard
12-Inch Digital Instrument Cluster With Head-Up Display
Power Deployable Running Boards
B&O® Unleashed Sound System by Bang & Olufsen® with HD Radio™ (14 Speakers Including Subwoofer)
Heated/Ventilated Driver and Passenger seats
Onboard Scales with Smart Hitch
Power Tailgate w/Tailgate Down Camera, Reverse Sensing System, Tailgate Step and Platinum Satin Chrome Appliqué
12-inch Digital Instrument Cluster With Head-Up Display
LED Projector Headlamps and LED Taillamps
2.0 kW Pro Power Onboard
Power Deployable Running Boards
B&O® Unleashed Sound System by Bang & Olufsen® with HD Radio™ (14 Speakers Including Subwoofer)
Heated/Ventilated Driver and Passenger seats
Onboard Scales with Smart Hitch
Power Tailgate w/Tailgate Down Camera, Reverse Sensing System, Tailgate Step and Platinum Satin Chrome Appliqué
12-inch Digital Instrument Cluster With Head-Up Display
LED Projector Headlamps and LED Taillamps
2.0 kW Pro Power Onboard
Power Deployable Running Boards
B&O® Unleashed Sound System by Bang & Olufsen® with HD Radio™ (14 Speakers Including Subwoofer)
Heated/Ventilated Driver and Passenger seats
Onboard Scales with Smart Hitch
Power Tailgate w/Tailgate Down Camera, Reverse Sensing System, Tailgate Step and Platinum Satin Chrome Appliqué
12-inch Digital Instrument Cluster With Head-Up Display
LED Projector Headlamps and LED Taillamps
2.0 kW Pro Power Onboard
6.7L High Output Power Stroke® V8 Turbo Diesel Engine
Onboard Scales with Smart Hitch
LED Projector Headlamps and LED Taillamps
Unique Two-Tone Limited Admiral Blue/Light Slate Leather Seats
Heated/Ventilated Driver and Passenger Seats
Power Twin-Panel Moonroof
Power Deployable Running Boards
Power Tailgate with Tailgate Camera, Reverse Sensing System, Tailgate Step and Limited Satin Chrome Appliqué
12-Inch Digital Instrument Cluster With Head-Up Display
2.0 kW Pro Power Onboard
6.7L High Output Power Stroke® V8 Turbo Diesel Engine
Onboard Scales with Smart Hitch
LED Projector Headlamps and LED Taillamps
Unique Two-Tone Limited Admiral Blue/Light Slate Leather Seats
Heated/Ventilated Driver and Passenger Seats
Power Twin-Panel Moonroof
Power Deployable Running Boards
Power Tailgate with Tailgate Camera, Reverse Sensing System, Tailgate Step and Limited Satin Chrome Appliqué
12-Inch Digital Instrument Cluster With Head-Up Display
2.0 kW Pro Power Onboard
6.7L High Output Power Stroke® V8 Turbo Diesel Engine
Onboard Scales with Smart Hitch
LED Projector Headlamps and LED Taillamps
Unique Two-Tone Limited Admiral Blue/Light Slate Leather Seats
Heated/Ventilated Driver and Passenger Seats
Power Twin-Panel Moonroof
Power Deployable Running Boards
Power Tailgate with Tailgate Camera, Reverse Sensing System, Tailgate Step and Limited Satin Chrome Appliqué
12-Inch Digital Instrument Cluster With Head-Up Display
2.0 kW Pro Power Onboard
Performance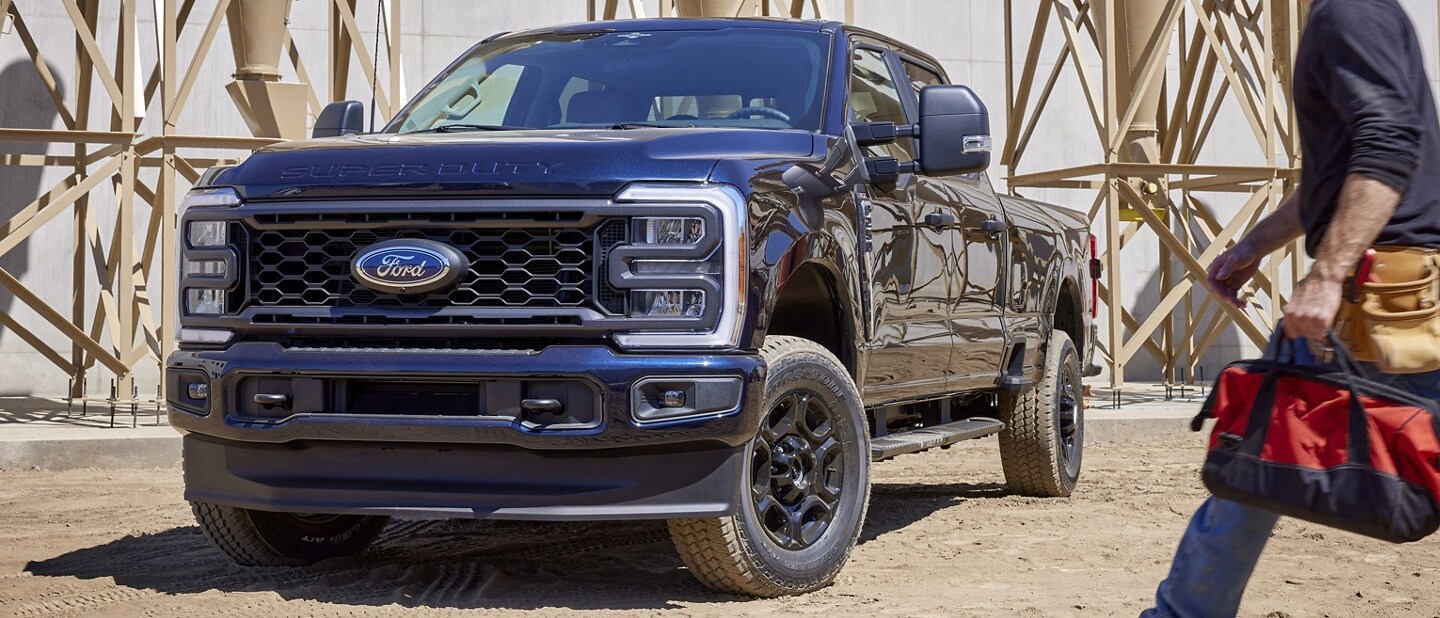 Design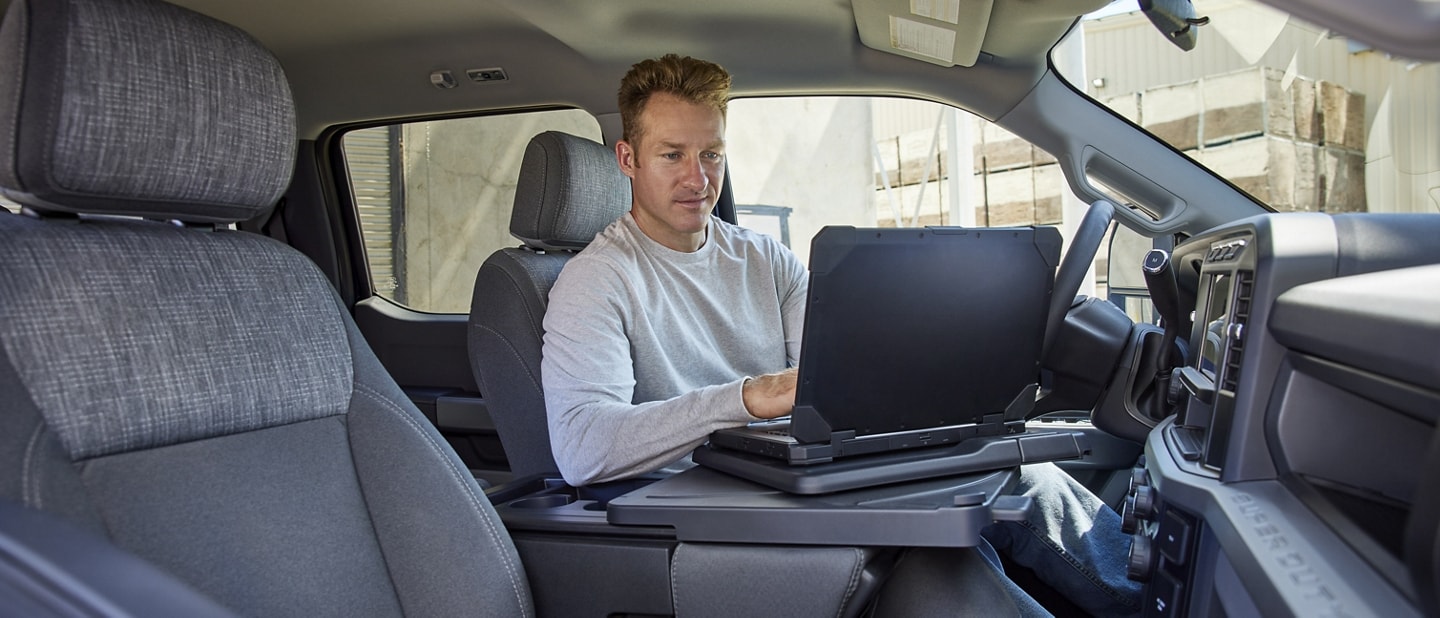 Design That Works For You
Super Duty® pickups never stop working because every feature is purposely designed — to keep productivity moving and make your life a little easier.
...less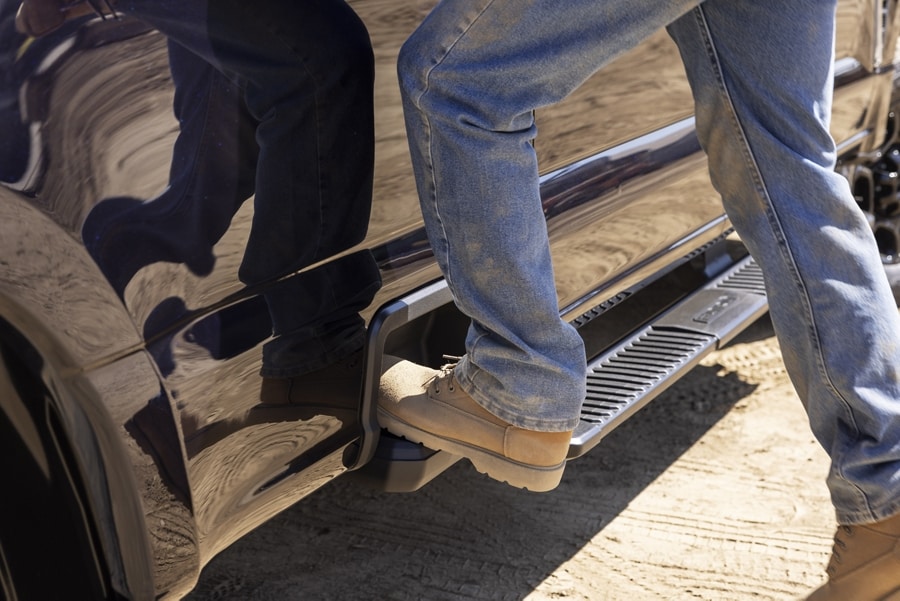 Integrated Box-Side Step & Rear Corner Bumper Step
We've fitted extra-wide molded corner steps to the outside of the truck bed so you'll have a step up to easily and comfortably access items in the truck bed.
...less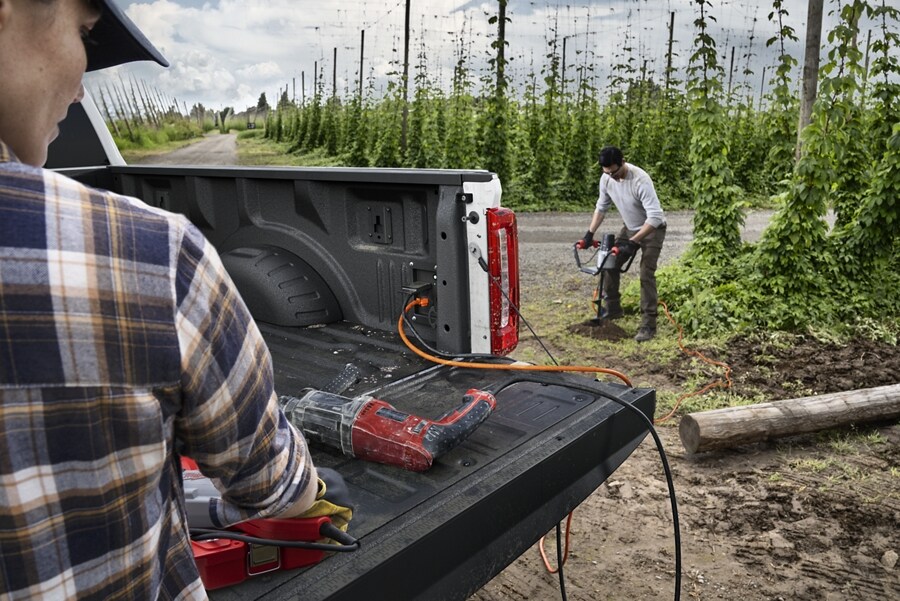 Pro Power Onboard
When there's no outlet in sight, simply plug-in and power up your miter saw, air compressor or whatever needs electrical power.
...less
Technology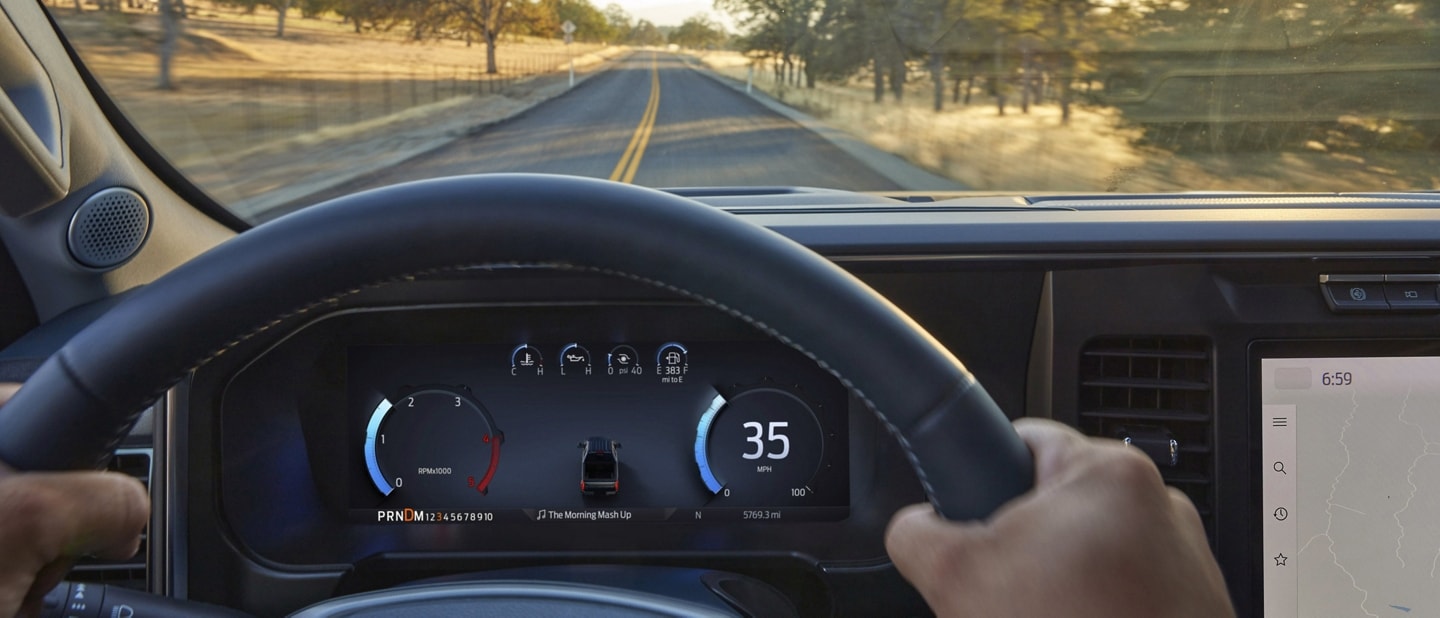 Digital Instrument Cluster
Customize the digital cluster display to fit your driving and trailering needs. Vivid high-res graphics offer clear visuals for easy viewing and functionality.
...less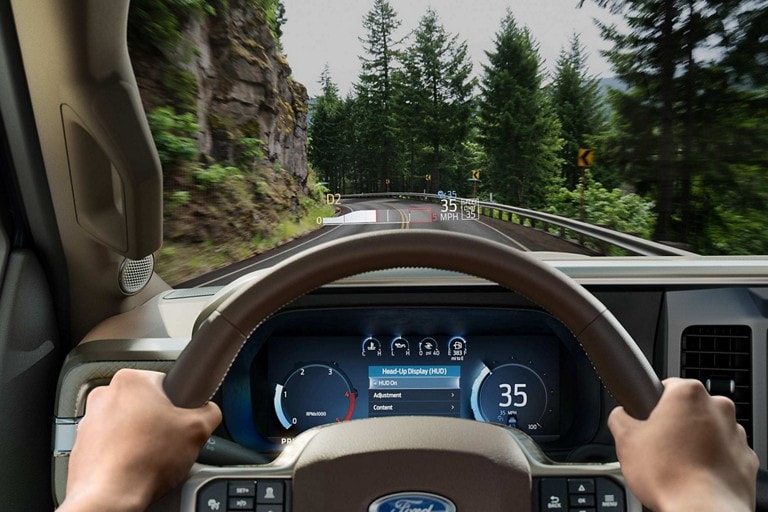 Head-Up Display
Clear yet non-obstructive driver information is projected on to the windshield.
...less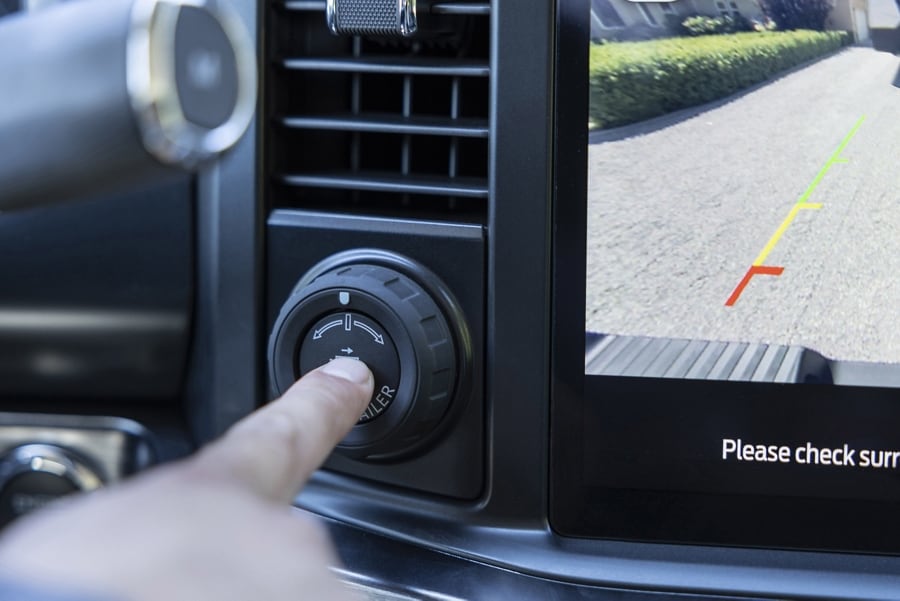 Pro Trailer Hitch Assist
Super Duty® trucks towing tech has made hooking up a conventional trailer simple with automatically controlled steering and braking.
...less
FAQs
How much is the max towing weight capacity?
What is the maximum payload weight capacity?
What are the dimensions of the Super Duty®?
Which Super Duty® trucks come with a diesel engine?
What engines are available on the Super Duty®?