Gets Things Done for Those Who Do
There's one truck in America that is the tool of choice for how we get things done. Designed for you – the farmer, the professional, the business owner. Work time or overtime, its capability is like never before.
...less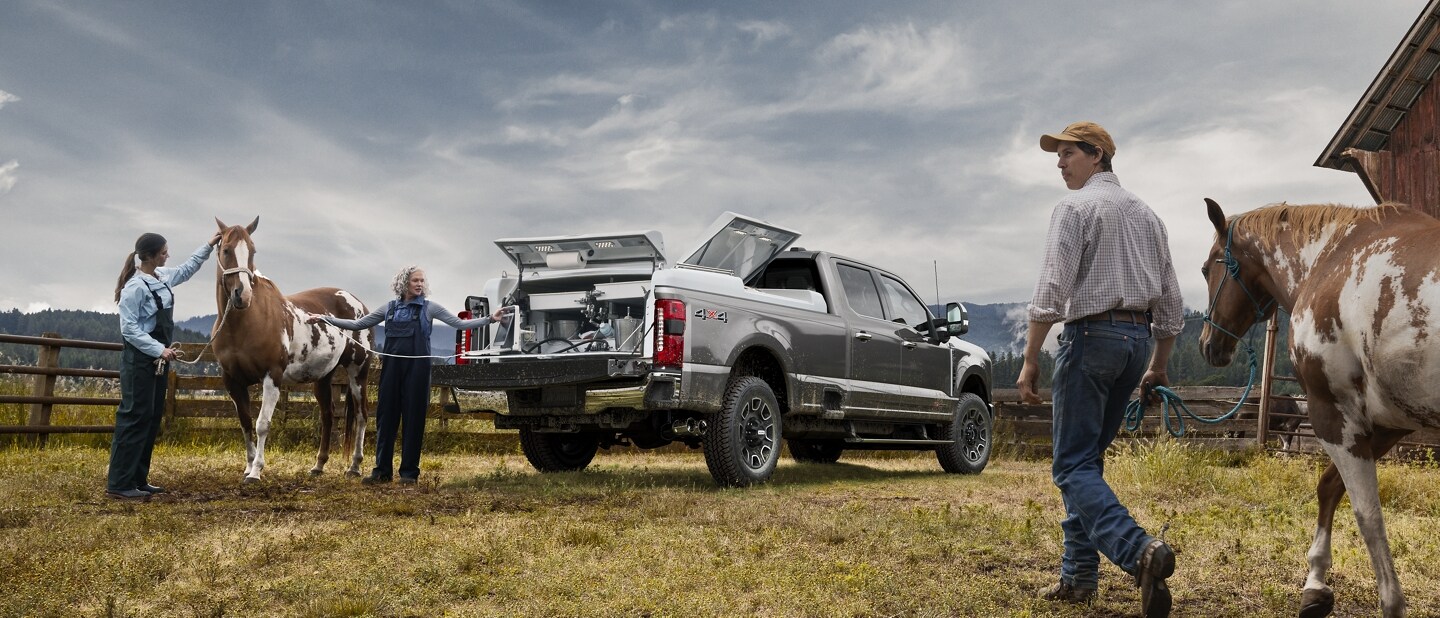 Powerful, Intelligent and Ridiculously Capable
It's our most capable and smartest Super Duty® pickup ever. With cutting-edge technology to make towing things go smoother. And more colossal power. Courtesy of the new, available best-in-class available 500 horsepower* 6.7L High-Output Power Stroke® Turbo Diesel engine offering the most horsepower ever in Super Duty,** elevating your towing and hauling to new heights.
...less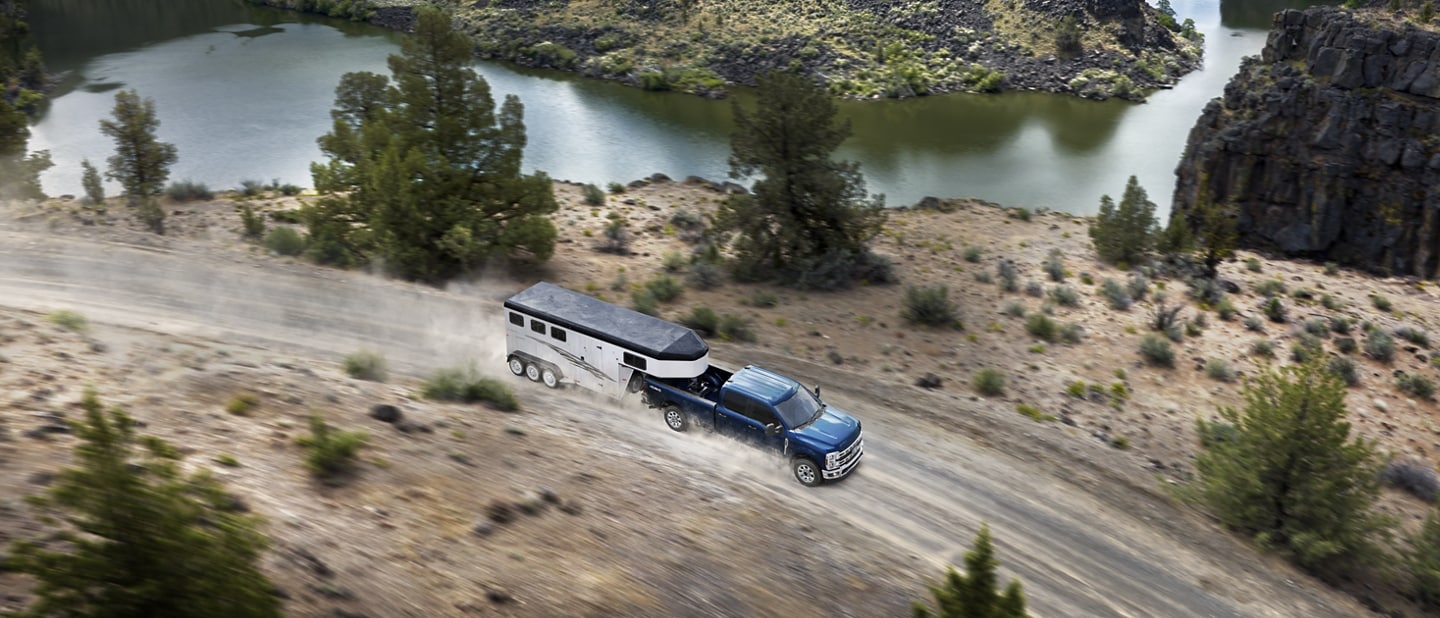 Purposeful Tech Powers Your Productivity
As Super Duty® trucks class-leading* capability have evolved, so have our advancements in towing technology. Refining and improving as quickly as your demands dictate. Simplify towing by introducing modern features like available Pro Trailer Hitch Assist and Smart Hitch to help ease those tough days of hitching and pulling.10
...less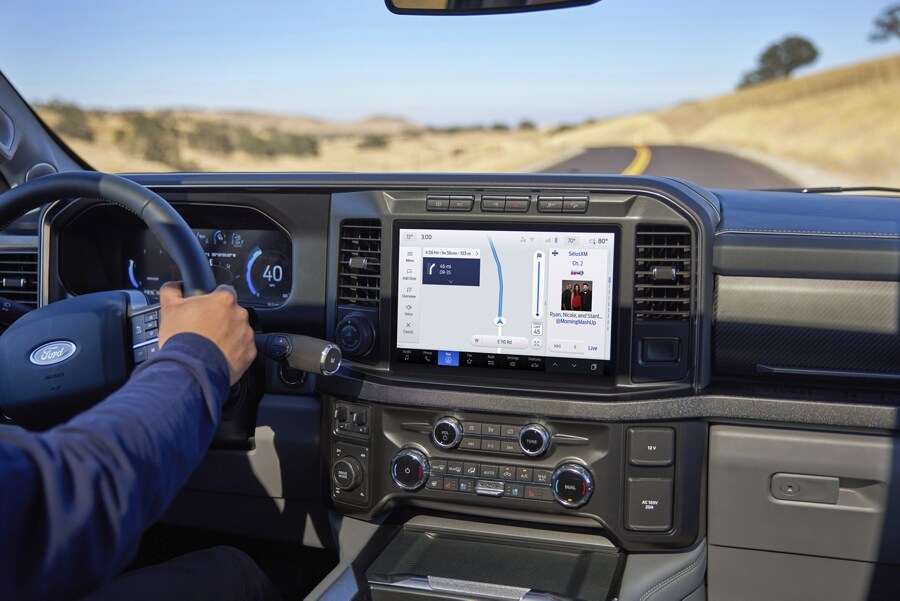 Trailer Navigation
Your work takes you down many roads. And with every unexpected obstacle, time is lost. Available Trailer Navigation* helps eliminate setbacks, because it keeps the size of your trailer in mind and adapts the route based on height and width clearances. So help you avoid jam-ups like low bridges and tight corners.10
...less
Preproduction model shown with available features.
*Available spring 2023.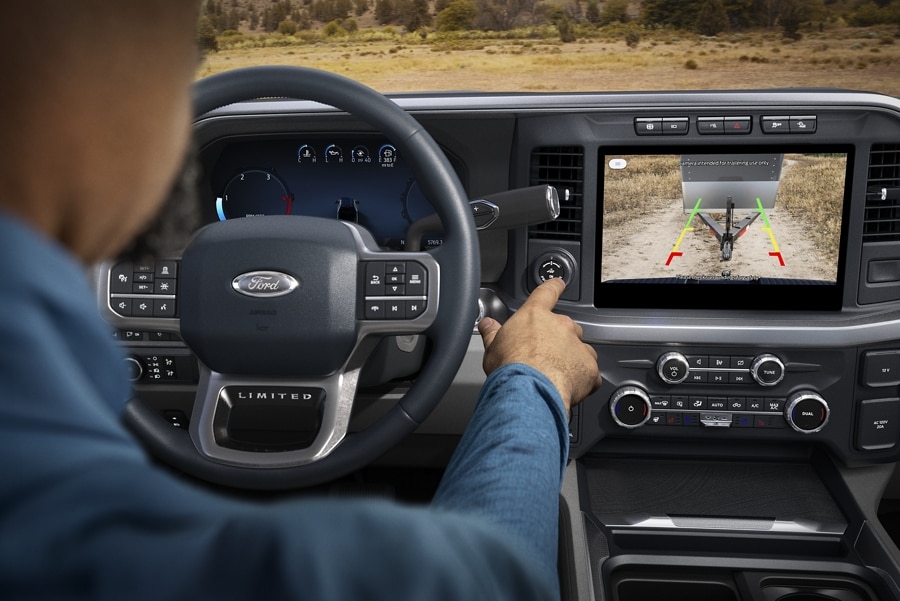 Truck Tech That Makes Hitching Easier
Who doesn't like a little convenience now and again? Regardless if you're hooking up to a flatbed trailer or backing an enclosed trailer into a tight spot, state-of-the-art features like available Pro Trailer Hitch Assist*10 and Pro Trailer Backup Assist* make it a lot simpler.
...less
Forward Thinking, Right Behind You
It takes more than a good idea to turn a tough day into an easy one. It takes a bed full. Super Duty® trucks offer ideas that help make every hard day on the job easier. So, we've giving you the stuff to make everyday tasks a lot easier. Find plenty of smartly-designed features in and around the truck bed.
...less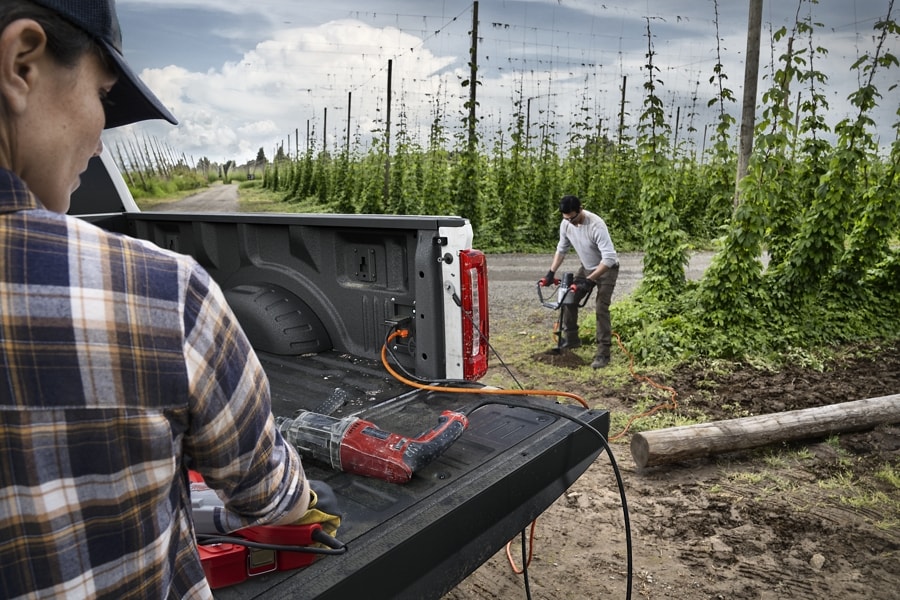 Pro Power Onboard: Power You Can Take With You
When there's no time for lag time, and there isn't an outlet to be found, you can still fire up your air compressor or miter saw. Built-in power from the available Pro Power Onboard* delivers up to 2 kW of electrical power.
...less
*See Owner's Manual for important operating instructions.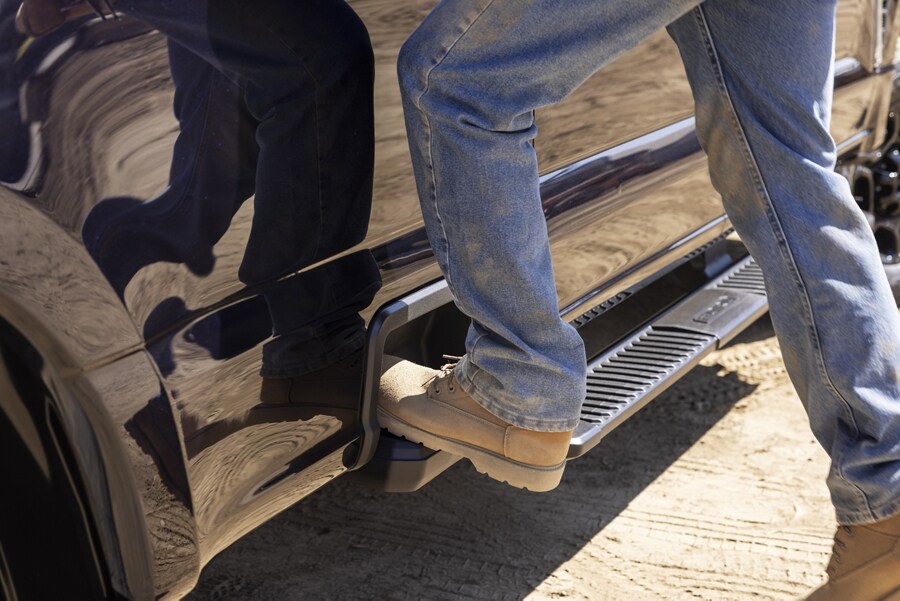 Stepping Up the Bed Game
The days of stretching and straining for stuff in the truck bed have ended. That's where integrated box side and rear bumper steps come in handy. Along with a newly designed available integrated tailgate step that's been lowered 3-inches from previous Super Duty® truck models.
...less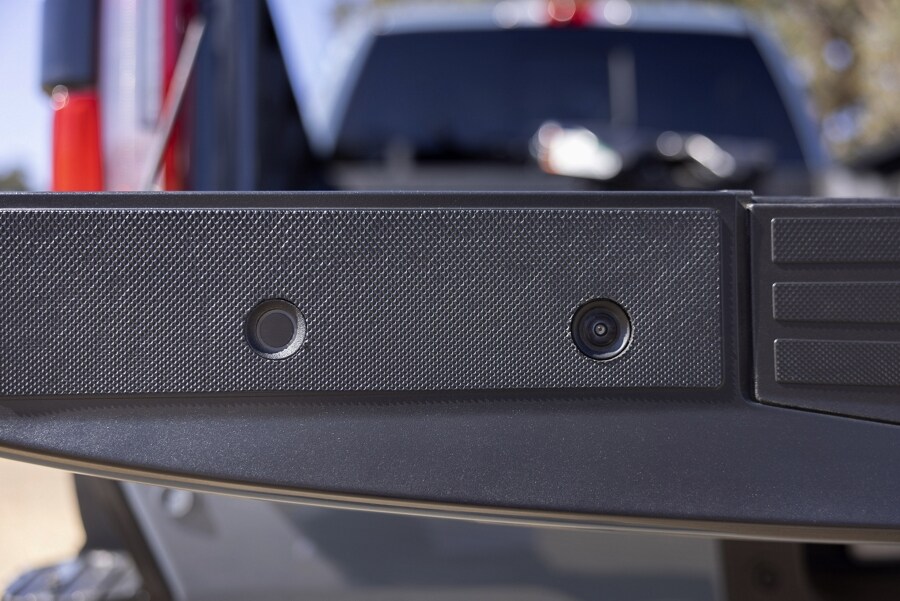 Power Tailgate With Tailgate Down Camera
An available power tailgate* features a built-in Tailgate Down Camera* that acts as an extra set of eyes when lowered. It can also be automatically raised and lowered with a simple nudge... or press of a button on either the key fob or inside the cab.
...less
*Requires 360-Degree Camera Package. Tailgate Down Camera functionality expected Spring 2023.
Whatever You Need It to Do, It Will
2023 Ford Super Duty® trucks are a lot of things. It's the work truck that's in it for the long haul. Or the heavy-duty recreation hauler to take the family and boat to wherever for much-needed R&R. Most of all, it's the truck you rely on day-in and day-out to be there when you need it most. Whether on the job or for recreation. Because that's what it's designed to do.
...less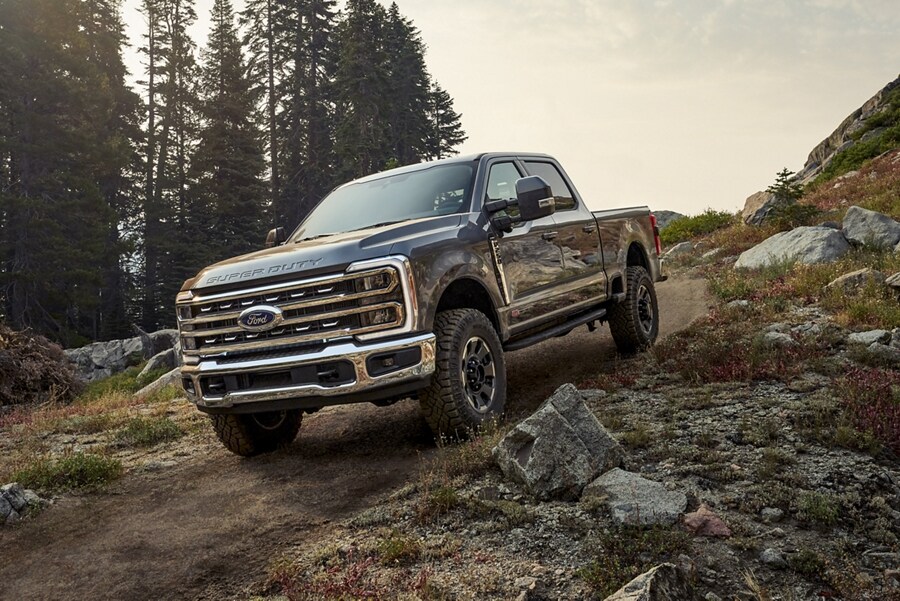 No Roads Required
Super Duty® trucks aren't just reserved for 9-to-5 use. The Ford Super Duty Tremor® Off-Road Package* comes ready to play. Rugged off-road features include 35-inch all-terrain tires and off-road-tuned front- and rear-suspension that will put you in the thick of things.
...less
Preproduction computer-generated image shown.
*Always consult the Owner's Manual before off-road driving, know your terrain and trail difficulty, and use appropriate safety gear.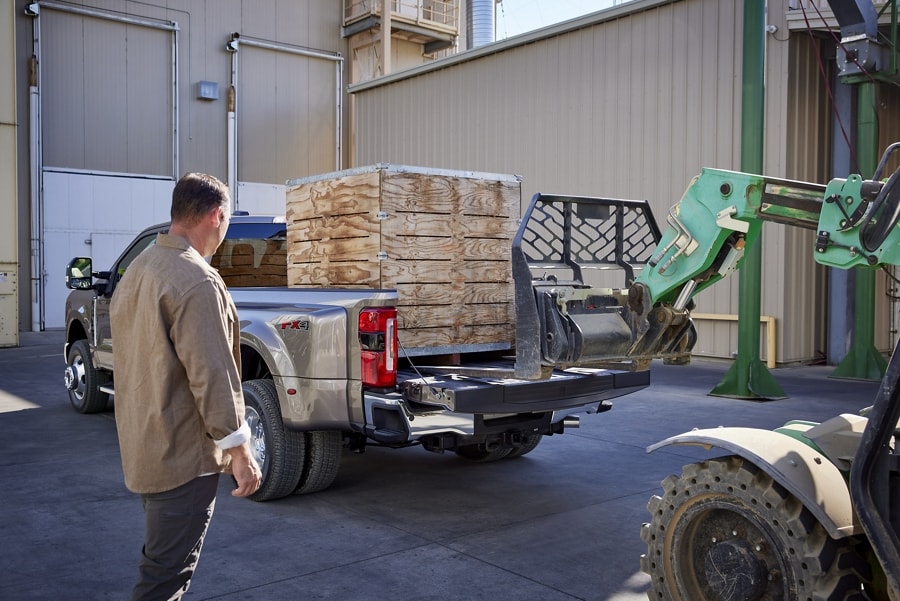 Power to Move Concrete and Steel... or One Big Camper
With our impressive collection of gas and diesel engines, Super Duty® trucks easily meet the demands of multiple commercial and personal needs. Including our most powerful Super Duty ever, * the 6.7L High-Output Power Stroke® V8 Turbo Diesel engine. Its best-in-class 500 horsepower/1,200 lb.-ft. of torque** churns out the kind of power used to build neighborhoods, or tow a very big camper.
...less
*500 horsepower at 2,600 RPM with available 6.7L High-Output Power Stroke® Diesel engine. Horsepower ratings determined based upon testing requirements prescribed in SAE J1349®. Your results may vary.
**Max. payload of 8,000 lbs. available on F-350® DRW Regular Cab 4X2 XL trim with gas Heavy-Duty Payload Package. Maximum payload is delivered when no additional options or accessories are added to this configuration. See label on door jamb for carrying capacity of a specific vehicle. Class is Full-Size Pickups over 8,500 lbs. GVWR.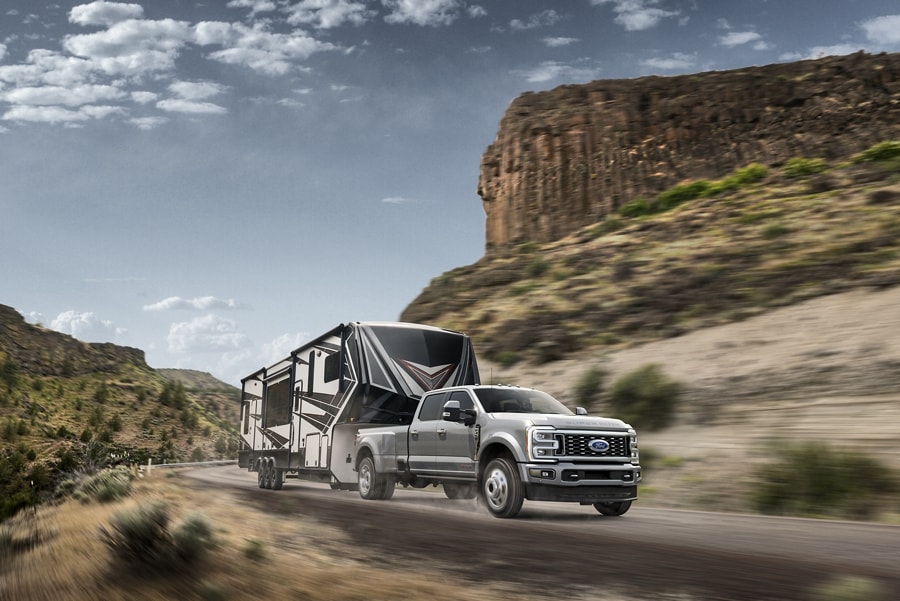 One Truck. A World of Capability.
BUILT FORD TOUGH® It's not just a slogan; it's an attitude that allows Super Duty® trucks stand out from the competition. It takes a high-strength, military-grade, aluminum-alloy body combined with a frame made of high-strength steel. This is the backbone of its impressive capability.
...less
Preproduction computer-generated image shown.
*Max horsepower and torque based on 6.7L High-Output Power Stroke® V8 Turbo Diesel engine. Class is Full-Size Pickups over 8,500 lbs. GVWR. Horsepower and torque ratings determined based upon testing requirements prescribed in SAE J1349®. Your results may vary. Horsepower and torque are independent attributes and may not be achieved simultaneously.
Details and Specs
Get all the Super Duty® truck details, dimensions, specs and more.
...less