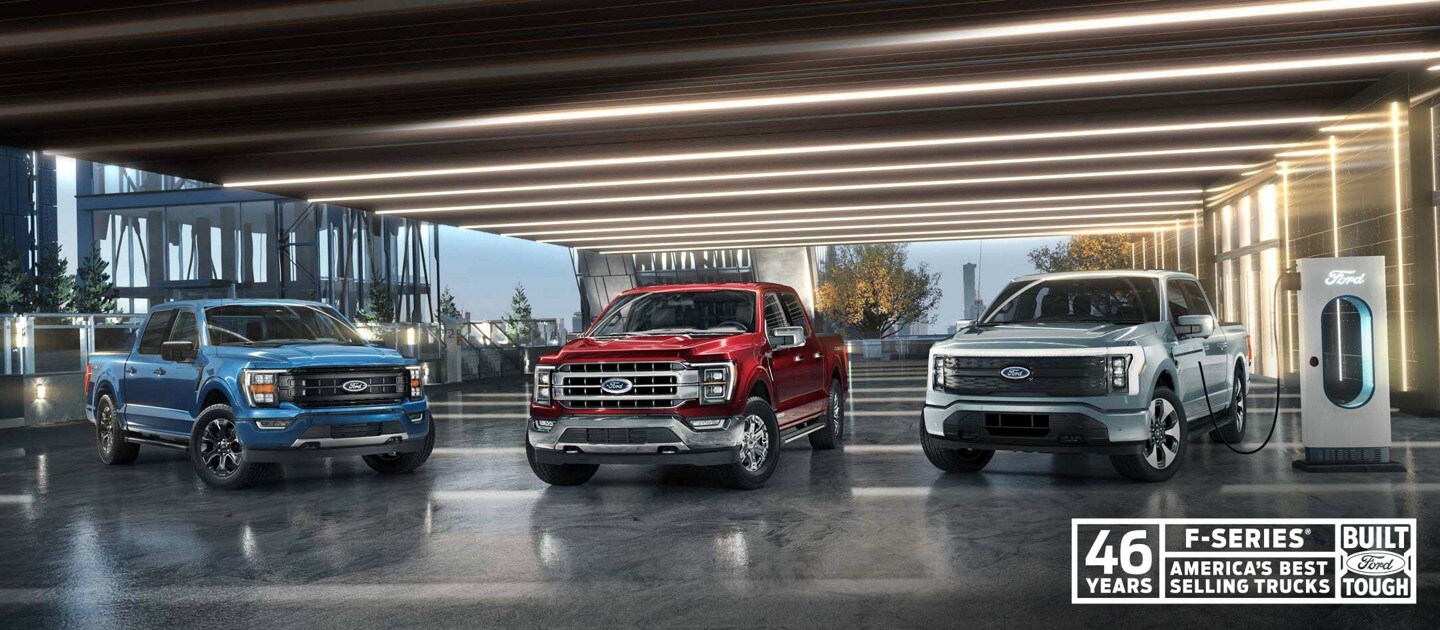 Introducing The F-150® Family
AMERICA'S BEST-SELLING TRUCKS
For the past four decades, we've carried this claim with pride: Ford F-Series–The best-selling trucks for 46 years. * But we couldn't have done it without you, and as you explore, you'll start to see why. And for the first time we have a full lineup of gas, hybrid and all-electric F-150® trucks in the family.
...less
GOOD LOOKS RUN IN THE FAMILY

You look out over every work site, every home improvement store, every boat launch. A sea of trucks. But you don't feel like one of the crowd – your F-150® pickup stands out from it – because you've got evolutionary design and a mountain of capability sitting under-foot. Its silhouette is confident and it's approach commanding. And you have 12 models to choose from – each designed to experience life in its own unique way. ...less

BOOT CAMP FOR TRUCKS

To get the rank of Built Ford Tough,® you have to endure the challenges of the most grueling tasks put forth – which our F-150® owners do on a daily basis. We also test our trucks in extreme conditions at temperatures ranging from subzero to searing heat. Towing heavy loads over steep inclines, teeth-rattling torture tests on bone-jarring terrains in merciless conditions. This truck proves that it can meet your toughest challenges. And once it has finished, it simply asks, "Is that all you got?" ...less

ANOTHER AWARD ADDED TO OUR TROPHY CASE

There are lot of benefits to owning an F-150® truck. Let us add one more impressive owner benefit that your wallet will appreciate. You may not know it, but the 2022 Ford F-150 earned the lowest 5-Year Cost to Own Award for overall brand according to Kelley Blue Book's KBB.com. * ...less
THE NEW 2023 F-150® RAPTOR R™

Ford F-150 Raptor R packs a power punch to the off-road market with a massive 700 horsepower, 640 lb.-ft. of torque and outstanding capability. Trimmed in ruggedly stylish accents and bold design, Raptor R is designed to take off-roading to a thrilling new level.

...less

ICONIC THEN AND NOW

Striking an ideal balance of classic and modern inspiration, Ford introduces the 2023 F-150® Heritage Edition pickup. Featuring contemporary craftmanship with timeless styling, state-of-the-art technology and legendary durability that is decades in the making. ...less

INTRODUCING THE NEW FORD F-150® RATTLER™

Bold styling and a collection of rugged features set the new Ford F-150® Rattler™ on its own path. Geared up to go beyond the pavement with confident capability and crafted with unique signature interior accents for refined toughness, the F-150® Rattler™ is more than ready to tackle the road less traveled. ...less

Tackling the toughest tasks is what separates our drivers from the rest. Taking what we designed and showing the world what can be accomplished by putting fears aside and heading in nose first. And we couldn't be prouder of that.
...less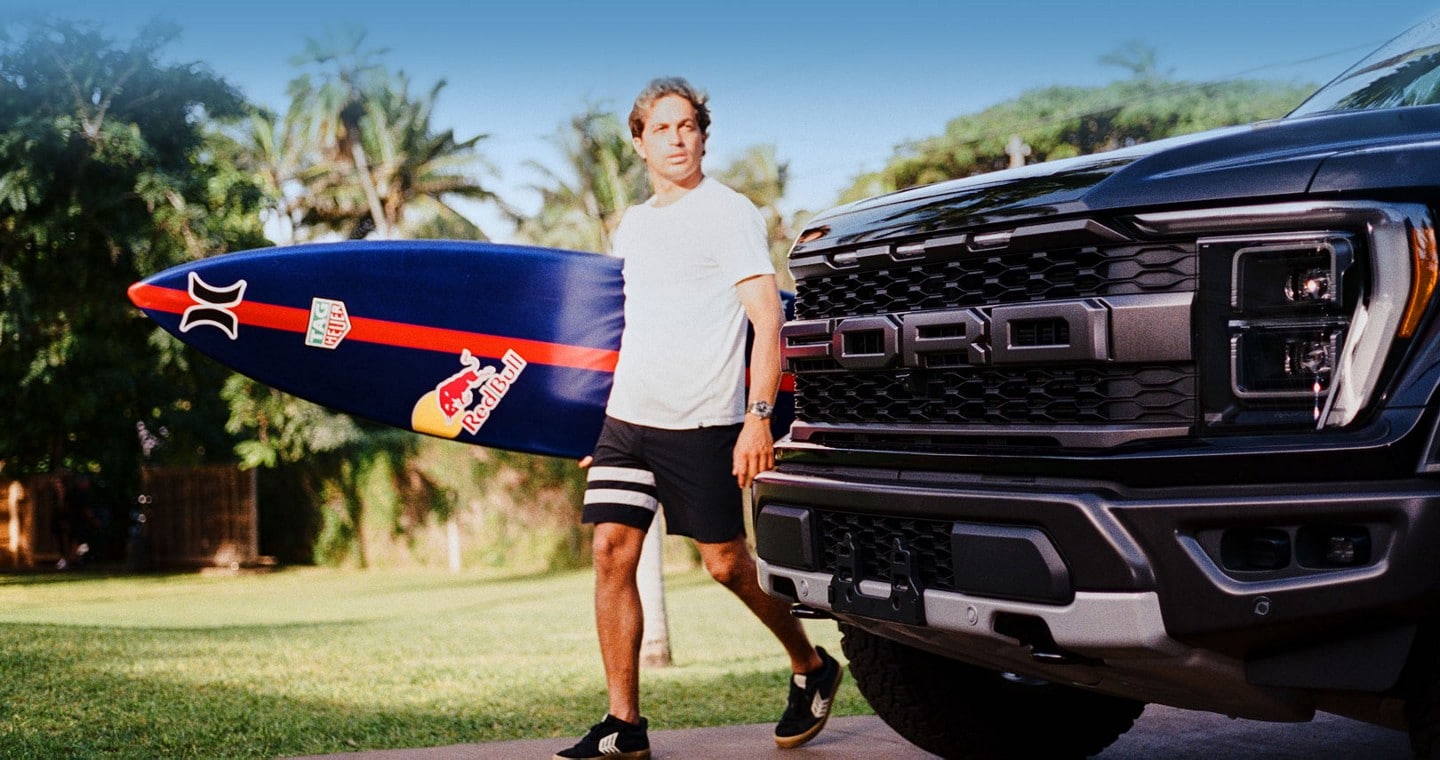 THERE'S AN F-150® TAILOR-MADE FOR YOU
It goes without saying, no matter which model you choose – gas powered, hybrid or the all-electric F-150 Lightning™ pickup–Built Ford Tough® comes standard. Whether you're an everyday working warrior or long-hauling weekend warrior, F-150 has you covered. The fresh, modern interior and ruggedly stylish exterior hit the right note whatever your lifestyle or working conditions entail. The toughest part? Choosing which one you park in your driveway.
...less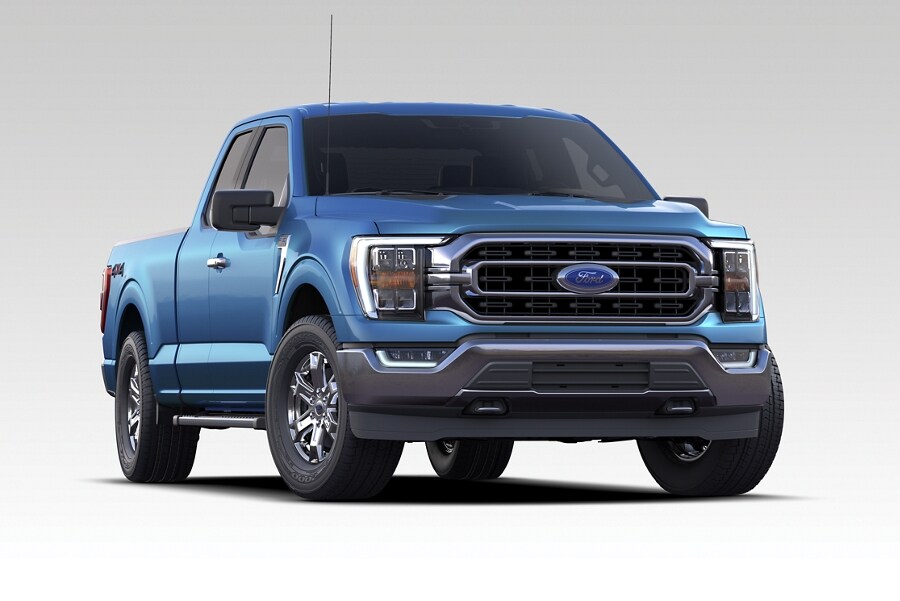 2023 F-150®
The one that started it all. The original get-it-done truck. Finely tuned intelligence and attractive, rugged design merged with premium-grade muscle helps you work smarter and play longer.
 
...less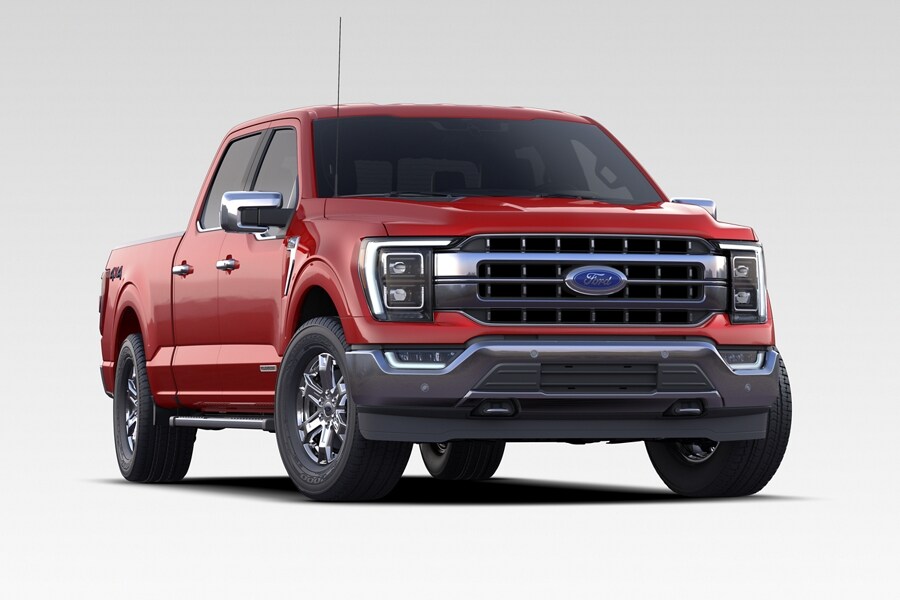 2023 F-150® POWERBOOST™ HYBRID
Retaining the durability and reliability you expect, the Ford F-150® PowerBoost™ Hybrid is designed for the long haul. Courtesy of a Full Hybrid V6 engine, you get impressive power and performance packed into one capable truck.
 
...less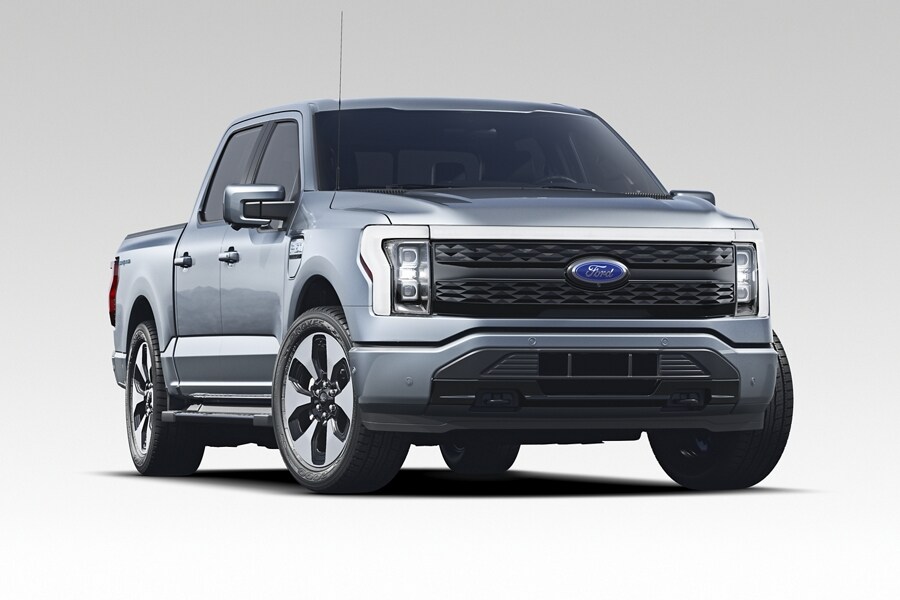 2023 F-150® LIGHTNING™
The all-electric Ford F-150® Lightning pickup is the only F-Series truck that's entirely gas-free and offers purposeful technology, exciting driving experiences – and legendary Built Ford Tough® capability. More importantly, the 2023 F-150 Lightning pickup is expected to be certified a zero-tailpipe-emissions vehicle. *
 
...less
WE KEEP GETTING BETTER WITH AGE
Times have changed but one thing has stood the test of time: the idea that one truck can symbolize American ingenuity. As a world-class innovator in automotive engineering, Ford continues to make advancements in truck modernization with intelligent towing and work oriented technology. Plus, the all-electric F-150® Lightning™ pickup is set to prove that a truck can be both tough enough and smart enough to carry the Ford name.
...less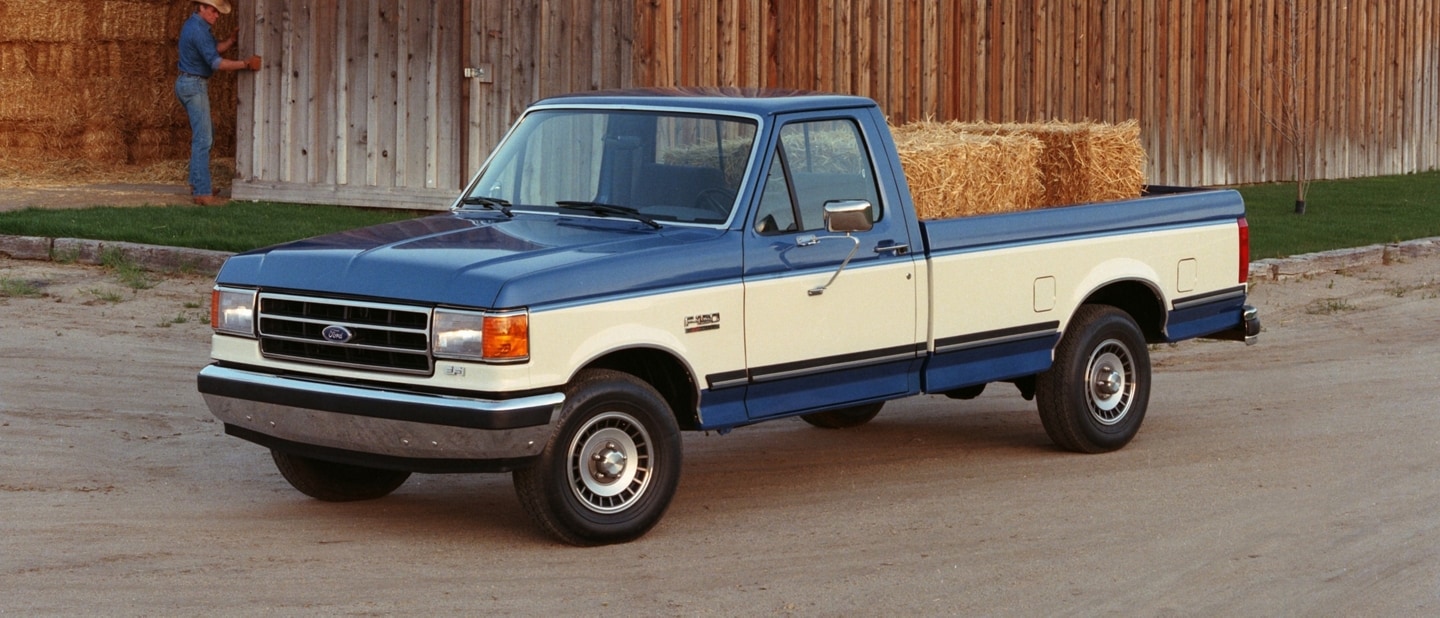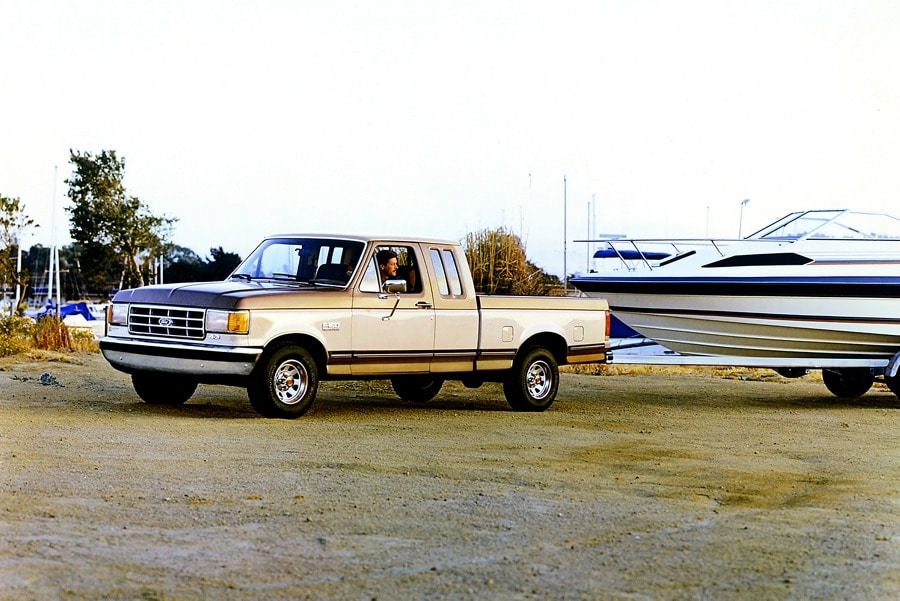 AS TOWING TECHNOLOGY EVOLVED, SO HAVE WE
Trailering back in the day was pretty basic. Hitch a trailer to your hitch ball and go. And if you had a Ford F-150® truck pulling it, you knew you had the capability to tow just about anything. Back then that's all the reassurance you needed. Since then we've introduced state-of-the-art towing features to help make all of your trailering requirements a lot easier.
...less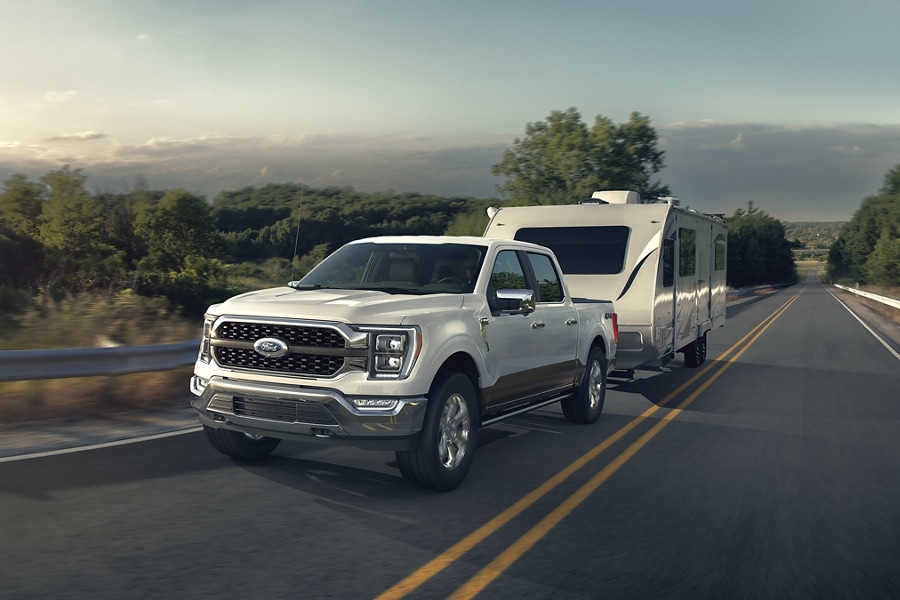 TODAY'S TOWING IS SO MUCH SIMPLER
Over the years we've put a lot of thought in how to improve towing other than enhancing its capacity – which we have. But also how you back up, hook up and maneuver your F-150® while towing a trailer, camper or boat. We've done it by developing and refining our engineering to create groundbreaking technology. And we'll continue to make advancements to meet all of your towing needs.
...less
WELCOME TO THE MODERN WORKSPACE
Your office doesn't have an address; it has a BlueOval™ mounted to the grille. While others may be searching for a power source or spilling their lunch over their laptop, the F-150® truck puts productivity at the forefront with clever design and ingenuity. It's the work truck that hardworking Americans have relied on for four decades.
...less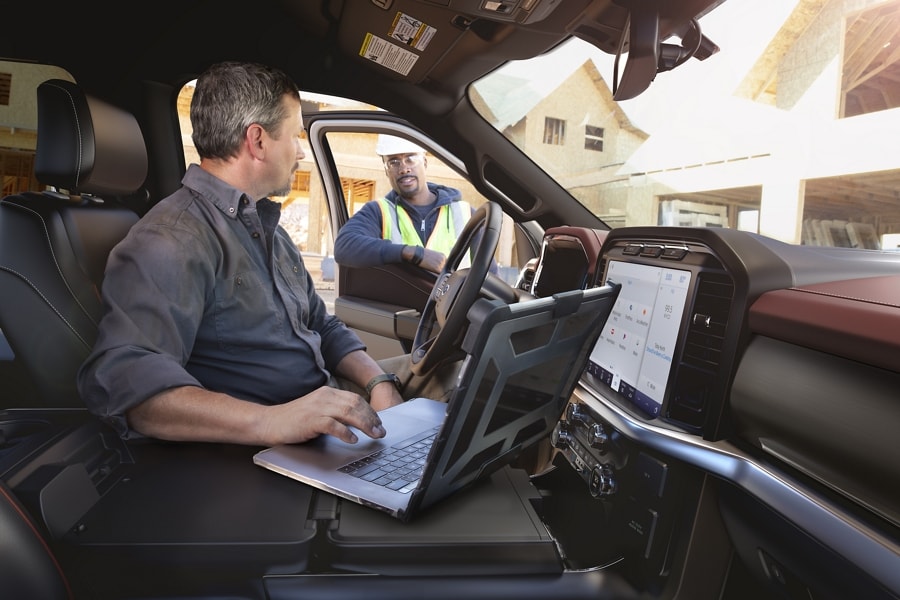 LIKE GOING TO THE OFFICE WITHOUT GOING TO THE OFFICE
You roll up on-site. That's your workplace for now, and then on to the next job. You don't have time to take phone calls with your feet up on a desk; you've got deadlines to meet and contracts to write up. Luckily, the F-150® pickup is equipped with the technology and amenities you need to get the job done. And that's the secret to your success.
...less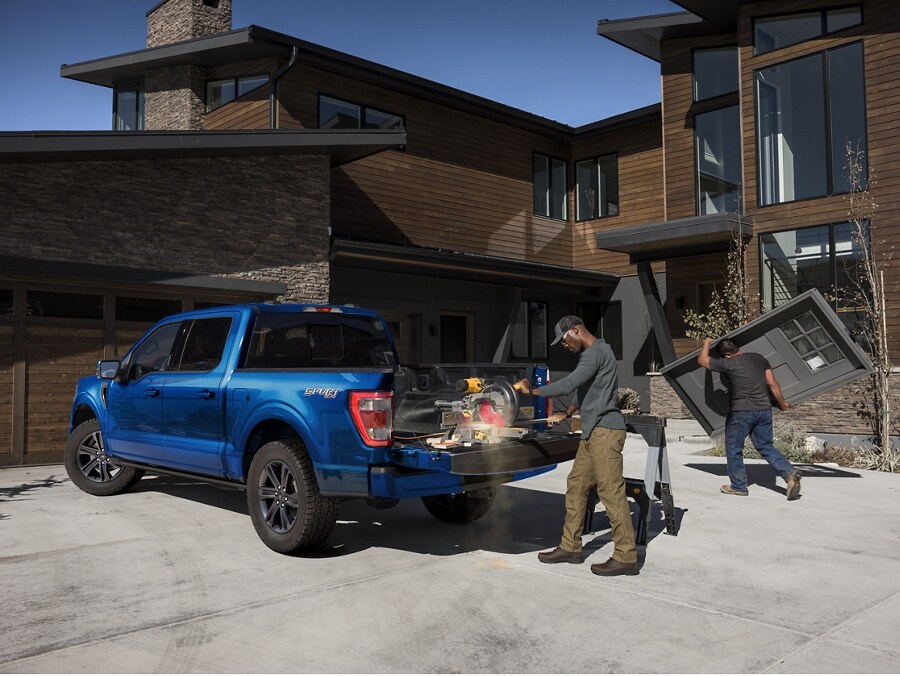 FROM TAILGATE TO DESKTOP
If you've got home improvements, creative passions or just another day on the job site, your F-150® truck has you covered with ingenious design and available built-in Pro Power Onboard that helps simplify and power your projects. The Tailgate Work Surface is a perfect space to measure and cut. And it's integrated with functional features like a mobile device holder, small-item storage and the all-important cupholder for your early-morning java fix.
 
...less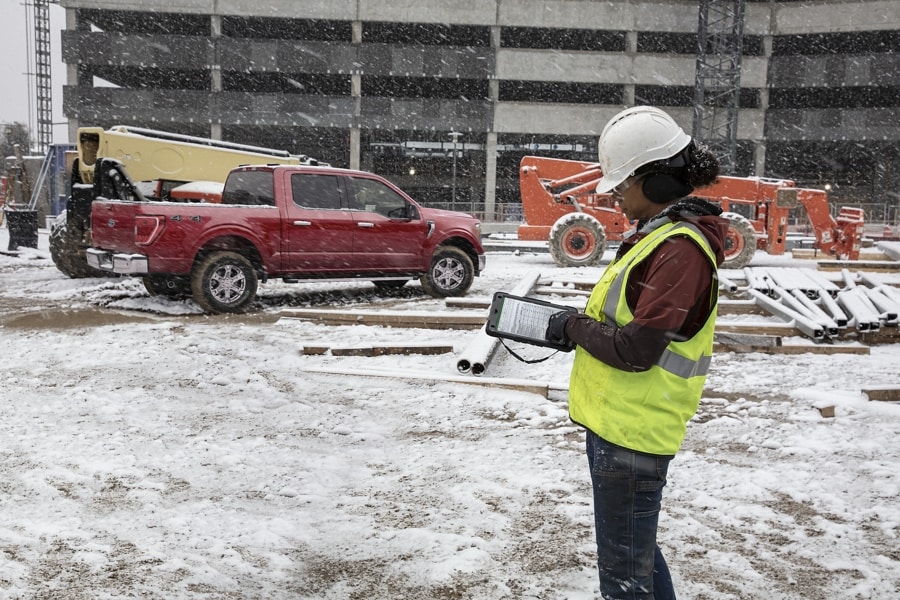 ROAM NO MORE
The power of Wi-Fi goes wherever you go with FordPass
™
Connect.
5
Even as you roam the highways. Enjoy an available 4G LTE in-vehicle Wi-Fi hotspot for up to 10 connected devices at once. And you can access the hotspot up to 50 feet outside the vehicle.
9
...less
SMART TECHNOLOGY ON YOUR SMARTPHONE
Let's face it, your Ford F-150® pickup is capable of doing a lot of amazing things. Now it gives you the tools to do them more conveniently – remotely or manually – in the form of innovative features that make accessing, trailering, hauling, powering equipment, charging and more seem effortless all via your smartphone.
...less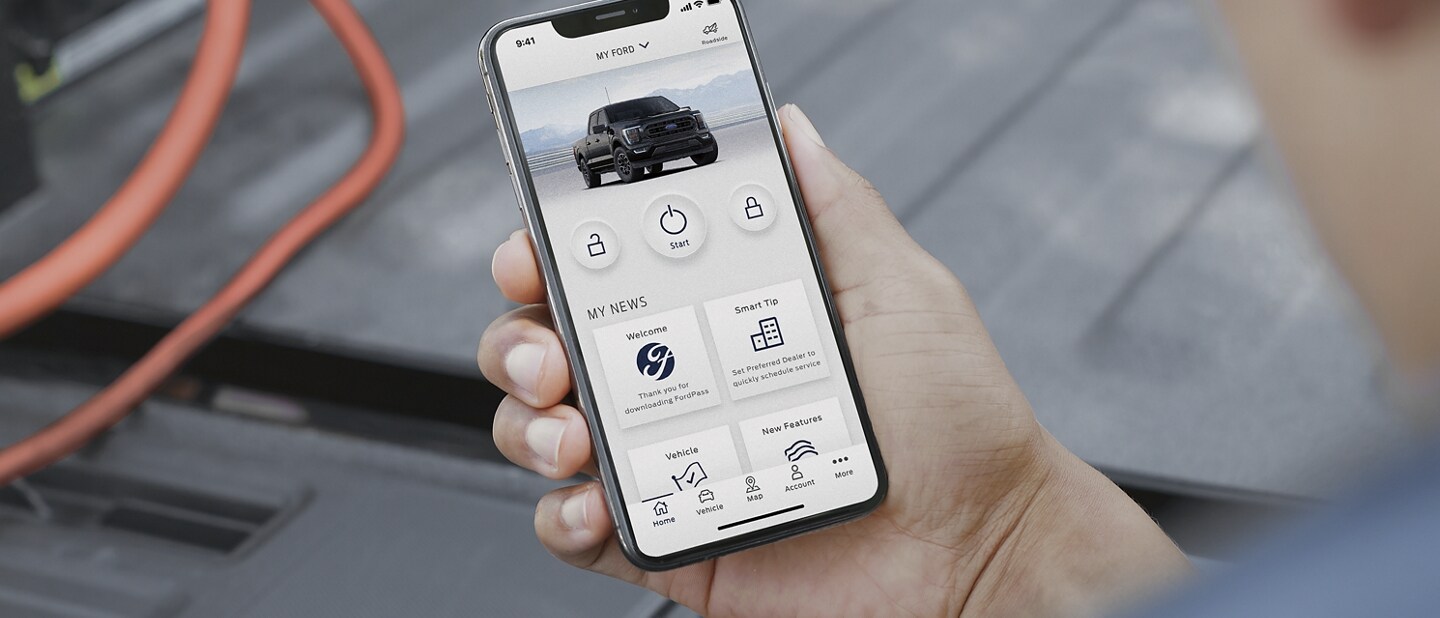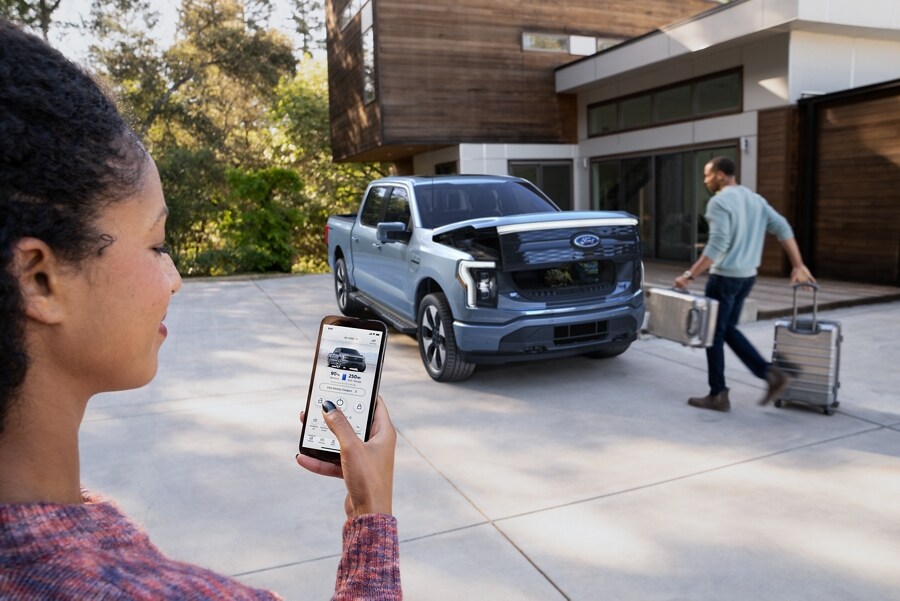 YOU HOLD THE POWER IN THE PALM OF YOUR HAND
You've just settled in and found the perfect spot on the couch, but you need to lock the doors, set a route for the morning commute or monitor your Pro Power Onboard* status. Or maybe someone needs to get into the Mega Power Frunk** of your F-150® Lightning truck.™ Just reach for your smartphone and, with a few of swipes and taps, you're back to enjoying the fruits of your labor.
 
...less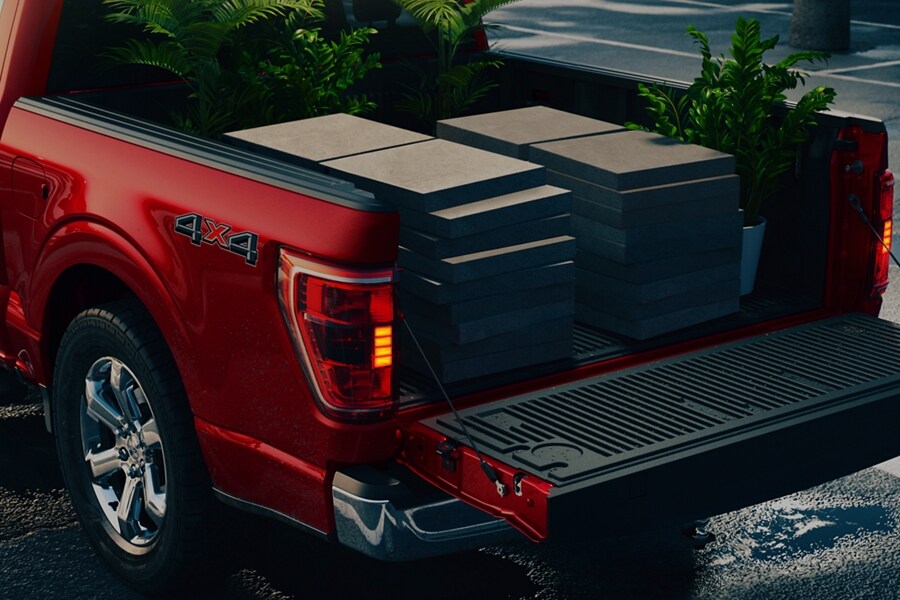 THE GUYS AT WORK WILL BE IMPRESSED
We can't say it enough: our Ford engineers are pretty sharp. They've packed the 2022 F-150® series with so much cool, innovative technology – techy stuff like backing up a trailer with the turn of a knob and measuring payload weight in the bed of the truck. Makes you wonder what great idea they'll come up with next.
 
...less
OUR GOAL IS TO HELP LEAD THE CHARGE IN ELECTRIFICATION
We've electrified our iconic truck, now we're going to take it further. By making it smarter, more connected and expected to be a certified zero-tailpipe-emissions vehicle. * We've also brought on-demand Pro Power Onboard along for the ride with built-in generators for work, and Ford Intelligent Backup Power to help bring electricity inside your home in the event of a blackout. And we've done it while retaining its Built Ford Tough® heritage.
...less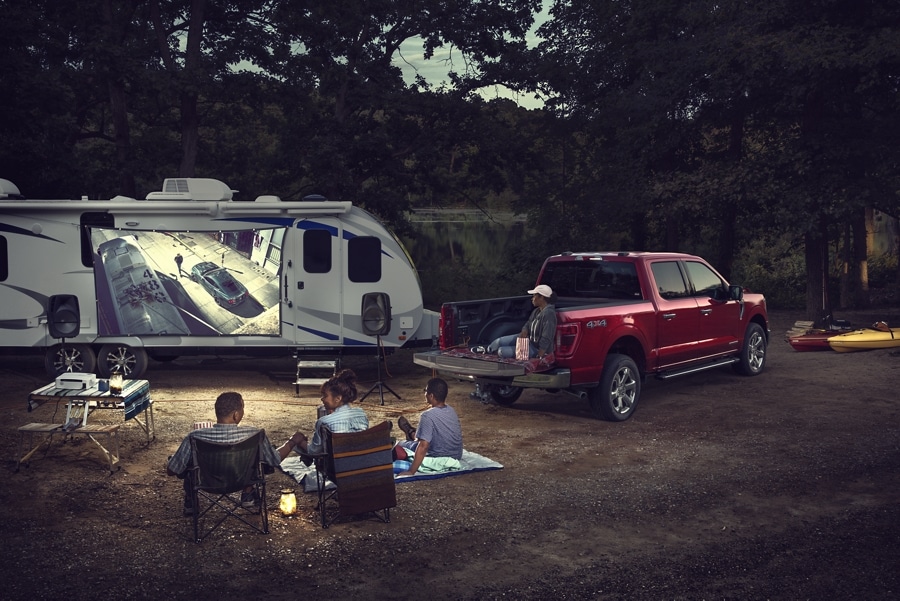 WAY BETTER THAN AN EXTENSION CORD
Even when you need to get away from the chaos of the city, it's nice to bring along some of the luxuries of home. Power up the big screen TV, video games, coffee maker, or a portable heater and enjoy the peace and quiet.
...less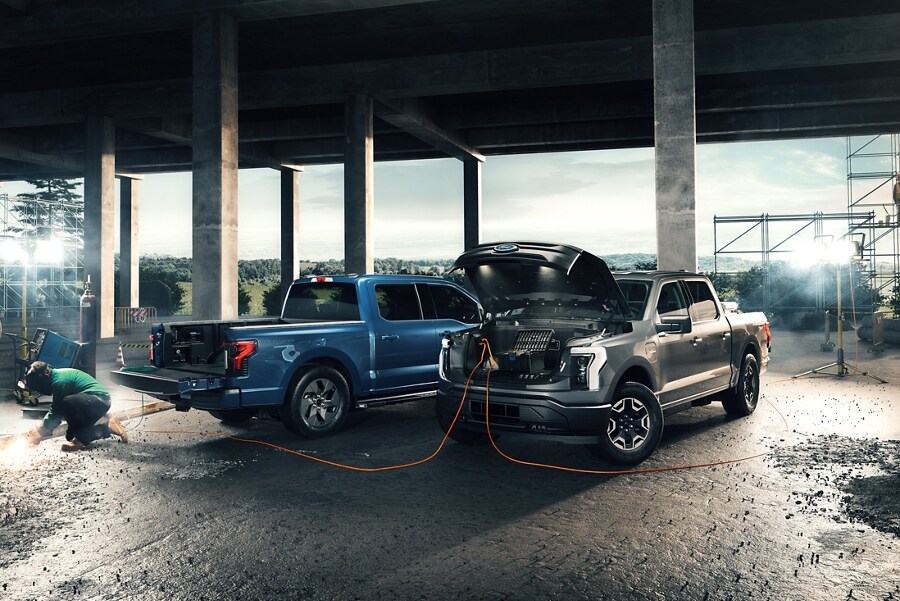 ON-DEMAND POWER WHEN YOU NEED IT
You arrive at the site and, go figure, no power. So, while other workers scramble and fight over the only available generator, you simply plug into Pro Power Onboard and get to work. * Because time not working doesn't pay the bills.
...less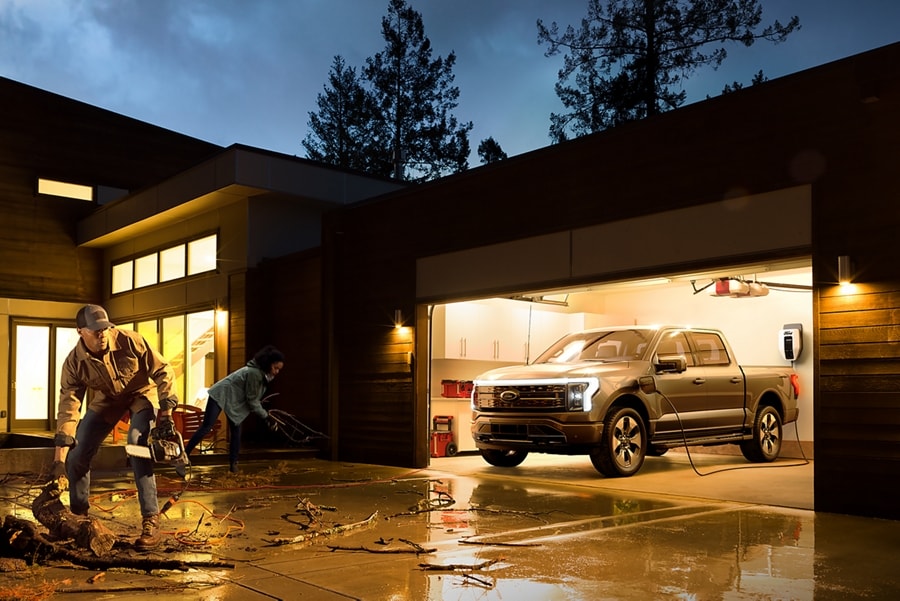 KEEPS YOU ON THE GRID WHEN THE GRID GOES OUT
When Mother Nature throws you a curveball and knocks out your power at the top of the seventh inning, you strike back with Ford Intelligent Backup Power available on the F-150® Lightning™ pickup that'll get the power back on and lasts for up to 10 days when rationed. * And then wait for your neighbors to come knocking.
 
...less
LEARN MORE ABOUT YOUR NEXT F-150® TRUCK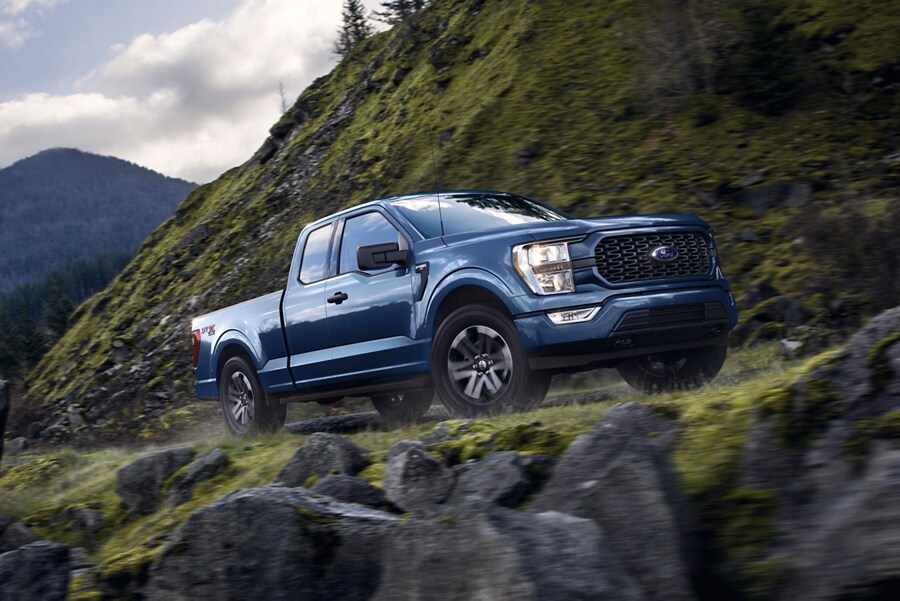 F-150® POWERBOOST™ HYBRID