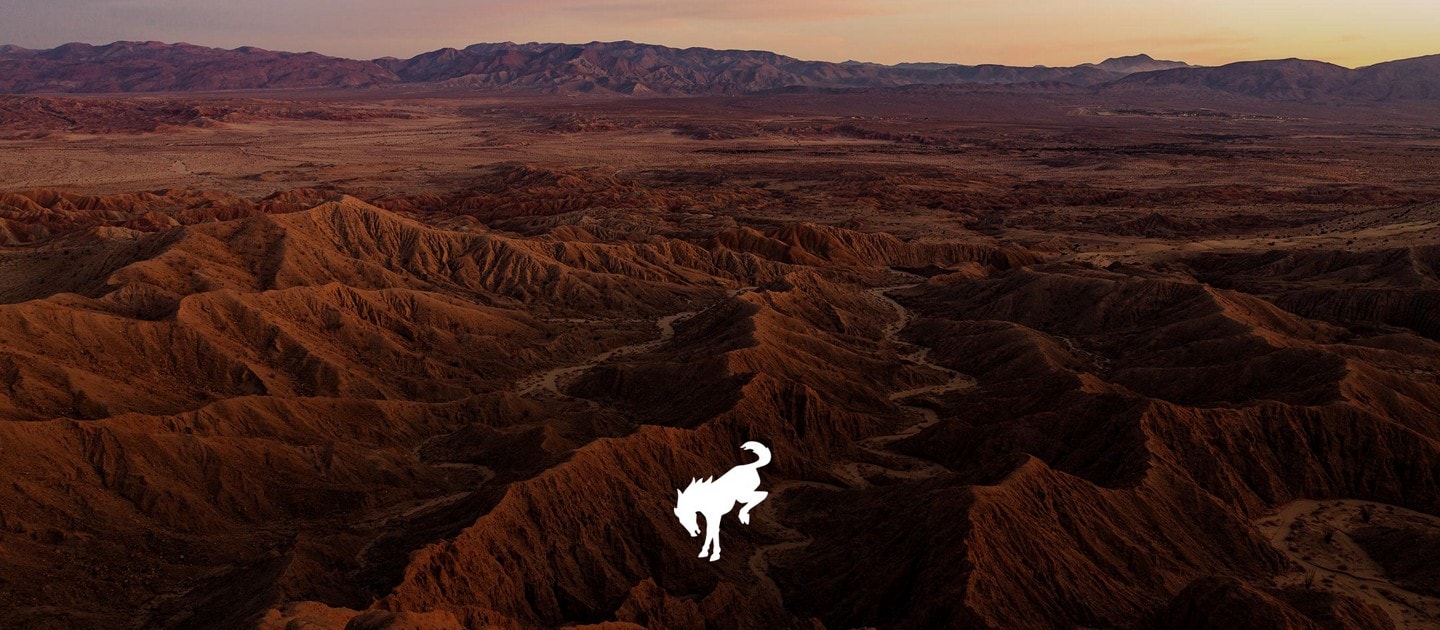 Ford Bronco: A Wild History
While the 2021 Bronco makes for one thrilling adventure partner, this isn't its first rodeo. In 1966, this new breed of off-road vehicle stampeded onto the scene and into wild hearts everywhere, setting the mold for the modern SUV.
Generation 1: The Original Ford "All-Purpose Vehicle"

Information on this page was sourced from "Ford Bronco: A History of Ford's Legendary 4x4" by Todd Zuercher.
1966-1977
...less
Models: The Bronco Roadster

The standard Bronco Roadster is an all-purpose vehicle without roof or doors. Smoothly contoured door openings give it a sporty appearance. Optional doors were available with or without glass and frame. Vinyl doors and a convertible top were also available on this model. The windshield may be folded down flat on the hood and locked in place. The standard seat is a bench type with ample room for three persons.

...less

Models: The Bronco Sport Utility

The Sport Utility is the same as the standard Roadster except that it includes a short steel roof, metal side doors and roll-up windows to provide complete weather protection. The Sport Utility, along with the Roadster and Wagon, has a full-width 56-inch tailgate with a handy one-hand-operated latch. Wheelhousings are flat on top for extra convenience. The sturdy rooftop weighs only 70 pounds and is bolted on for quick and easy removal when desired.

...less

Models: The Bronco Wagon

The Wagon has a full-length roof with upper body sides installed on the basic body. The two driver-passenger doors are steel with roll-up windows. The upper bodysides have large fixed windows. The rear liftgate also has a large fixed window and may be locked in the open position for ventilation. The tailgate may be left in the horizontal position for carrying long items. The entire enclosed area can be completely locked. The top and upper sides are bolted on and can be removed if desired.

...less
Bronco challenged the competition right out of the gate. The first generation offered advanced capability, stability and maneuverability, while its rugged good looks singled it out from the herd.
...less
Engineered for the Ride

Bronco came off the line ready to hit the trail. A coil spring front suspension provided a smooth ride (unusual for an off-road vehicle), and a radius arm design added durability and strength.

...less

Agile on the Trail

A short wheelbase enabled Bronco to nail tight off-road maneuvers that other vehicles would find tough to manage. With a turning diameter of 33.6 ft.—much lower than that of its peers—it could turn around in a small area and nimbly navigate obstacles in its path.

...less

Off-Road Prowess

Bucking the status quo on yet another front, engineers amped up Bronco's track width. This innovation gave it a stability advantage on any surface, from paved highways to hillsides. It also boasted excellent approach and departure angles, breakover angles and ground clearance.

...less
Born to Win
Shortly after leaving the starting line, Bronco started grabbing the gold in off-road competitions. From its first appearance until today, Bronco has garnered more than its share of off-road racing wins and saddled up driving luminaries like Bill Stroppe, Parnelli Jones, Rod Hall, James Garner and many others.



...less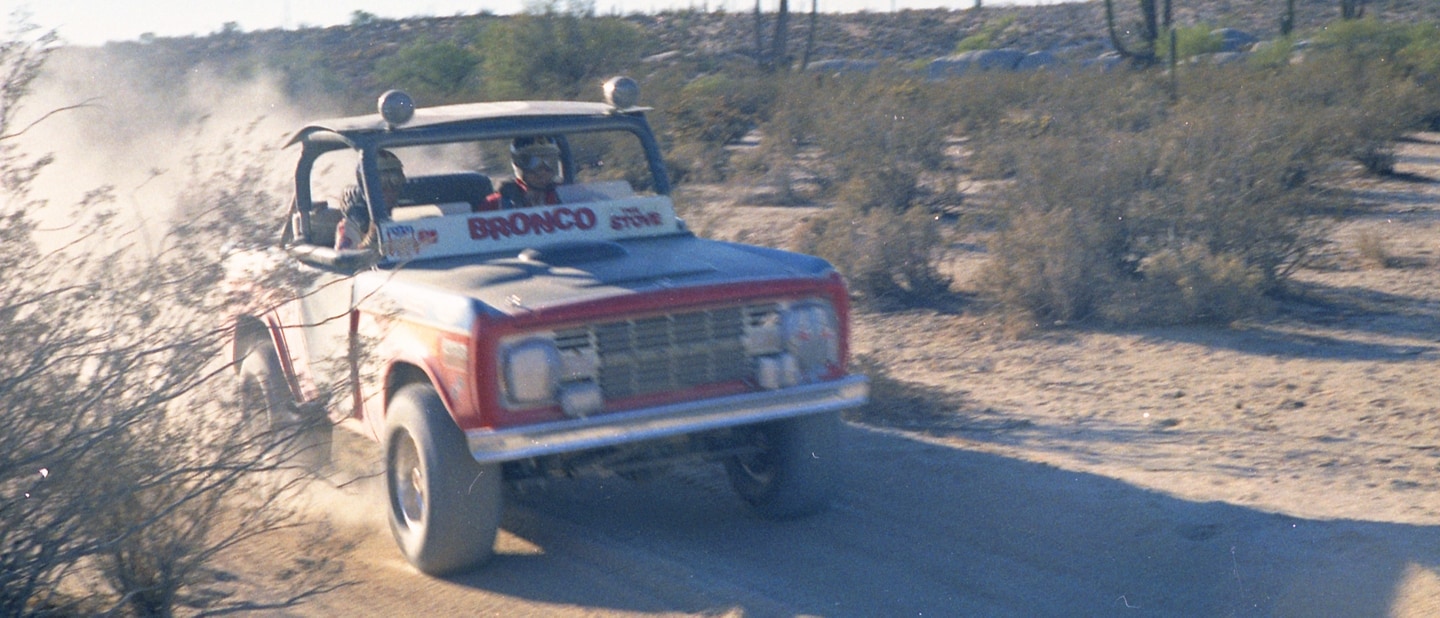 The Inside Story: Packages
Bronco needs packages worthy of it go-anywhere design and capability. Below we highlight some of the packages that were crafted with the outdoor enthusiast in mind-without skimping on style and comfort.
...less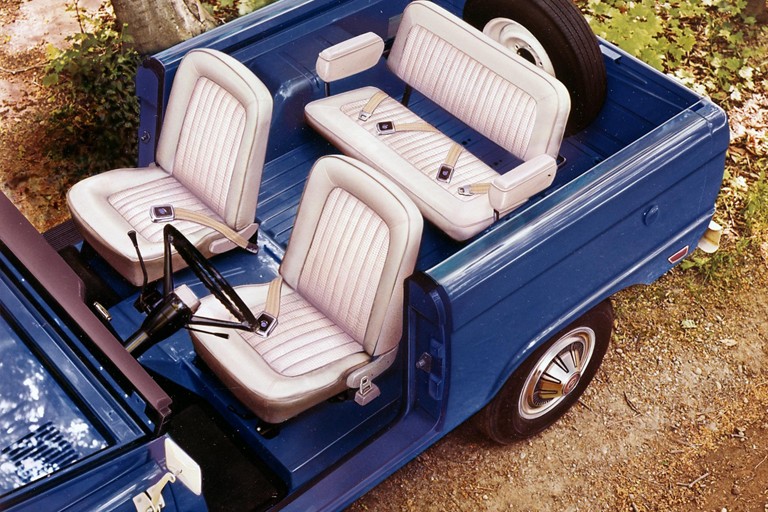 Seating Choices
The first Bronco offered a variety of seating configurations: bench seat only, single bucket seat, two bucket seats only and bucket seats with a rear bench. Vehicles equipped with the bench or bucket seats without a rear seat featured a bulkhead behind the seat(s) to create a cargo compartment in the back.
...less
OLD SCHOOL ENTHUSIASTS

Dig deep into some historical, all-purpose Bronco specifications.
...less