Do I Need New Tires?
Watch this fast-paced video to learn when it's time to purchase new tires or when you may need tire service.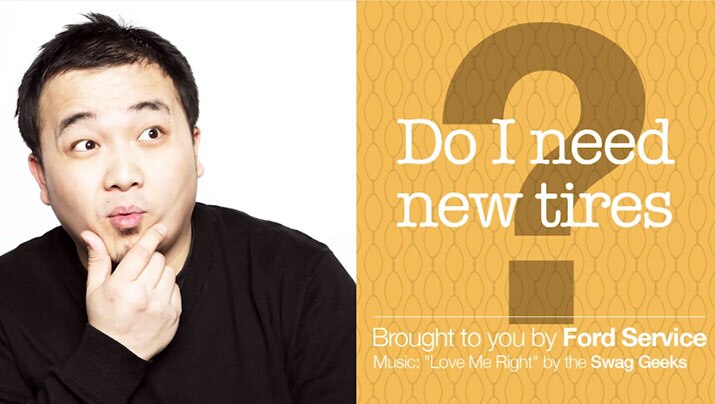 Schedule Tire Services
FordPass® App*
Are you ready for new tires, tire rotation or a tire pressure check? The FordPass App makes scheduling service easy.
**
*FordPass App, compatible with select smartphone platforms, is available via a download. Message and data rates may apply.
**At participating dealers.
YOU MAY ALSO BE INTERESTED IN:
---
How do I choose the right tires for my Ford?
How to use tire inflator and sealant kit?
What are summer tires?
FREQUENTLY ASKED QUESTIONS
Tires today generally have an average useful life of 25,000 to 50,000 miles before they need to be replaced, or you can also refer to your Owner's Manual. But how often you need to replace your tires depends not only on the type of tires but also on how you drive. Fast cornering, heavy braking and high mileage wear down tires faster. Weather conditions and rough terrain can also have an effect. Learn how to check your tire tread, or stop by a Ford Dealer and let our expert techs check to see if it's time to buy new tires.
Our Ford technicians are factory trained to identify problems and perform a variety of repair and maintenance services, like wheel alignments, tire rotation, tire pressure adjustments and tire repairs. If your tires need to be replaced, our technicians are ready to advise on the appropriate replacement for your vehicle and help with the best-priced tires backed by our Low Price Tire Guarantee.
 
• Wheel Alignments
• Tread Wear
• Tire Pressure
• Tire Rotations
• TPMS Issues
• Flat Tires or Other Tire Repair
aValid on dealer-installed retail purchases only. Requires presentation of competitor's current price ad/offer on exact tire sold by dealership within 30 days after purchase. For online quote, guarantee applies only to new tires sold on retailer websites. Excludes tires sold by third parties on marketplace sites and any resellers. See participating U.S. dealership for details through 12/31/22.