Tough this smart can only be called F-150®

Models
Current Starting at MSRP
XL
2.7L V6 EcoBoost® with Auto Start-Stop Technology
12-inch Capacitive Touchscreen with Swipe Capability
Ford Co-Pilot 2.0 Technology
Selectable Drive Modes
12-inch Productivity Screen
Class IV Trailer Hitch
5G LTE Wi-Fi Hotspot Connectivity (up to 10 devices)
Stolen Vehicle Services (1-year Plan Included)
STX®
20-Inch Dark Grey Machined Aluminum Wheels
12" Capacitive Touchscreen with Swipe Capability
Available 5.0L V8 with Auto Start-Stop Technology
Available STX® FX4 Package
4x4 Electronic Shift-On-The-Fly (ESOF)
Selectable Drive Modes
Stolen Vehicle Services (1-year Plan Included)
XLT
18-inch Chrome-Like PVD wheels
Chrome Front and Rear Bumpers
Pro Trailer Hitch Assist
Pro Trailer Backup Assist
Ford Co-Pilot360™ 2.0
360-Degree Camera
Available Ford BlueCruise equipped (90-day trial)
Available PowerBoost Hybrid w/ 2.4kW Pro-Power Onboard
Available XLT Black Appearance package
Available XLT Black Appearance Plus Package
Stolen Vehicle Services (1-year Plan Included)
LARIAT®
20-Inch Chrome-Like PVD Wheels
SYNC® 4 with Enhanced Voice Recognition with 12-Inch LCD Display
Ford BlueCruise Equipped (90-day trial)
B&O® Sound System by Bang & Olufsen with HD Radio (8 speakers including subwoofer)
Available PowerBoost Full Hybrid V6 Engine w/ 2.4kW Pro Power Onboard
Available Head-Up Display
Available Pro-Access Tailgate when equipped with Bed Utility Package (late availability)
Intelligent Access with Push-Button Start
Adaptive Cruise Control
Available LARIAT® Black Appearance Package
Stolen Vehicle Services (1-year Plan Included)
King Ranch®
3.5L EcoBoost® V6 with Auto Start-Stop Technology
Available PowerBoost® Full Hybrid V6 engine
Pro-Power Onboard
Tow-Haul Package
BlueCruise Equipped (90-day trial)
Head-Up Display
LED Projector with Dynamic Bending Headlamps w/LED Taillamps
B&O® Sound System by Bang & Olufsen®
Heated and Ventilated Leather Front Bucket Seats
Leather-Wrapped Heated Steering Wheel
20-Inch Chrome-Like PVD Wheels with Unique King Ranch® Center Cap
Stolen Vehicle Services (1-year Plan Included)
Platinum®
Available Platinum Plus
3.5L EcoBoost® V6 with Auto Start-Stop Technology
Available PowerBoost® Full Hybrid Engine
Gloss Black Surround with Gloss Black Accent Grille
Pro Power Onboard 2kW (7.2kW standard on Platinum Plus)
Ford BlueCruise Equipped (90-day trial)
LED Projector with Dynamic Bending Headlamps with LED Taillamps
B&O® Sound System by Bang & Olufsen®
Heated and Ventilated Leather Front Bucket Seats with Active Motion®
20-Inch Gloss Black Wheels
Stolen Vehicle Services (1-year Plan Included)
Tremor®
Available 3.5L V6 EcoBoost® Engine with Auto Start-Stop Technology
4x4 Electronic Shift-On-The-Fly (ESOF) with Neutral Towing Capability
Selectable Drive Modes
Skid Plates
Unique Tremor™ Appearance Items
Trail Control with Trail 1-Pedal Drive and Trail Turn Assist
Tow Hooks (2 Front, 2 rear)
18-Inch Dark Matte Finish Alloy Wheels

Stolen Vehicle Services (1-year Plan Included)

F-150® Tremor® available spring 2024
Raptor®
3.5L V6 EcoBoost® High Output Engine with Auto Start-Stop Technology
4x4 with Hi-Lock Transfer Case
Trail Control™ with Trail 1-Pedal Drive and Trail Turn Assist
Heavy-Duty Skid Plates
Fox™ Live Valve Shocks With Available Fox™ Dual-live Valve Shocks - Front And Rear
SYNC® 4 with Enhanced Voice Recognition with 12-Inch LCD Display
17-Inch Cast Aluminum Wheels with 34-Inch All-Terrain Tires
Stolen Vehicle Services (1-year Plan Included)
2.7L V6 EcoBoost® with Auto Start-Stop Technology
12-inch Capacitive Touchscreen with Swipe Capability
Ford Co-Pilot 2.0 Technology
Selectable Drive Modes
12-inch Productivity Screen
Class IV Trailer Hitch
5G LTE Wi-Fi Hotspot Connectivity (up to 10 devices)
Stolen Vehicle Services (1-year Plan Included)
20-Inch Dark Grey Machined Aluminum Wheels
12" Capacitive Touchscreen with Swipe Capability
Available 5.0L V8 with Auto Start-Stop Technology
Available STX® FX4 Package
4x4 Electronic Shift-On-The-Fly (ESOF)
Selectable Drive Modes
Stolen Vehicle Services (1-year Plan Included)
18-inch Chrome-Like PVD wheels
Chrome Front and Rear Bumpers
Pro Trailer Hitch Assist
Pro Trailer Backup Assist
Ford Co-Pilot360™ 2.0
360-Degree Camera
Available Ford BlueCruise equipped (90-day trial)
Available PowerBoost Hybrid w/ 2.4kW Pro-Power Onboard
Available XLT Black Appearance package
Available XLT Black Appearance Plus Package
Stolen Vehicle Services (1-year Plan Included)
20-Inch Chrome-Like PVD Wheels
SYNC® 4 with Enhanced Voice Recognition with 12-Inch LCD Display
Ford BlueCruise Equipped (90-day trial)
B&O® Sound System by Bang & Olufsen with HD Radio (8 speakers including subwoofer)
Available PowerBoost Full Hybrid V6 Engine w/ 2.4kW Pro Power Onboard
Available Head-Up Display
Available Pro-Access Tailgate when equipped with Bed Utility Package (late availability)
Intelligent Access with Push-Button Start
Adaptive Cruise Control
Available LARIAT® Black Appearance Package
Stolen Vehicle Services (1-year Plan Included)
3.5L EcoBoost® V6 with Auto Start-Stop Technology
Available PowerBoost® Full Hybrid V6 engine
Pro-Power Onboard
Tow-Haul Package
BlueCruise Equipped (90-day trial)
Head-Up Display
LED Projector with Dynamic Bending Headlamps w/LED Taillamps
B&O® Sound System by Bang & Olufsen®
Heated and Ventilated Leather Front Bucket Seats
Leather-Wrapped Heated Steering Wheel
20-Inch Chrome-Like PVD Wheels with Unique King Ranch® Center Cap
Stolen Vehicle Services (1-year Plan Included)
Available Platinum Plus
3.5L EcoBoost® V6 with Auto Start-Stop Technology
Available PowerBoost® Full Hybrid Engine
Gloss Black Surround with Gloss Black Accent Grille
Pro Power Onboard 2kW (7.2kW standard on Platinum Plus)
Ford BlueCruise Equipped (90-day trial)
LED Projector with Dynamic Bending Headlamps with LED Taillamps
B&O® Sound System by Bang & Olufsen®
Heated and Ventilated Leather Front Bucket Seats with Active Motion®
20-Inch Gloss Black Wheels
Stolen Vehicle Services (1-year Plan Included)
Available 3.5L V6 EcoBoost® Engine with Auto Start-Stop Technology
4x4 Electronic Shift-On-The-Fly (ESOF) with Neutral Towing Capability
Selectable Drive Modes
Skid Plates
Unique Tremor™ Appearance Items
Trail Control with Trail 1-Pedal Drive and Trail Turn Assist
Tow Hooks (2 Front, 2 rear)
18-Inch Dark Matte Finish Alloy Wheels

Stolen Vehicle Services (1-year Plan Included)

F-150® Tremor® available spring 2024
3.5L V6 EcoBoost® High Output Engine with Auto Start-Stop Technology
4x4 with Hi-Lock Transfer Case
Trail Control™ with Trail 1-Pedal Drive and Trail Turn Assist
Heavy-Duty Skid Plates
Fox™ Live Valve Shocks With Available Fox™ Dual-live Valve Shocks - Front And Rear
SYNC® 4 with Enhanced Voice Recognition with 12-Inch LCD Display
17-Inch Cast Aluminum Wheels with 34-Inch All-Terrain Tires
Stolen Vehicle Services (1-year Plan Included)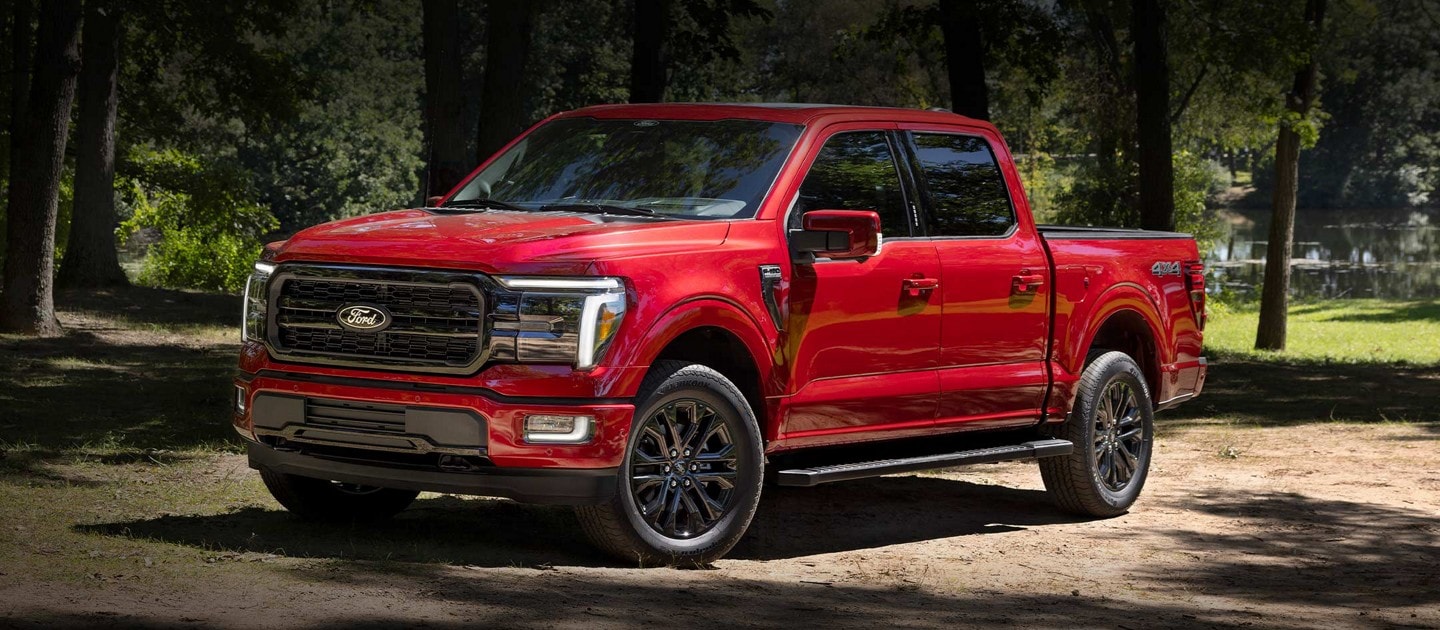 Designed To Get Things Done
Whether you use your F-150® truck for work or recreation, every feature is engineered for a specific goal — to help you make easy work out of the hardest jobs. With intelligent functionality already built-in, everything from hauling to home renovation to tailgating just got better.
...less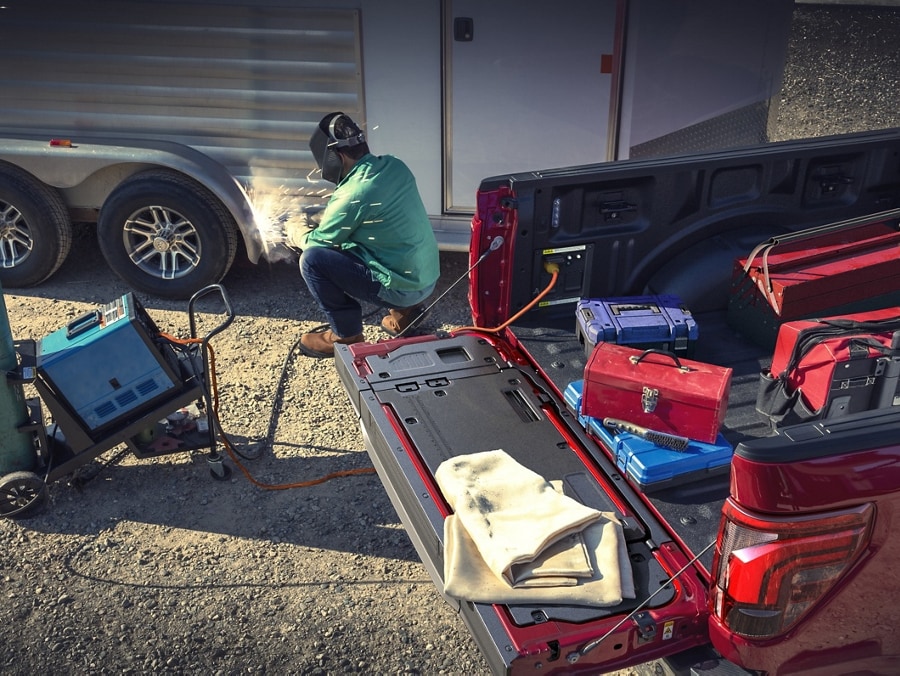 Pro Power Onboard
Perfect for on the job or tailgating. Equipped with multiple outlets, you'll always have electrical power on hand to run a TIG welder, air compressor — or TV. *
...less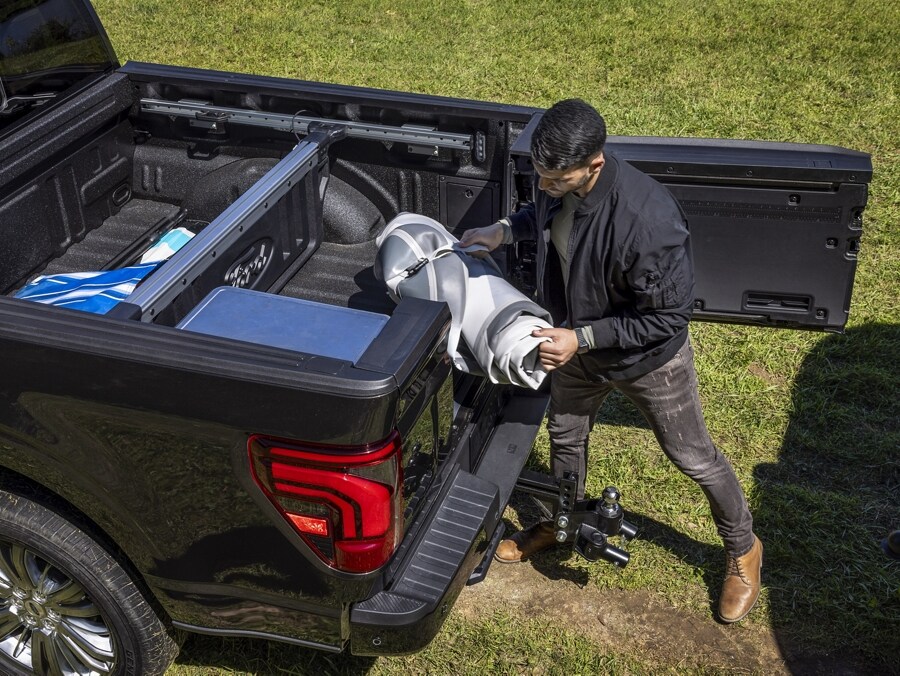 Pro-Access Tailgate
Smartly engineered tailgate design puts you up close to the bed so retrieving items is a little easier. Even when hooked to a trailer, the driver-side approach swing-out door allows you to easily gain access. *
...less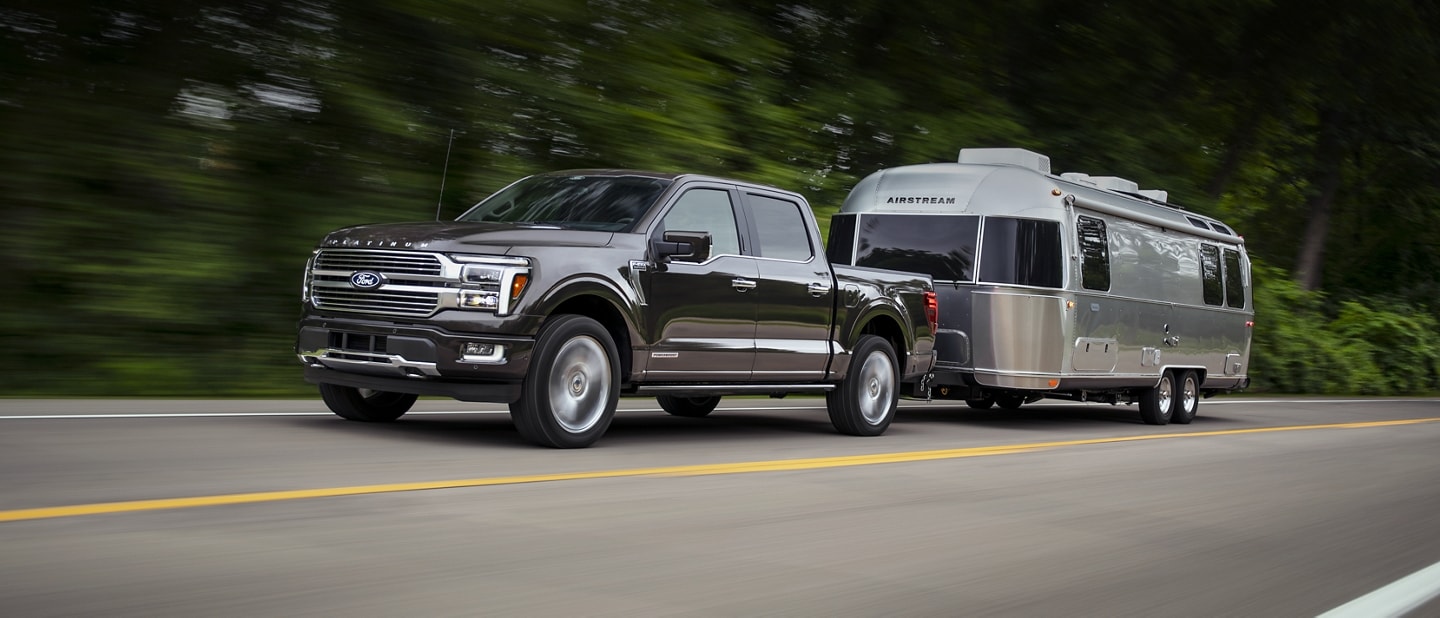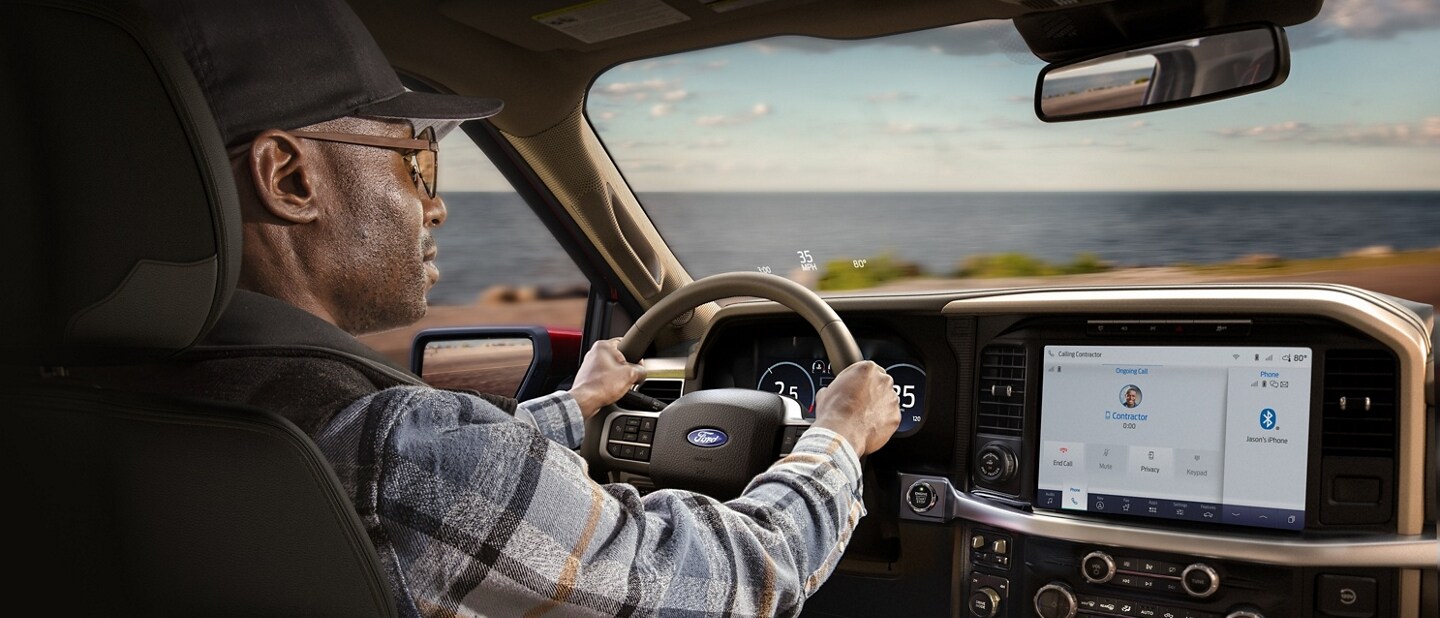 It's One Smart Truck
Loaded with intelligent technology to help make doing things while on the job or for recreation go smooth. Now you can load up, tow and work from just about anywhere.
...less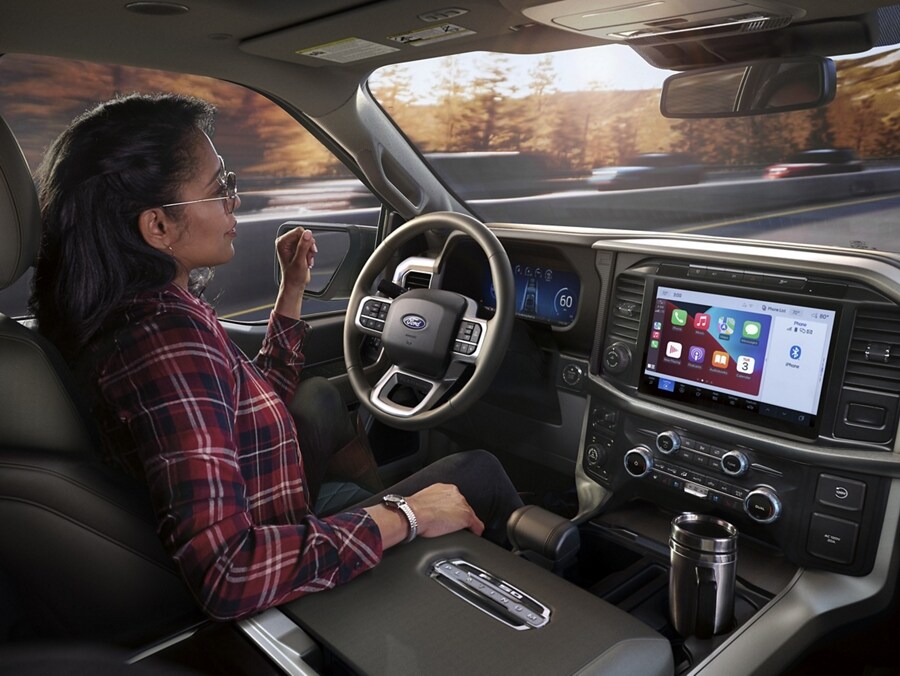 Hands-Free Highway Driving
Experience the freedom of being able to let go with Ford BlueCruise Hands-Free Highway Driving.127
...less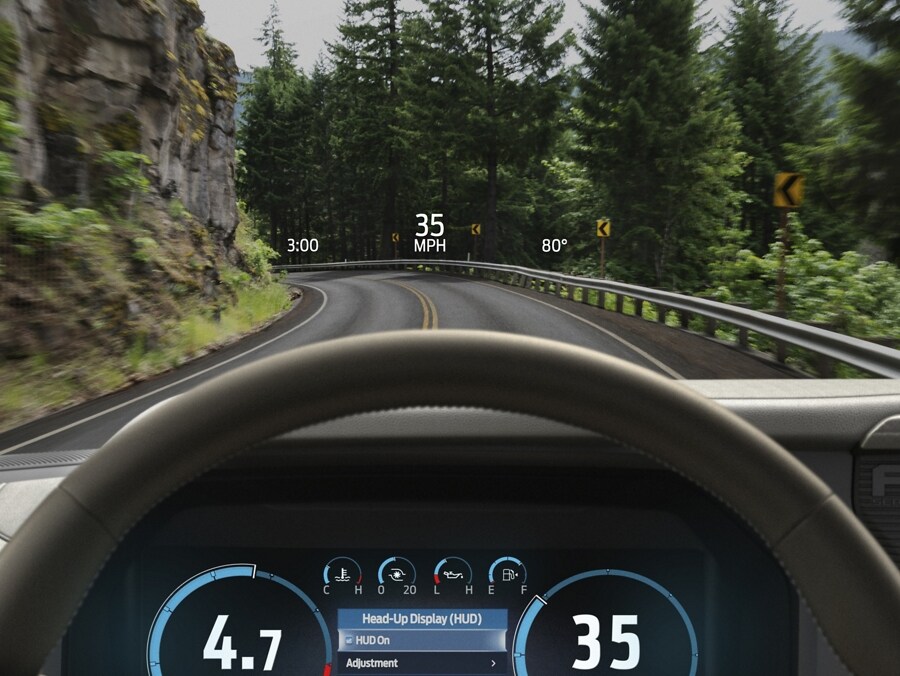 Head-Up Display
Real-time driving information projected onto the windshield. So your eyes don't leave the road. *
...less
FAQs
What is the max towing capacity?
How much is the max payload weight capacity?
What engines are in the 2024 F-150® pickup?
Which F-150® trucks offer an onboard generator?
Is there an F-150® hybrid option?