A Blur Never Looked So Good 
It's the classic performance car that only gets better. This year, Mustang introduces the aeronautically inspired design and unprecedented performance of the all-new Mach-1 and Mach-1 Premium. There's also the icon that is the high-powered and monumental Shelby GT500® . If you're looking for fun with the top down, there's also the EcoBoost® and GT Mustang convertibles. And because your Mustang should fit you, there are 18 different wheel styles, new unique color choices, a range of available seats and a ton more opportunities to customize your ride. 
...less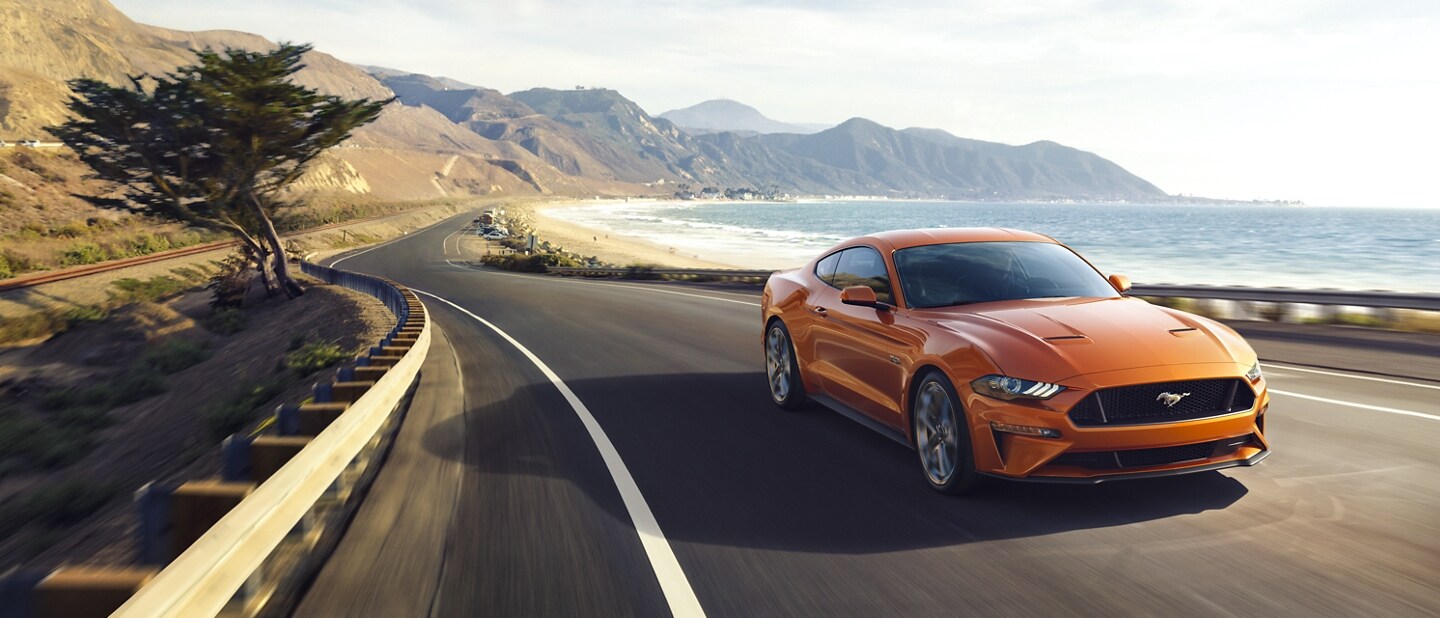 The All-New Mach-1. Immaculate in Action
Mustang Mach-1

Mach-1 performance is clear even before you get behind the wheel. Its streamlined design and exterior styling cues include a new front fascia and grille for both improved cooling and aerodynamics. Plus, low-gloss Magnetic and Black accents as well as hood and body-side stripes celebrate Mach-1 heritage dating back more than five decades. Inside, comfortable and conforming Recaro cloth sport seats support you while a Mach 1 IP badge with a unique chassis number complements the distinctive look and feel of the all-new Mustang Mach-1. *

...less

*Closed Course.

Now Make It Yours

The Mach-1 Premium was built for precision on curves, on the straightaway and in the driveway. Its sculpted build includes 19-inch Magnetic-painted aluminum wheels, a bright 4.5-inch exhaust tip and a hood accent stripe. The premium design flows into the interior with aluminum pedals, a Dark Spindrift aluminum instrument panel and a white cue ball shift knob. So strap in to the cloth seats with driver memory recline, color-accents and climate control, and embrace the adrenaline.

...less
Like Looking Down a Loaded Barrel 
The Shelby GT500 uses race-inspired materials for a reason. A purpose-built cockpit with available RECARO® racing seats and a class-exclusive* 12-inch full-color LCD instrument cluster create the perfect environment for when you're maxing out this high-powered vehicle. On the outside, its aerodynamic design comes complete with a rear spoiler and the
largest-ever hood vent on a Mustang. This intricate body rests on 20-inch flow-formed
high-gloss black aluminum wheels, with the MagneRide® Damping System and Michelin® tires specifically developed for the GT500. 
...less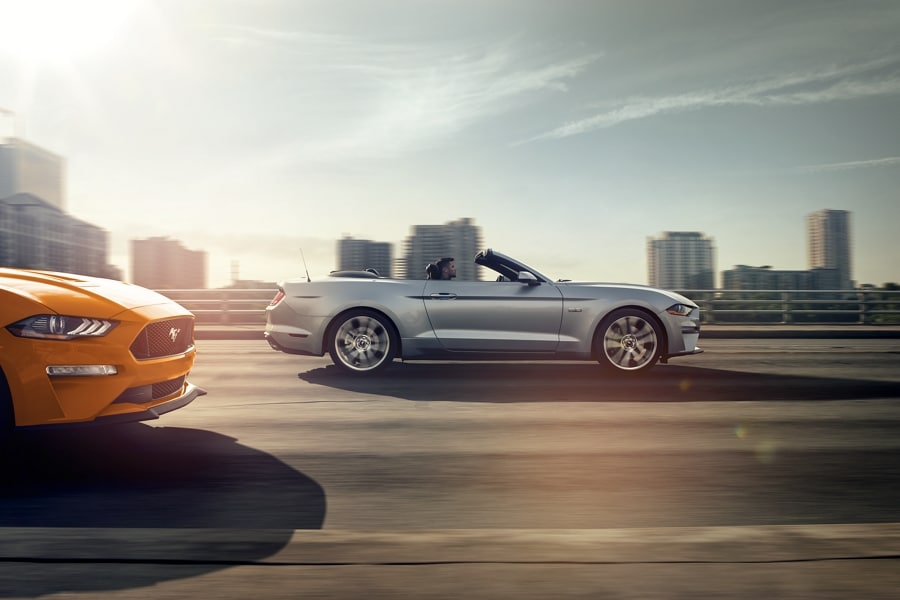 Open It Up
A Mustang convertible is a thrill ride all its own. In an EcoBoost or GT convertible that topdown excitement is just one touch away. They also each come with a high-powered engine, getting you in touch with the rush of the open road. And even with the top down, there's still plenty of room in the trunk.
...less
The Mustang Point of View
Welcome to the nerve center. Available amenities including heated and cooled seats, an accent-stitched center console and a heated steering wheel make you feel like a part of the machine. And with the push-button start, you truly have the power of a Mustang at your fingertips.
...less
Choose Your Wheels 
Wheels make the car. Select the ones that fit your style.
...less
The Light Bulb With the Better Idea
Mustang adapts to the night with standard LED headlamps. Signature LED illumination not only brings you clearer vision during night drives, but also plays a part in helping you make a big entrance. 
...less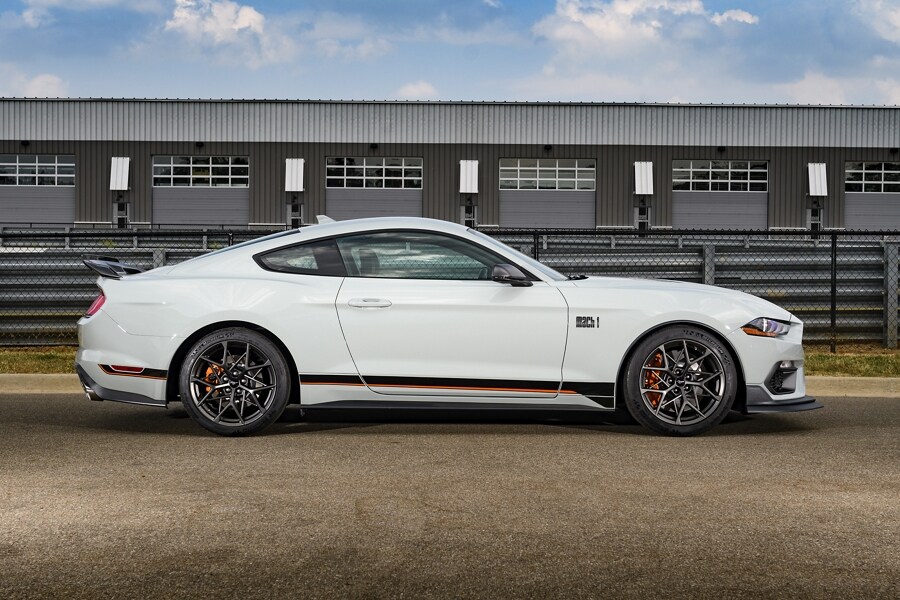 Color Up
The 2021 Mustang makes a splash with new color options:
Antimatter Blue for a deep, dense and unreal styling.
Carbonized Gray for a sleek and metallic look.
Grabber Yellow for a vivid appearance that draws attention and holds it.
Fighter Jet Gray for a lightning fast look, only available with the Mach-1 Appearance package.
Enhance your hue with new White, Red or Orange stripes. Whether you go over the top or on the side, your stripes are always aiming in the right direction, signifying speed and performance on the track.
...less