Meet the Broncos
The Bronco Family is vast, with a reach as far as you're willing to take it and a legacy that spans generations. And the tree keeps getting bigger. At its core, a wild spirit takes root, raring to take you outdoors, off-road, and to places you've never gone before.
...less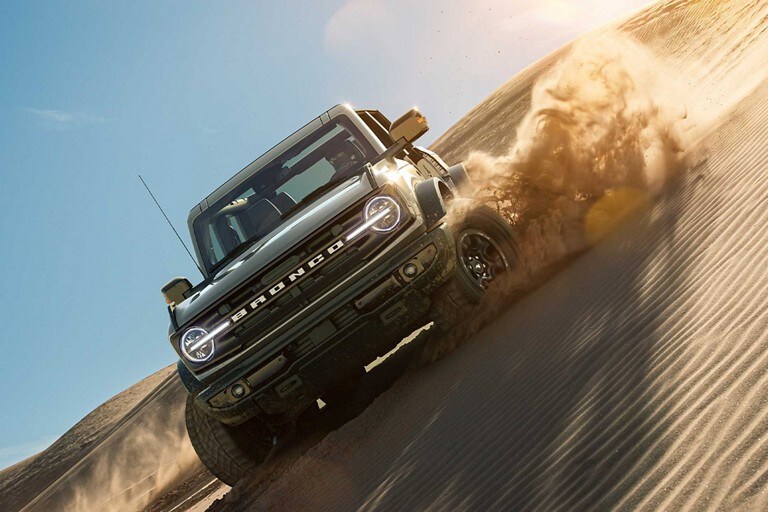 2021 Bronco
There's a whole world out there just waiting to be discovered. To find it you have to break rules, push boundaries and climb over the barriers in your way. With its relentless toughness and durability, the all-new Bronco was built to carry outdoor enthusiasts to wherever the wilderness calls. Available in two- or four-door models.
...less
Preproduction computer-generated image shown. Vehicle available beginning summer 2021.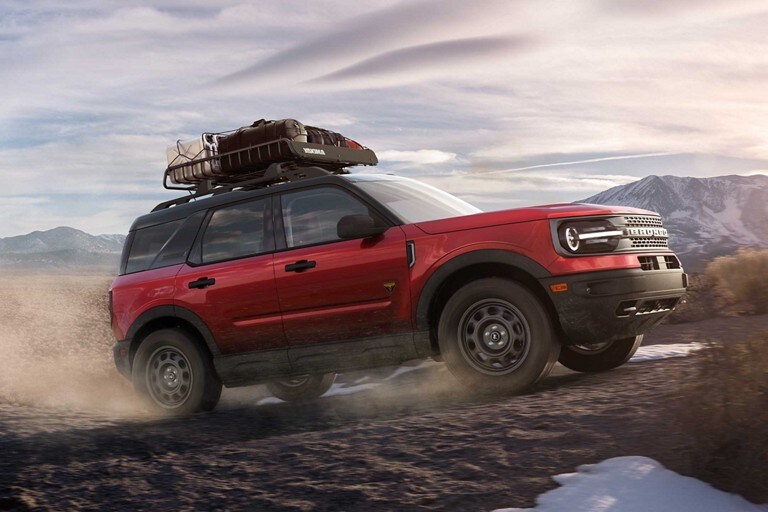 2021 Bronco Sport
Meet the latest in the family. The all-new Bronco Sport is your wilderness guide with four unique series engineered to match the way you experience the outdoors. Each, expertly equipped to get you out there — To the mountain ranges, the woodland trails, and the scenic shores. Your adventure begins in a Bronco Sport, and it never ends.
...less
Preproduction computer-generated image shown.
Become Part of Something Big
Off-Roadeo

The Bronco Brand comes to life at the Off-Roadeo. An off-roading and outdoor adventure playground – built for all skill levels – with experiences that will build confidence, inspiring Bronco owners to continue to treat themselves to getting out to the wild for years to come. This exclusive experience will invite owners to choose from one of four epic locations, immerse them in the Bronco lifestyle, provide incredible drive experiences, and create unforgettable memories while celebrating community, adventure and the great outdoors.

...less

Bronco Wild Fund

The Bronco Wild Fund mission is to empower our organization, our Dealer Network and our communities to connect people to the outdoors, responsibly. It's about access. And it's about preservation. We want to encourage people to go deeper into the outdoors with new and exciting resources. And we want to motivate them to actively protect and enhance our public lands. So that these remarkable places may inspire just as much awe in those who discover them next.

...less

Bronco Nation

Bronco Nation is the first nationwide community for the all-new and classic Ford Bronco. Built by a passionate and knowledgeable community of enthusiasts, Bronco Nation celebrates an iconic brand and encourages everyone that loves Bronco to join. Check them out for curated content, community forums, events, interactive maps, and more.

...less
The Legend Returns
Get out there and find your wild in America's original sports-utility vehicle. With a legacy that can't be broken, the entire Bronco family is designed, engineered, and built for adventure. So, get ready to mount up and get dirty because the one and only legend is making its long-awaited return. The Ford Bronco – Built Wild.
...less
Built Wild
Three all-new SUVs with 4X4 capabilities have been Built Wild for a thrilling off-road experience with the capability and confidence to take you deep into the extremes of outdoor adventure.
...less
Goes Over Any type of Terrain

G.O.A.T. was the original internal code name for the '66 Bronco project at Ford. The new Bronco lives up to this original idea as the archetype of an agile, sports-oriented offroad 4x4 – with all the capability and durability it takes to endure Bronco Built Wild™ Extreme Testing measures.
...less

Always consult the Owner's Manual before off-road driving, know your terrain and trail difficulty, and use appropriate safety gear.

Thrilling High-Speed Adventure

The new Bronco family honors its off-road legacy with race-tested EcoBoost® turbocharged engines, cutting-edge suspension hardware for suspension travel, all-terrain tires, and exclusive adventure-ready tech to help you take on the wild. ...less

Always consult the Owner's Manual before off-road driving. Follow all laws and drive on designated off-road trails and recreation areas.

Ready for Fun

Roof panels and doors are easily removable on the 2- and 4-door models for unequaled outdoor thrills. There's also plenty of space for passengers and gear, with an adventure-friendly interior that makes cleanup effortless with a quick rinse.

...less
100% Bronco
The all-new Ford Bronco family has been tested under extremely grueling conditions to ensure it was tough and capable enough to wear the iconic Bronco nameplate. That's why we can proudly say the legend has returned – and it's ready for fun.
...less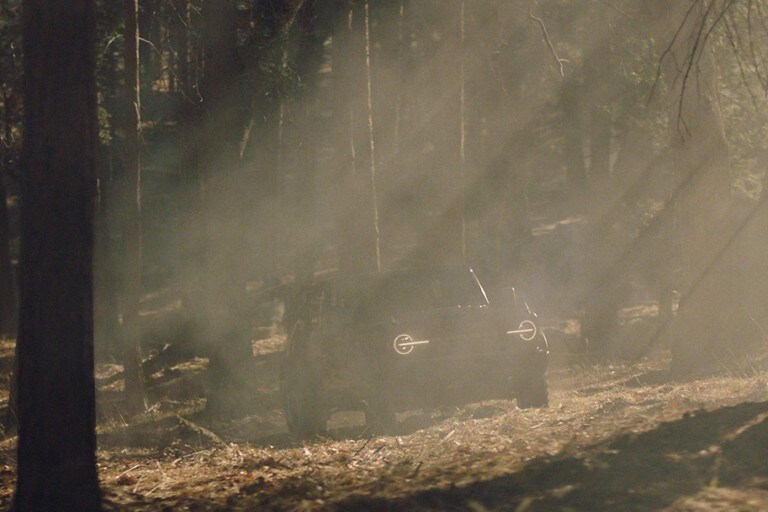 Classic Design
The new Bronco ranks among the most capable and rugged 4X4 families in the industry. Highlighting the original's timeless and functional design—signature round headlamps, horizontal cartridge grille and short overhangs with vertical and clean flat body sides, the new Bronco is built for thrills and adventure.
...less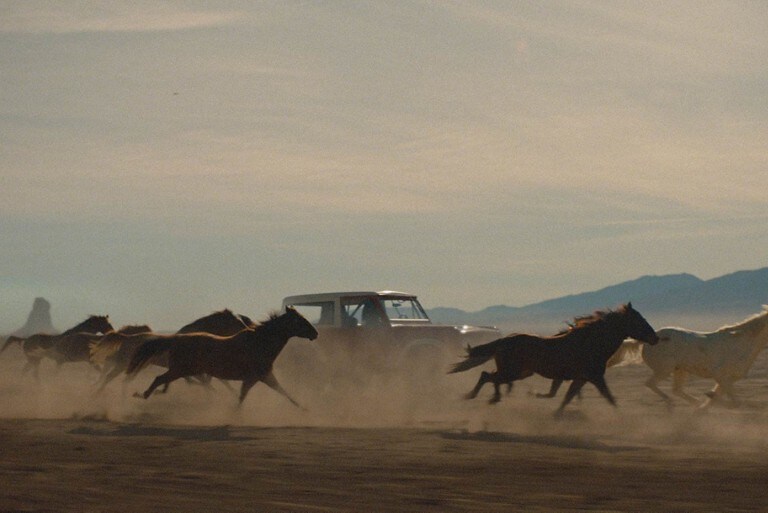 Legendary Performance
Torture tested at the home of King of the Hammers in the Johnson Valley desert and the grueling Baja 1000, one of the world's toughest off-road endurance races, the Bronco family is ready to take on anything the wild has to offer.
...less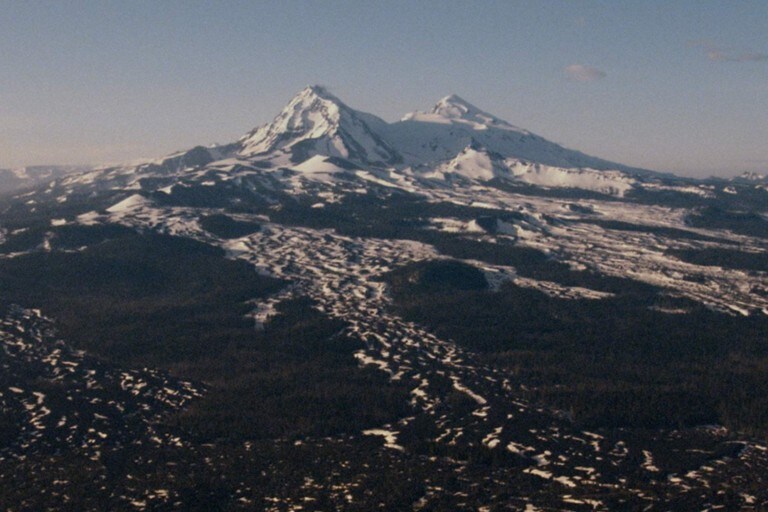 Untamed Spirit
Easily taking off the roof panels and doors on the 2- and 4-door models lets you experience the wind in your hair and the sun on your face. The Bronco was built wild for an open sky view to bring back the feeling of unlimited freedom to your journey into the wild.
...less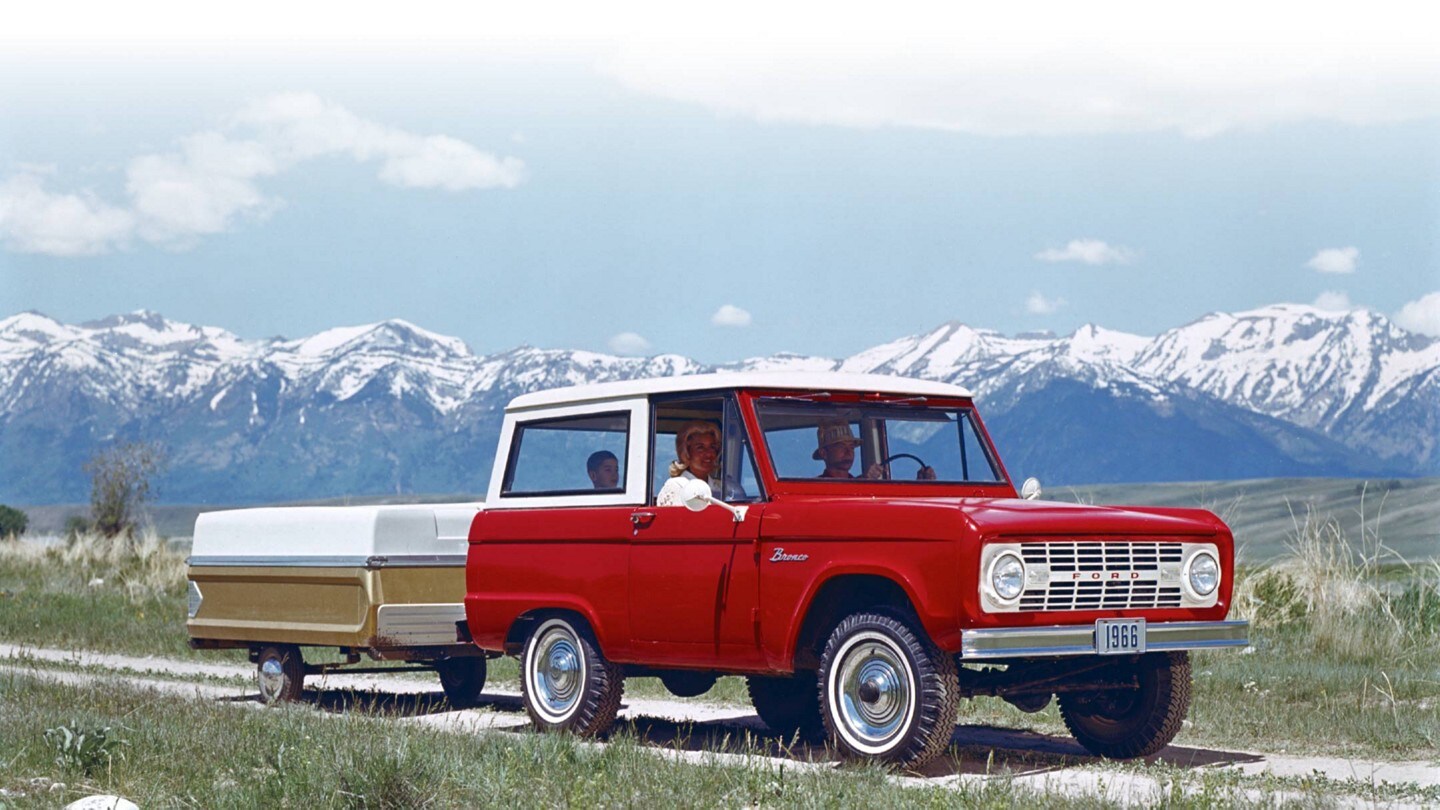 Ford Bronco: A Wild History
While the 2021 Bronco makes for one thrilling adventure partner, this isn't its first rodeo. In 1966, this new breed of off-road vehicle stampeded onto the scene and into wild hearts everywhere, setting the mold for the modern SUV.

...less