The Power To Move Your Business
The Super Duty® Chassis Cab with the 7.3L V8 gas engine has the power you need with 335 hp and 468 lb. ft. of torque, * while the 6.7L Power Stroke® V8 Turbo Diesel has 330 hp and 950 lb. ft. of torque, * for some of the hardest jobs.
...less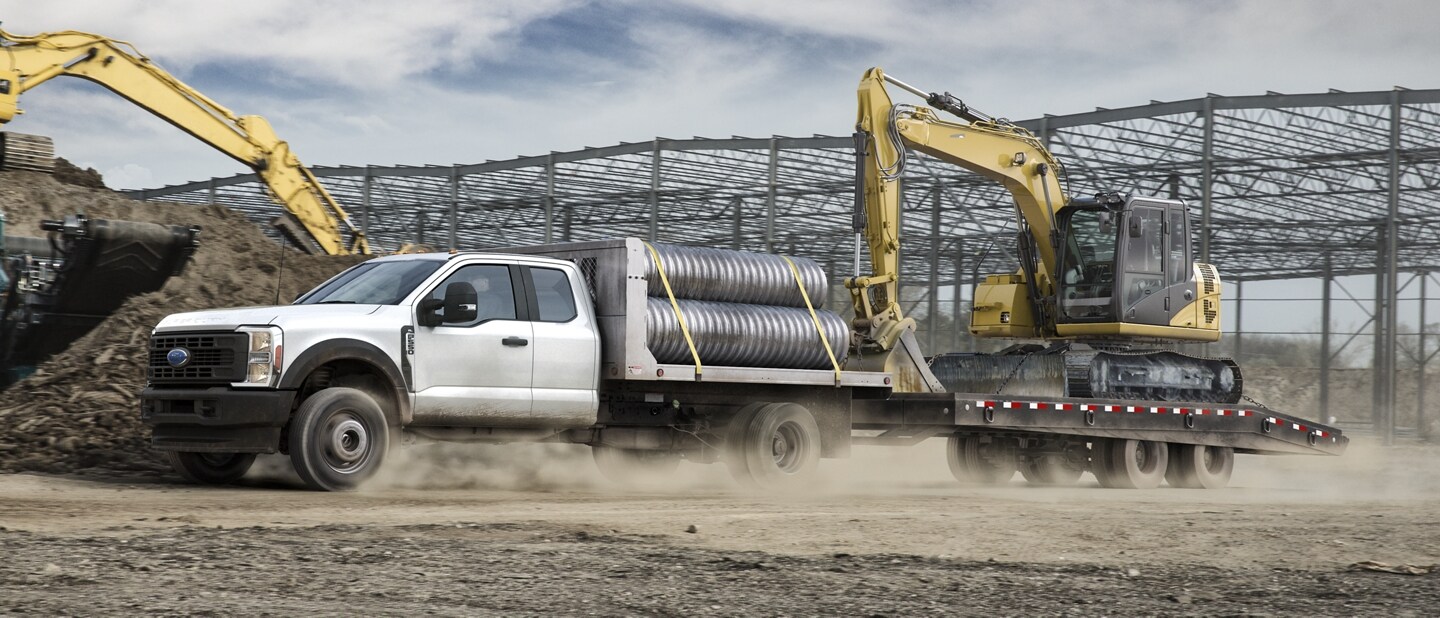 Powertrains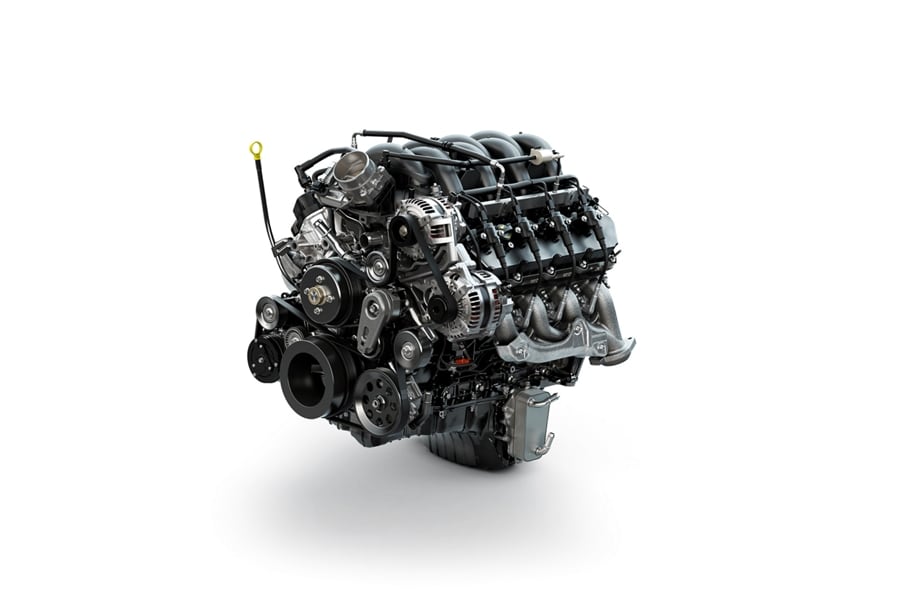 7.3L OHV PFI Gas V8 Engine
A gas-powered V8 engineered for strenuous duty, hauling heavy loads day in and day out, designed to idle for long periods of time, and with it impressive durability, performance and power. The result is the overhead valve, port fuel-injected available 7.3L. This big-block "pushrod" V8 with variable cam timing reaches peak power with optimal air-fuel ratio in the low rpm range, providing the responsiveness and power commercial applications require. And for the durability also required, the 7.3L features a cast-iron block with four-bolt and cross-bolted main bearings plus a forged steel crankshaft. Want a gas V8 with a torque output, rated at 335 hp* and 468 lb.-ft. of torque,* available in a chassis cab? This is it.
...less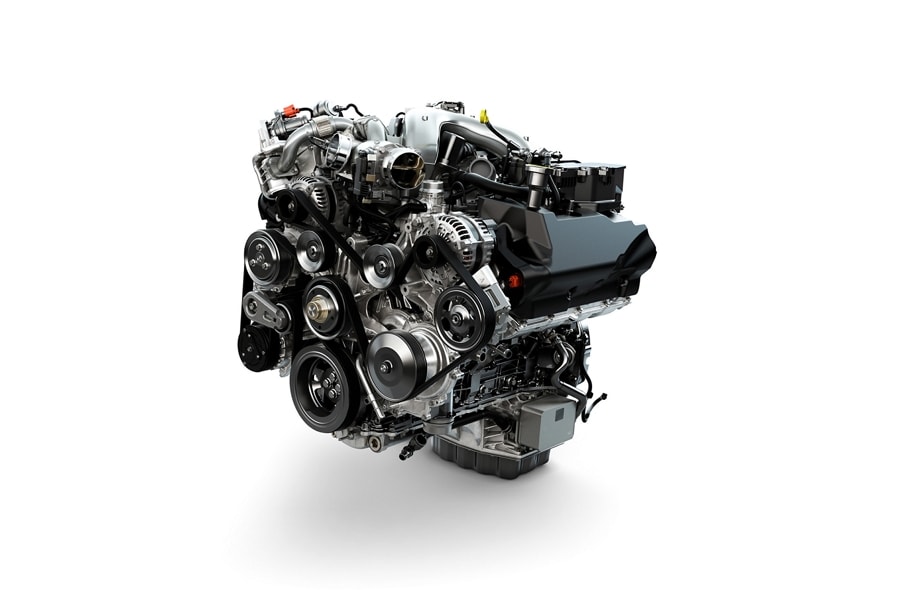 6.7L Power Stroke® V8 Turbo Diesel
The available 6.7L Power Stroke V8 Turbo Diesel features an inverse-flow configuration (inboard-mounted exhaust manifolds and turbocharger). This third-generation Power Stroke has a 36,000-psi fuel-injection system featuring injectors that can measure and spray fuel to optimize combustion and quiet the engine. To handle the increased pressure and power, the third-generation Power Stroke features a strong block, cylinder heads, connector rods and bearings, plus steel pistons. The results? An incredible 330 hp and 950 lb.-ft. of torque. *
...less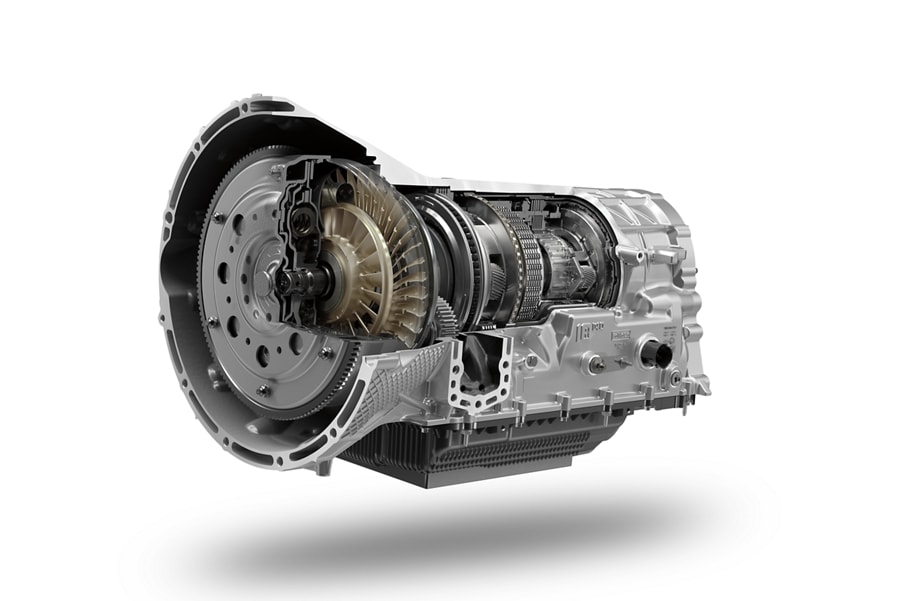 Ford Torqshift® 10-speed Automatic Transmission
All Super Duty® Chassis Cab models feature a standard Ford TorqShift 10-speed automatic transmission, engineered to optimize drive ratios and improve shift performance. You can choose from five selectable modes — Normal, Slippery, Tow/Haul, Eco and Deep Sand/Snow — to match operating conditions. The Ford TorqShift 10-speed automatic transmission also offers Neutral Idle mode exclusively for chassis cab trucks. In Neutral Idle mode, the transmission automatically shifts into Neutral while stopped (if conditions allow it). It will then automatically resume shifting into Drive when you lift off the brake. This reduces load on the engine.
...less
Power Take-Off (PTO) Provision
The standard Power Take-off (PTO) Provision lets you power an aftermarket pump, compressor or other accessory. The PTO provision is standard across the entire engine lineup. An output gear connects directly to the engine crankshaft to power your PTO anytime the engine is running, whether the Chassis Cab is in motion or stopped. Another big feature is "split-shaft" capability (diesel only) that allows multiple accessories to operate at the same time when the Chassis Cab is stopped.
...less
PTO Torque
The Super Duty® Power Take-off (PTO) Provision offers stationary 300 lb.-ft. of PTO torque output on diesel, giving you more power for upfits just when you need it. * For added efficiency, the 10-bolt PTO mounting pattern provides a secure mount for larger PTO devices to take greater advantage of this impressive torque.
...less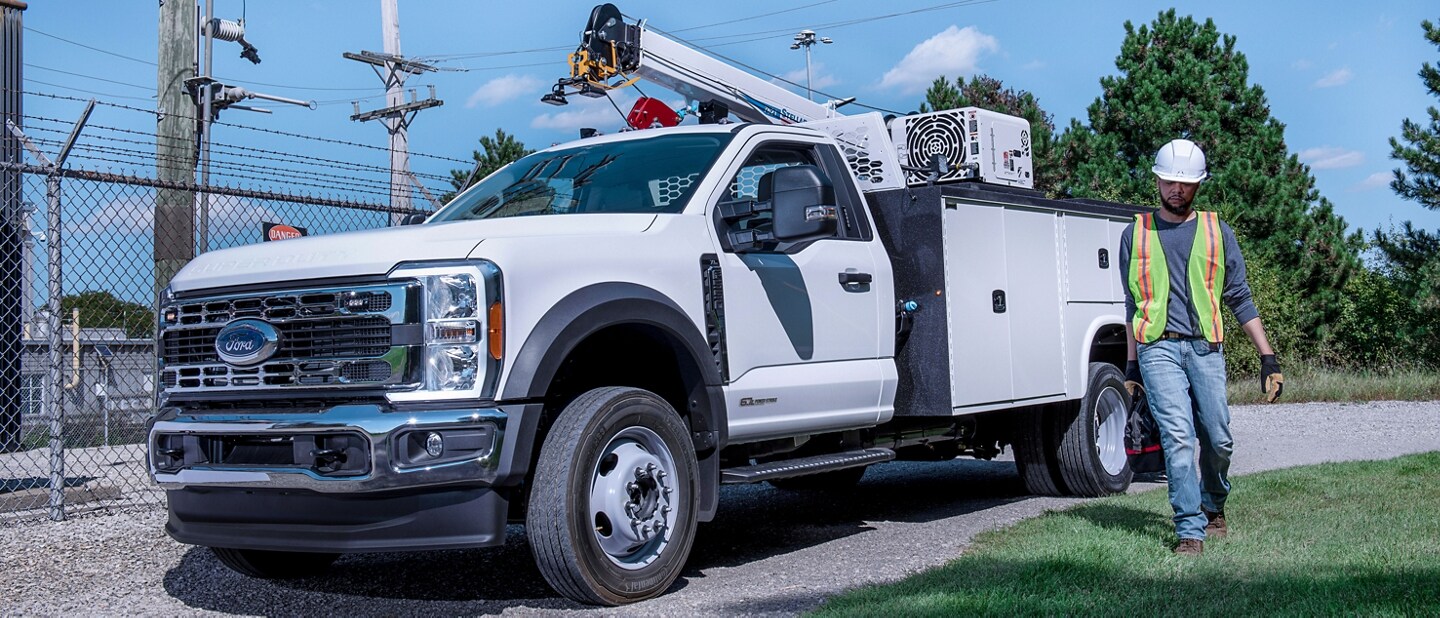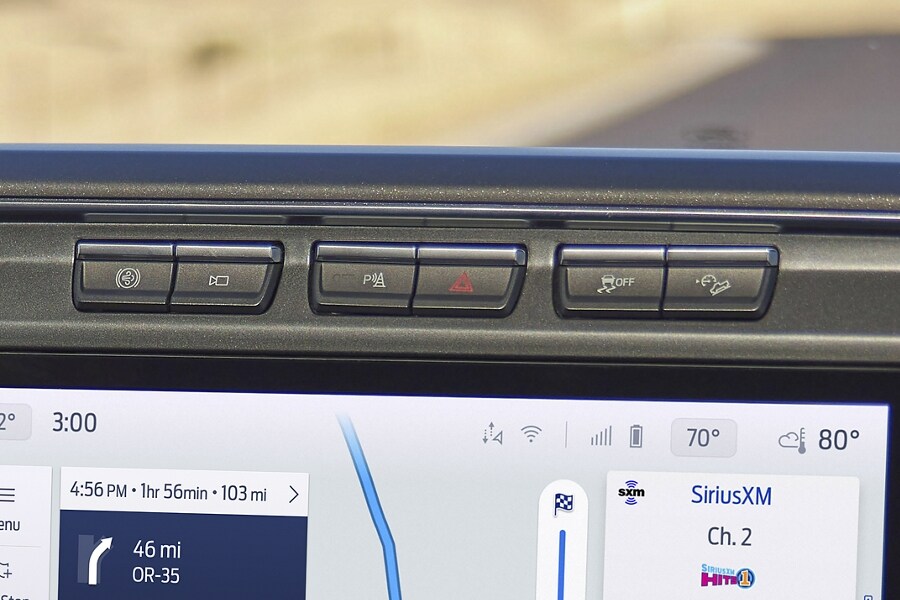 Smart Diesel Engine Exhaust Braking
The 6.7L Power Stroke® Turbo Diesel incorporates a smart exhaust brake function. When activated with a button on the instrument panel, the engine brake restricts the turbocharger's exhaust flow to generate back pressure and slow the vehicle. The main benefit is greater control while traveling downhill, regardless of vehicle load or road grade. Three settings are available: On, Off and Auto. The Auto setting modulates engine braking as needed to help maintain the speed you want based on accelerator and brake pedal use.
...less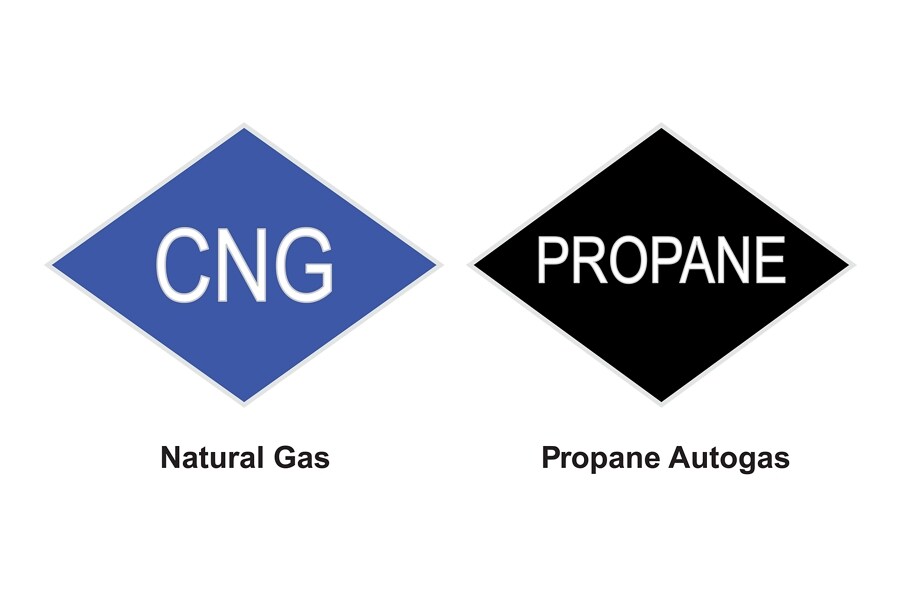 Advanced Fuel Options
Compressed natural gas (CNG) and propane are advanced fuel options to unleaded gasoline, with the CNG/Propane Gaseous Engine Prep Package available on the 7.3L gas V8. * What's more, the CNG/Propane Package with the addition of the necessary upfits for bi-fuel capability enables the 7.3L V8 to run on either liquefied propane gas or unleaded gas.
...less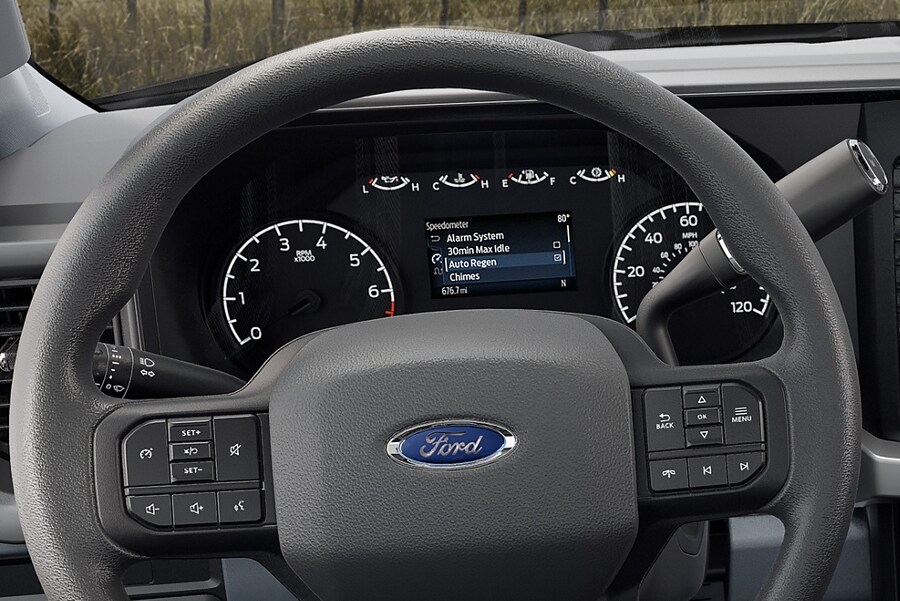 Operator-Commanded Regeneration With Active Inhibit (Diesel)
Some operating conditions, such as long idling, don't generate enough engine heat for the diesel to automatically burn off soot in the diesel particulate filter. That's where available Operator-Commanded Regeneration with Active Inhibit comes in. When the warning light comes on, pushing the activation button raises the exhaust temperature to burn off the soot, after which the exhaust temperature reverts to normal.
...less