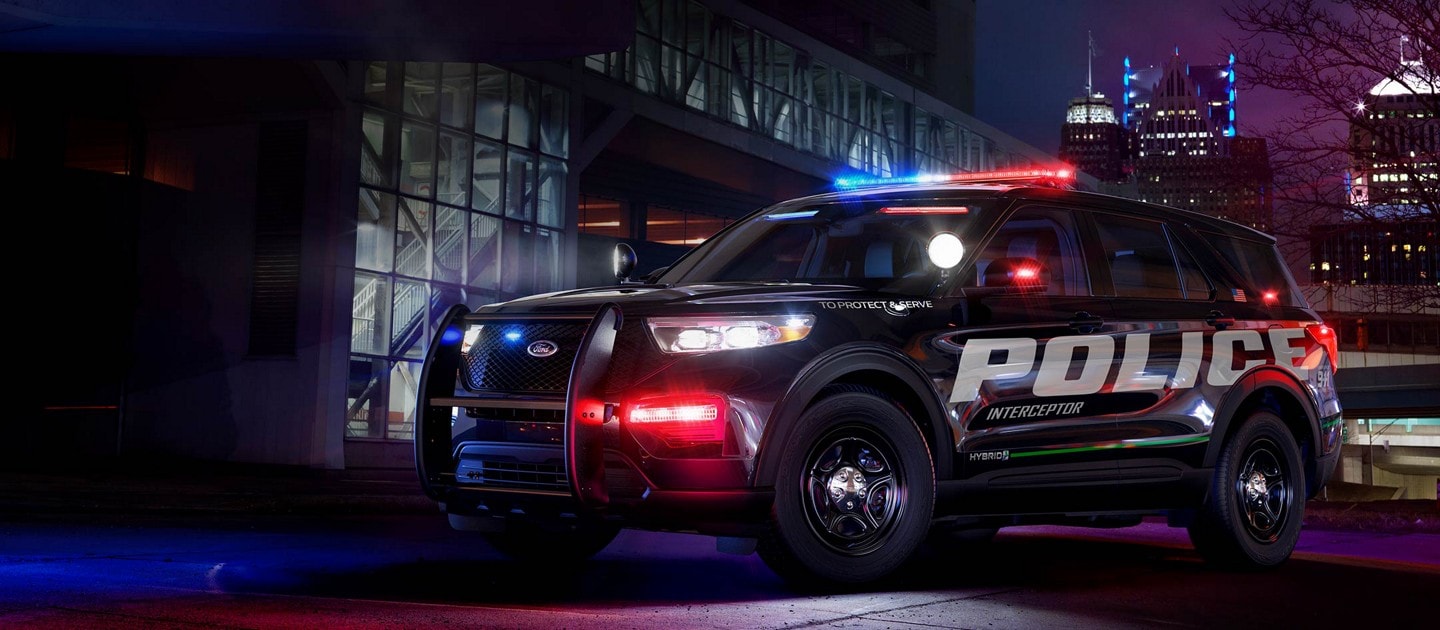 The Ford Police Interceptor® Utility
Image Content: Computer-generated images and aftermarket equipment shown throughout.
Pulling from nearly 70 years of expertise working alongside law-enforcement professionals, Ford presents its current-generation Police Interceptor Utility as the first-ever pursuit-rated hybrid police SUV. It provides police agencies with improved power and performance, with no trade-offs when it comes to safety or interior passenger/cargo space when compared to the previous-generation vehicle. It's smart for community budgets, too – with significant potential fuel savings and reduced CO2 emissions,* potentially fewer fill-ups** and less downtime to keep both vehicles and officers on the road.
...less
75-MPH Rear-Impact Crash-Test Rated*
The Ford Police Interceptor Utility continues a tradition of extreme officer protection. It's the only vehicle, worldwide, engineered to meet the 75-MPH rear-impact crash test.* Beyond that, the SPACE (Side Protection And Cabin Enhancement) Architecture,® along with structural reinforcement, work to protect officers on the job.
...less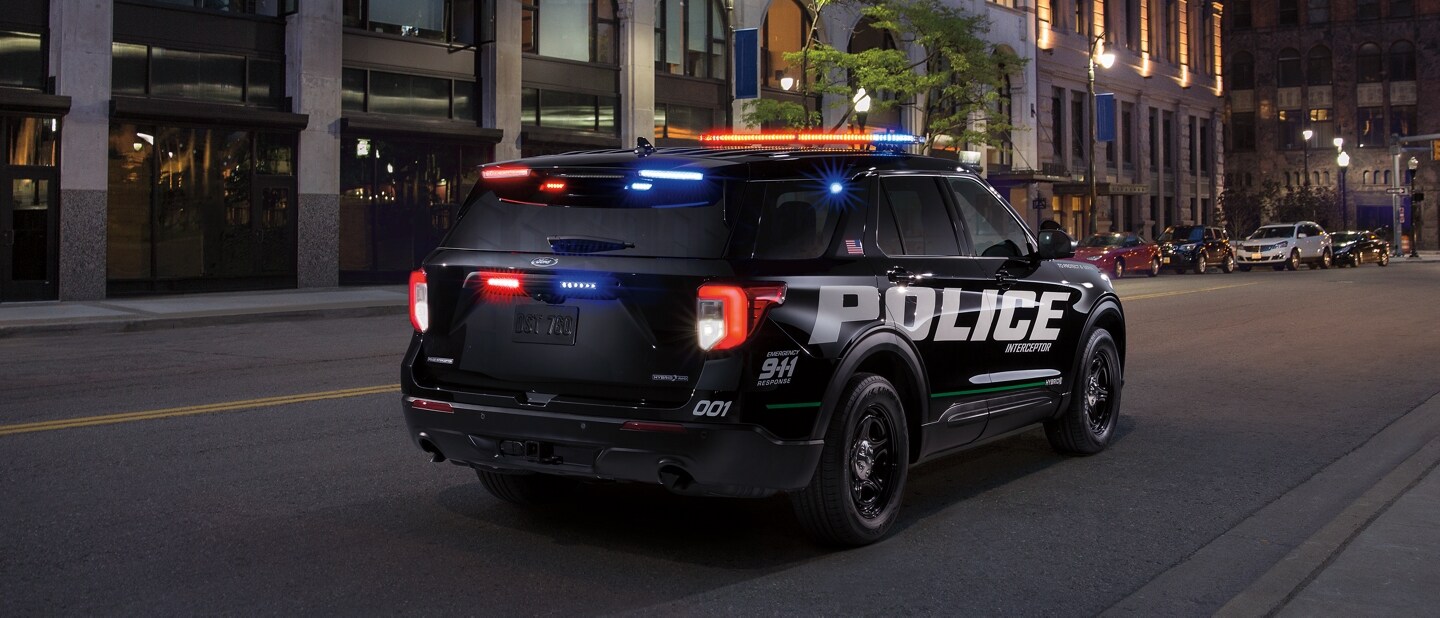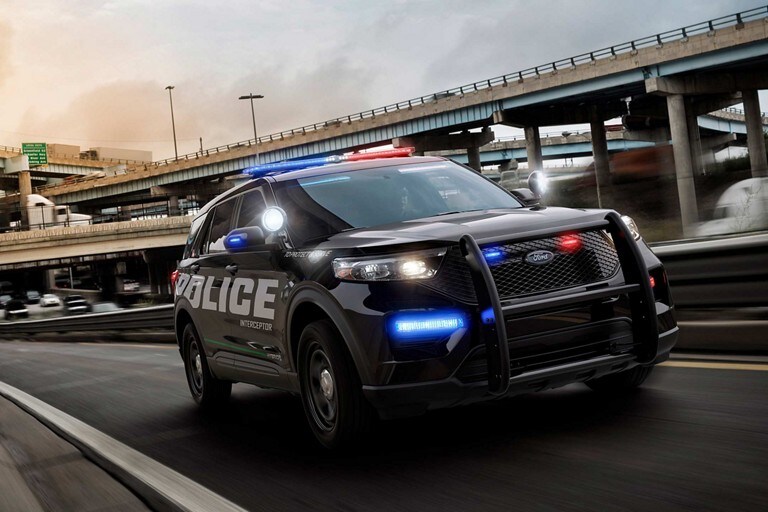 Standard Hybrid/AWD Powertrain
The simple fact is this: Police vehicles spend a lot of time idling on the job. That's what makes the standard hybrid powertrain on the Police Interceptor Utility ideal for law enforcement. On-board electrical equipment can be powered using the lithium-ion hybrid battery, allowing the gasoline engine to shut off – running only intermittently to charge the battery. The standard Intelligent AWD drivetrain provides improved handling stability and traction in all driving conditions. It also offers significant improvements in fuel economy and reduced engine idle time (compared with the previous model), along with across-the-board improvements in performance and capability.
...less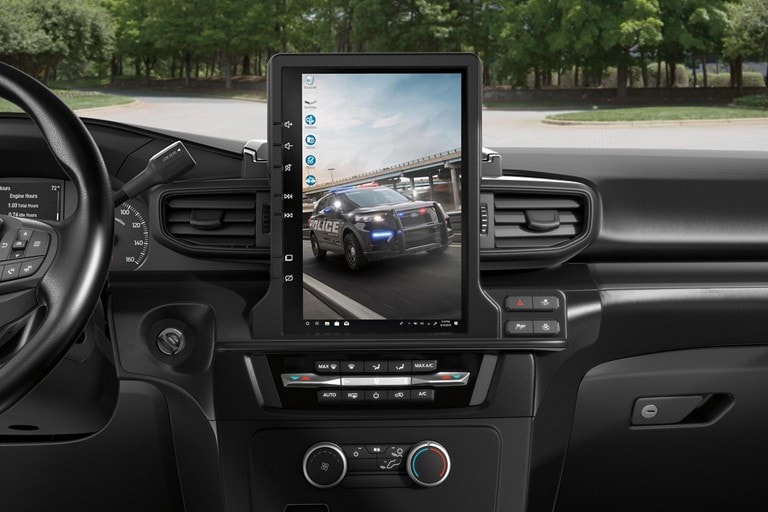 Available 12.1-inch Integrated Computer Screen
The available 12.1-inch Integrated Computer Screen on the Ford Police Interceptor® Utility reduces clutter and frees up valuable space in the front passenger cabin by allowing on-board laptops to be relocated to the rear cargo area. The touchscreen display takes place of the laptop display, and can potentially eliminate the need for a keyboard in the cabin as well. With an easy connection in the cargo area, and no special software required to operate, laptop setup is streamlined. The available 12.1-inch Integrated Computer Screen also includes SYNC® with vehicle audio controls integrated right into the display.
...less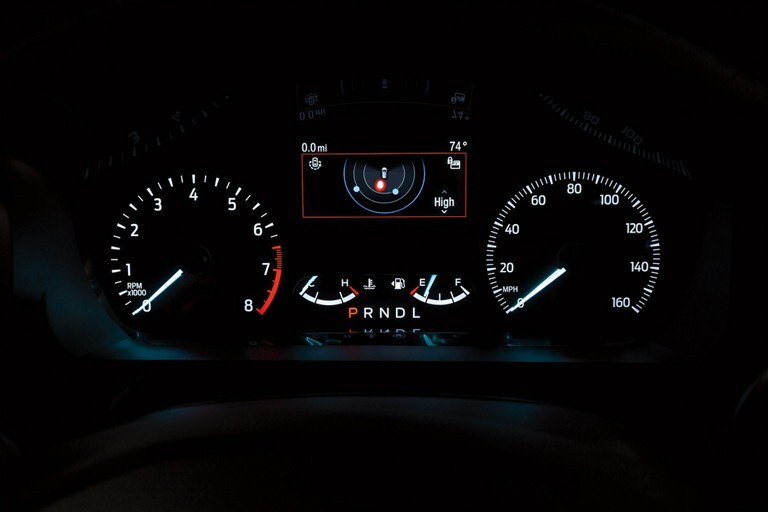 Available Police Perimeter Alert
Police Perimeter Alert is a much-improved, factory-installed version of Surveillance Mode. It uses BLIS® (Blind Spot Information System) sensors for approximately 270-degree monitoring outside of the vehicle and analyzes the motion to determine if a behavior is a potential threat. It features a visual display in the instrument panel cluster that shows moving objects, the motion trail and potential threat level. When potentially threatening behavior is detected, it also will sound a chime, activate the Rear View Camera, and automatically roll up the windows and lock the doors.
...less
More Capability on the Beat
Image Content: Computer-generated images and aftermarket equipment shown throughout.
*Horsepower and torque numbers achieved with premium fuel.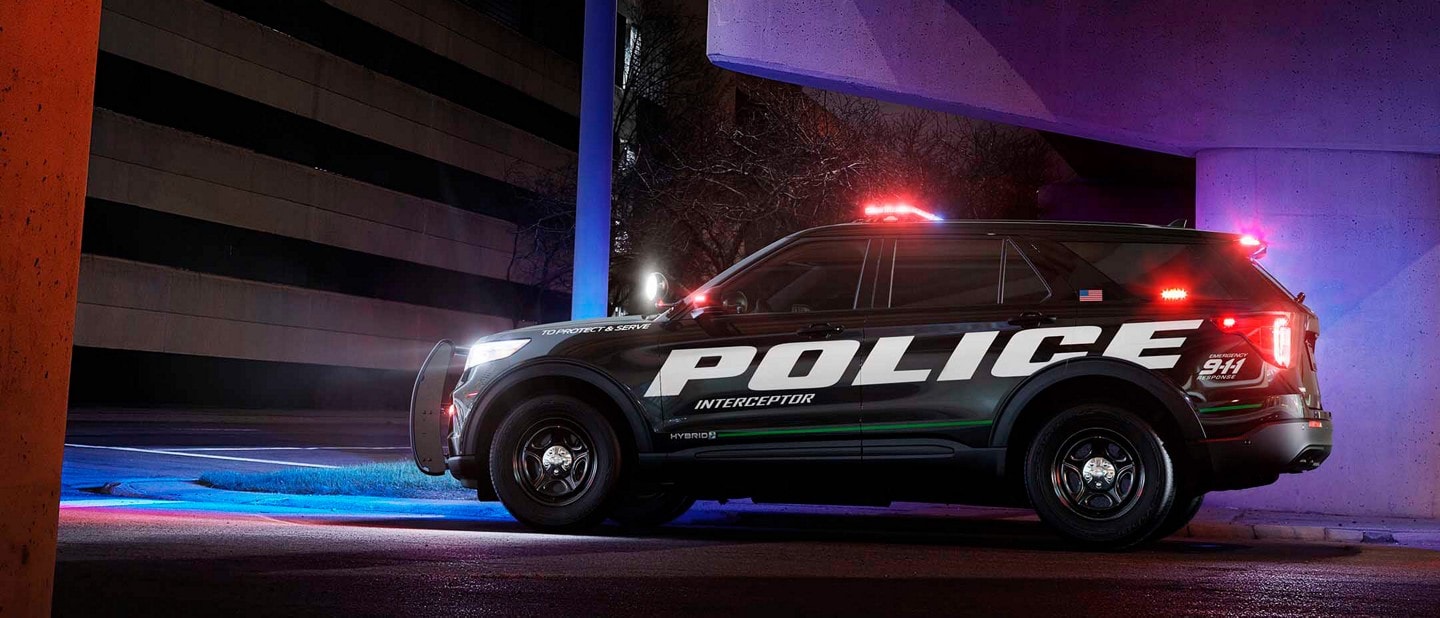 Available Pre-Collision Assist With Pedestrian Detection*

Sensors detect a potential collision with a car or pedestrian in front of the vehicle, flashing a warning on the instrument cluster along with an audible alert. The brakes will precharge and increase brake-assist sensitivity to provide full responsiveness when applied. If corrective action is not taken and a collision is imminent, brakes can apply automatically.

For unique law-enforcement demands, a switch allows the feature to be temporarily disabled.

*Available driver-assist features are supplemental and do not replace the driver's attention, judgment and need to control the vehicle. Pre-Collision Assist with Pedestrian Detection can detect pedestrians, but not in all conditions, and does not replace safe driving. See owner's manual for system limitations.



Bold Exterior Options
The Ford Police Interceptor® Utility comes in 17 different exterior colors direct from the factory.
...less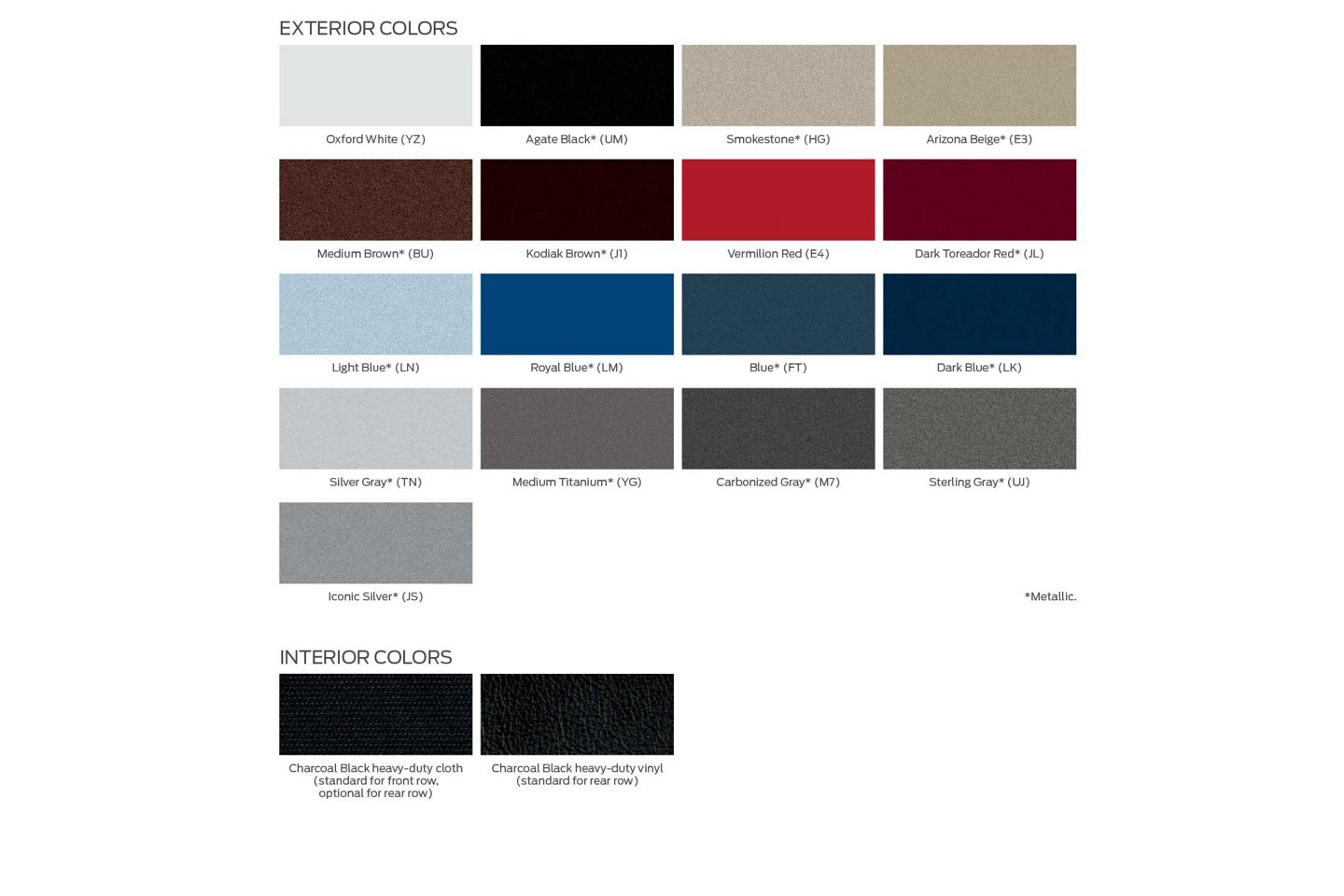 Additional Vehicle Special Order (VSO) color options are available. Check with your Ford dealer for more information.
View PDF versions of relevant product brochures.

Stay up to date on new Ford vehicles, technologies, offers and more.

Your satisfaction is important to us. We're here to help.