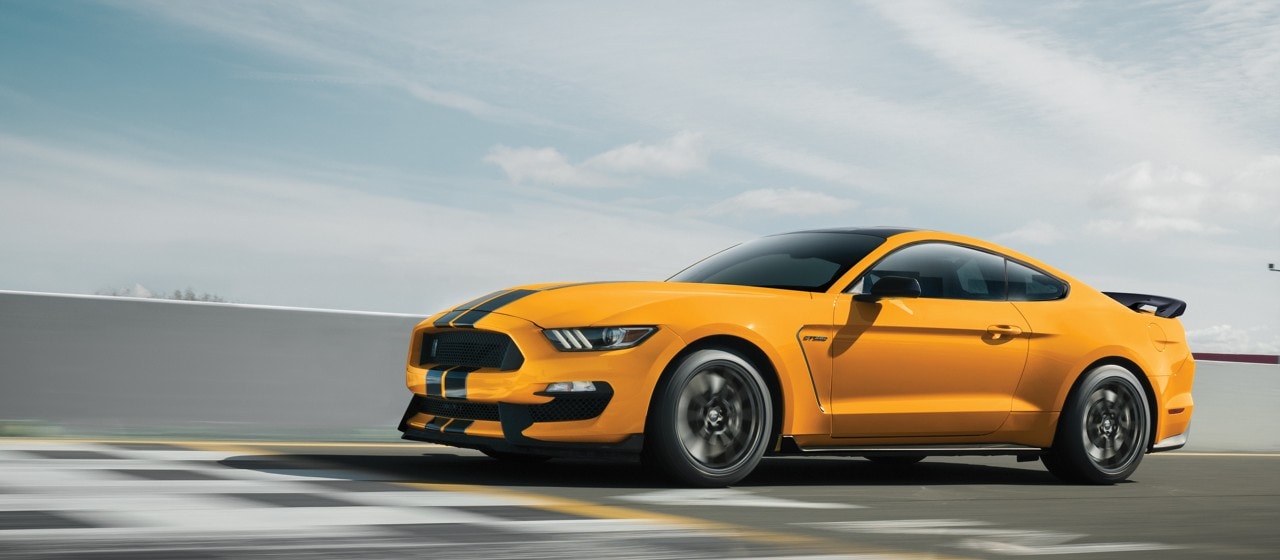 2019 Ford Mustang Shelby GT350®
GT350® Track Attack
The GT350® Track Attack is a complimentary high-performance driving experience for Shelby®GT350/GT350R owners. This one-day event is designed to build the high-performance driving skills that will help you get the most out of your new GT350/GT350R. For more information, just go to www.gt350trackattack.com or call 435-27-SPEED to register.
...less
The playbook for exhilaration.
Just looking at the Shelby GT350® makes your heart beat faster – a true example of form beautifully following function. Now imagine strapping yourself in and firing up that 5.2L V8.
Your instrument panel is a panorama of information that's vital to know on the track. You grip the shifter and push it into first. That exhilaration you feel is what the designers and engineers had in mind all along. 
...less
Stares come standard.
It's only natural. The Shelby GT350® attracts attention wherever it goes.
...less
Legendary performance. Futuristic tech.
Upgrades to the Mustang Shelby GT350®standard MagneRide®Damping System complement the aero and tire enhancements with recalibrated springs and revised damping to take full advantage of the improvements. The system monitors and adjusts itself one thousand times per second, creating a dynamic, adrenaline-fueled driving experience that will leave you breathless. The dual exhaust with electronic valves and quad tips helps maximize the awesome power of the 5.2L V8.
...less
Performance and technology.
The Shelby GT350® is designed to achieve lightning-fast performance. Every system, component and shape is designed and optimized so that all the parts work in balanced harmony, Case in point: use of aluminum hats in the rotors helps slash overall weight. Innovations like these help make driving a Shelby GT350® one of the most exhilarating experiences ever felt in a production Mustang.
...less
Sunday drives never looked so good.
The 2019 Mustang Shelby GT350® performance enhancements include improved aerodynamics that reduces drag with the new spoiler and adds downforce with new available Gurney flap installed. Other updates include new custom Michelin Pilot Sport Cup 2 tires, plus chassis and antilock brake tuning for dramatically greater grip.
...less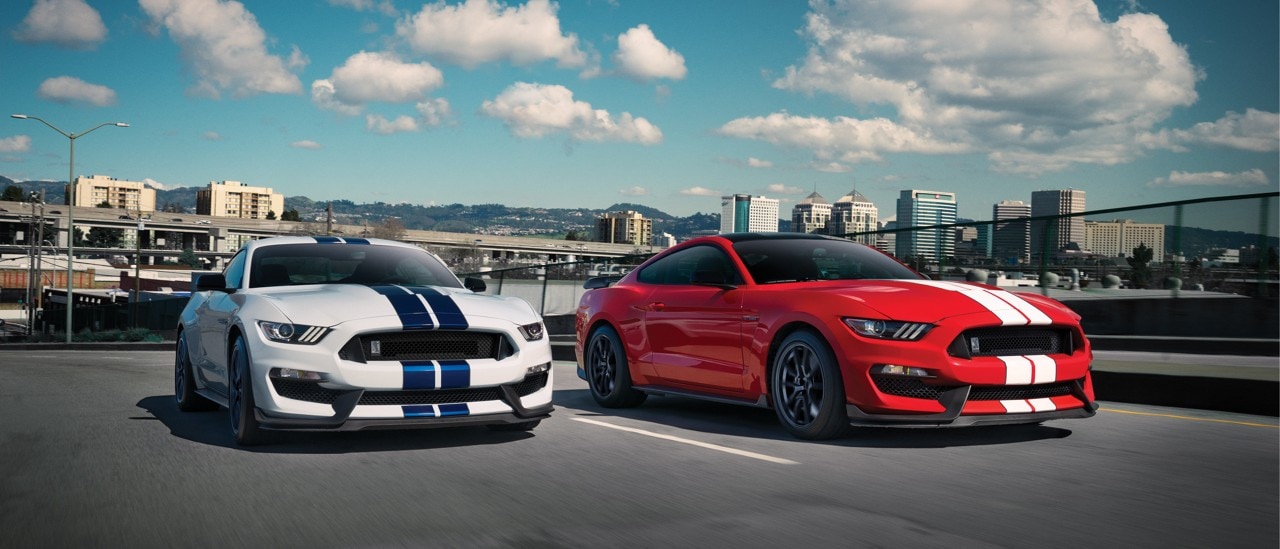 An interior that helps you improve your performance.
Settle into the standard RECARO® cloth seats with Dark Slate Miko® inserts (new for 2019) and grab the unique race-inspired Shelby® shift knob. You'll instantly recognize the difference an uncompromising, performance-driving environment makes. Take a look around and notice the Shelby-exclusive aluminum appliqué, also new for this year. And once you're on your way, you'll appreciate the unique shift indicator light displayed on the windshield. Because when you're driving this car, there's no way you want to take your eyes off the road.
...less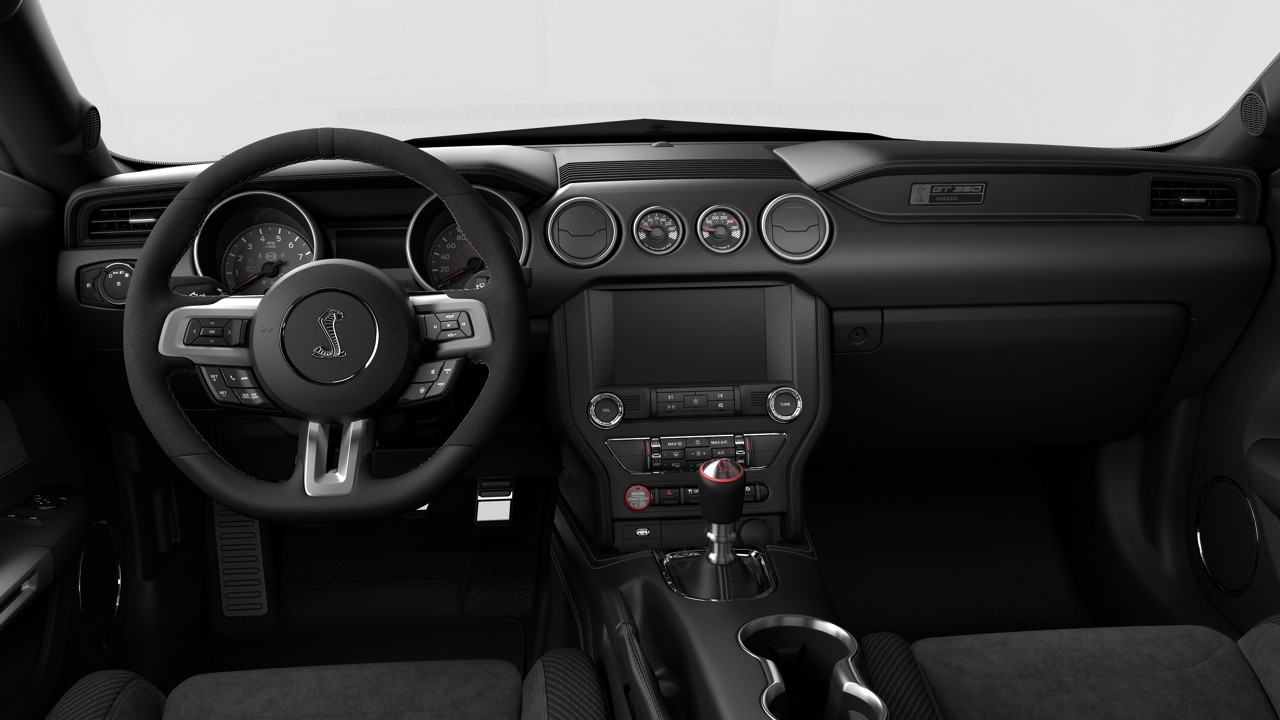 Flat-bottom steering wheel and Track Apps.®

Imagine your hands around this flat-bottom steering wheel wrapped in leather and Alcantara® and sporting the Cobra® logo. Track Apps features electronic line-lock and launch control172 and provides performance metrics instantly on the 4.2-inch message center in the instrument cluster. ...less

Unique chassis number/Integrated Driver Control (IDC) System.

Every Shelby GT350® comes with its own unique chassis number, which is displayed on the passenger-side instrument panel. The IDC System offers customizable driving preferences that let you dial in the handling dynamics to your liking. ...less
The Shelby® GT350R. Ready to race.
The Shelby® GT350R is a racing machine, pure and simple. It rides on 19-inch carbon-fiber wheels, wrapped in Michelin® Pilot® Sport Cup 2 tires. It sports a carbon-fiber rear wing, a large front splitter and unique chassis tuning that doesn't make any compromises for day-to-day life on the track. In faithful adherence to its racing roots, the rear seat has been left out. For 2019, the Shelby® GT350R also features a Rear View Camera, air conditioning, audio system, SYNC® 3, auxiliary gauges, tire inflator and sealant kit and USB port, all standard.
...less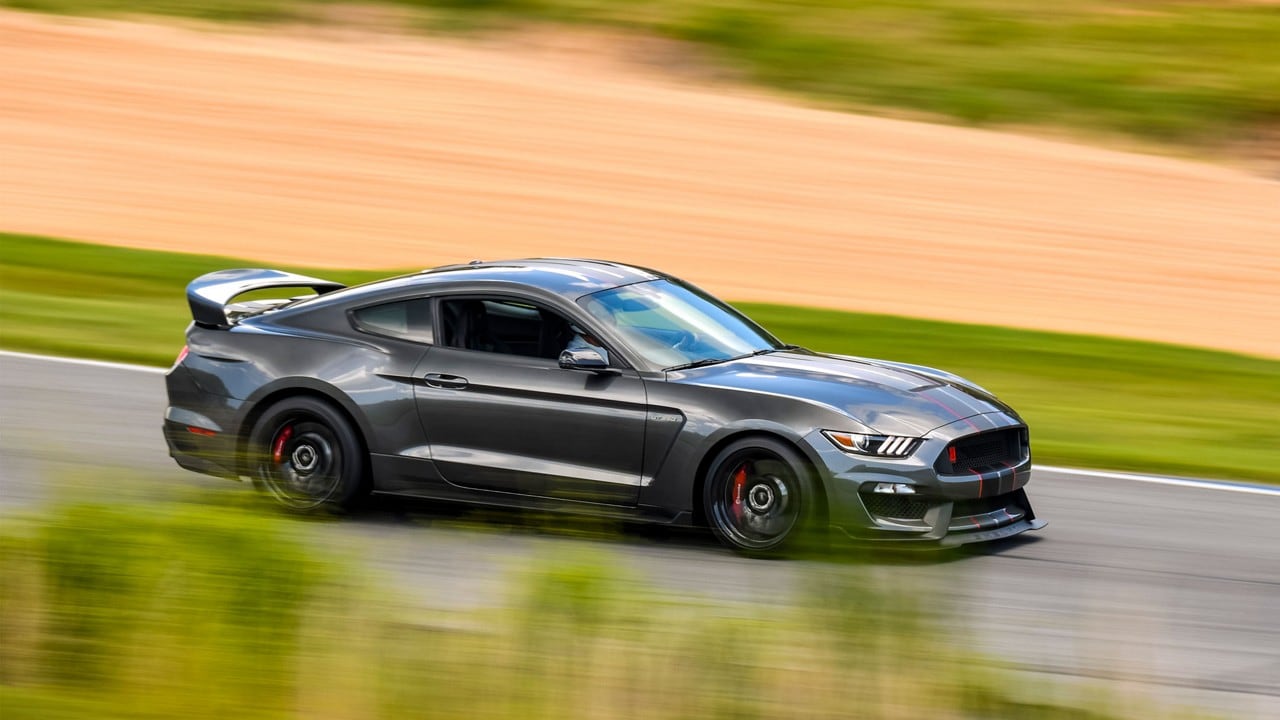 This is one exciting family portrait.