HELPING TO MOVE YOUR BUSINESS FORWARD
Transit offers a choice of responsive gas engines, available Intelligent All-Wheel Drive and driver-assist technologies that allow you to drive with confidence.
...less
A CHOICE OF POWERFUL ENGINES
Transit powers up your business with a 3.5L PFDi V6 engine or 3.5L EcoBoost® V6 engine. Partner any one of them with a 10-speed automatic transmission and you've got a vehicle more than capable for the job ahead.
...less
3.5L PFDI V6
The 3.5L PFDI V6 engine in 2021 Transit Cutaway and Chassis Cab models delivers impressive ratings of 275 horsepower and 262 lb.-ft. of torque. It's a 3.5L V6 engineered with the Ford port-fuel/direct-injection (PFDI) system. PFDI features two injectors per cylinder — one mounted in the air intake port, another inside the cylinder — to increase overall performance.
...less
3.5L ECOBOOST® V6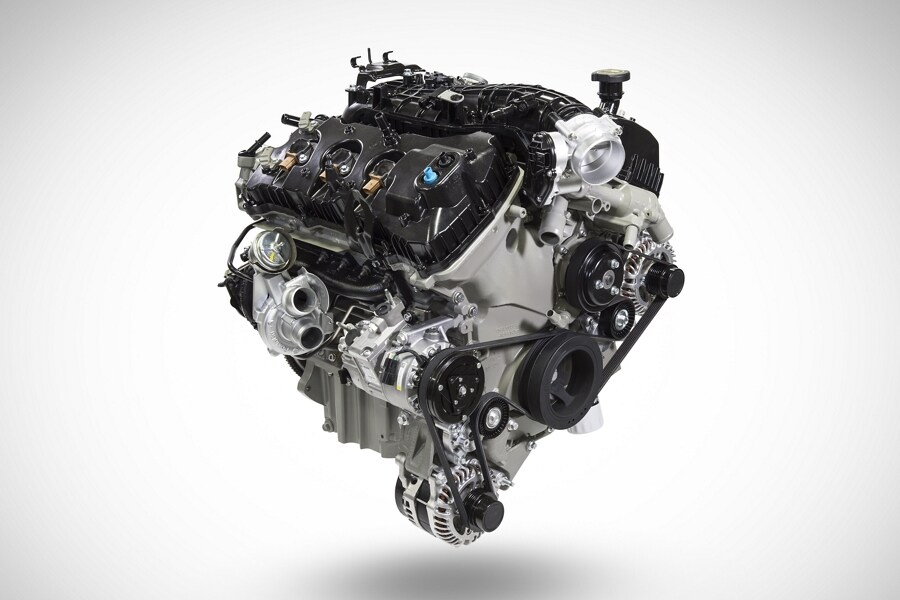 The outstanding performance of the 3.5L EcoBoost® is available in Ford Transit Cutaway and Chassis Cab models. EcoBoost generates a level of performance you might expect from a large-displacement engine. This engine has a standard power rating of 310 horsepower and 400 lb.-ft. of torque, courtesy of two technologies: direct injection of fuel quickly into the combustion chambers (instead of intake ports) and twin turbochargers for an instantaneous surge of power with virtually no turbo lag.
...less
CAPABILITY TO HELP YOUR BUSINESS MOVE FORWARD
The 2021 Ford Transit Cutaway and Chassis Cab offers a choice of engines and a 10-speed transmission to power your business. Plus, you also have the enhanced handling and traction capabilities with available Intelligent AWD.
...less
INTELLIGENT ALL-WHEEL DRIVE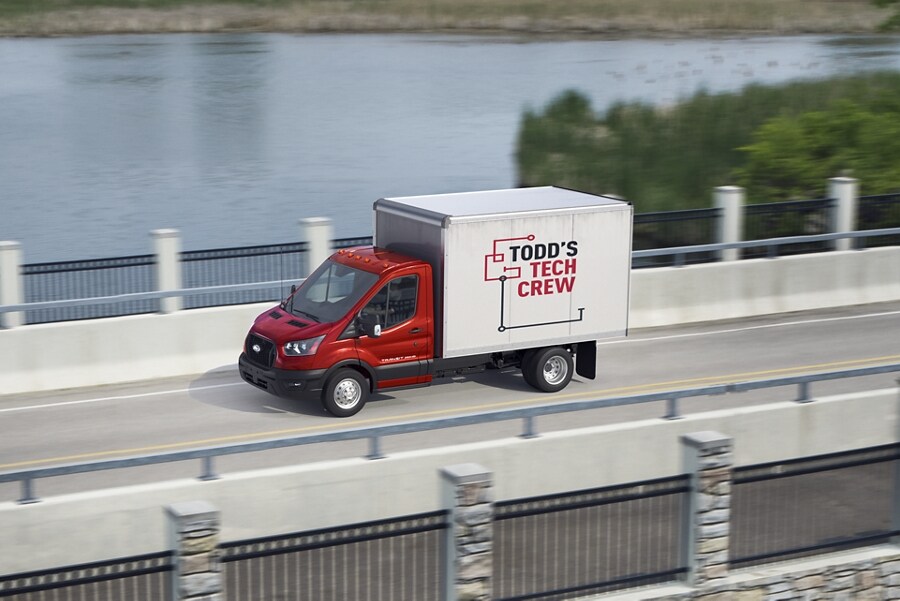 The available Intelligent All-Wheel-Drive System is not only designed to enhance handling and maximize traction, it was integrated into the vehicle's design to ensure it didn't raise the load floor or seat height. Making it as easy to enter and exit as our standard model. Great news for drivers who are in and out of their vehicles a lot during the workday.
...less
RANGE OF GVWR AND PAYLOAD RATINGS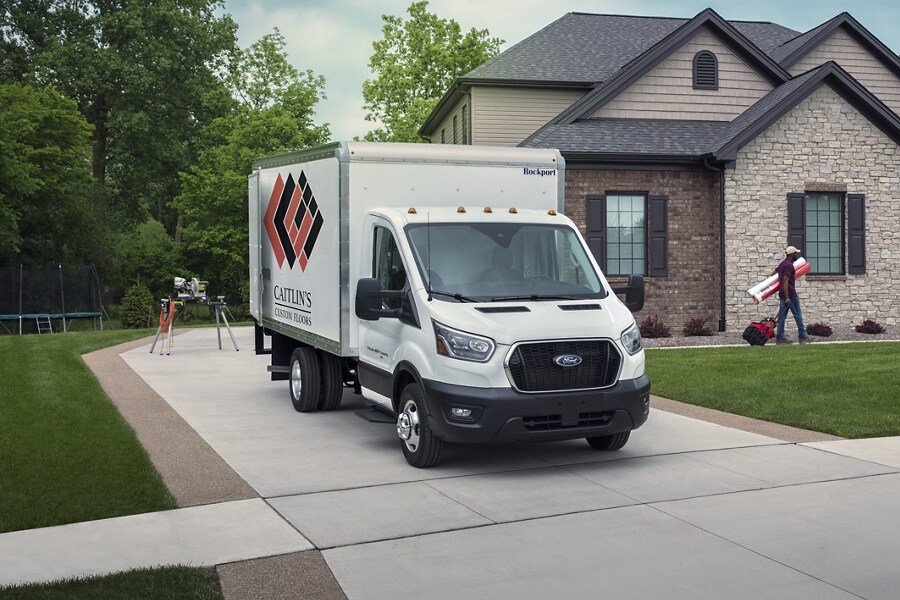 Configure a Transit to match your business across a wide range of gross vehicle weight and payload ratings in single- and dual-rear-wheel models. GVWRs range from 9,070 lbs. to 11,000 lbs. Maximum payloads less body weight are 4,420 lbs. and 6,400 lbs. *
...less
*Max payload varies and is based on accessories and vehicle configuration. See label on door jamb for carrying capacity of a specific vehicle.
STRONG. DEPENDABLE. VERSATILE.
Transit Cutaway and Chassis Cab models are built on a unique Ford uniladder frame that's remarkably strong and designed with a clean CA (cab to axle) for easy and cost-efficient upfitting. No add-on parts to be removed and reassembled. The Transit Cutaway with convenient direct cab-to-body access is ideal for such applications as delivery, ambulances, shuttle buses and motorhomes. The Transit Chassis Cab accommodates multiple applications like delivery boxes, utility and flatbed bodies.
...less
THREE WHEELBASE OPTIONS
The 2021 Ford Transit is available in three wheelbases and three lengths so it's always the right tool for the job.
...less
FORD CO-PILOT360™ TECHNOLOGY 
2021 Transit models now come with standard Ford Co-Pilot360™  Technology that can help you navigate our increasingly crowded roads and highways with greater confidence.10  Features included are Pre-Collision Assist with Automatic Emergency Braking (AEB), Lane-Keeping System, available Adaptive Cruise Control, Post-Collision Braking and Auto High-Beam Headlamps and rain-sensing wipers.
...less
FORD COMMERCIAL SOLUTIONS
Integrated products and services that are tailored to meet the unique demands of fleet professionals. Whether you need to increase vehicle uptime and productivity, reduce maintenance costs, manage compliance or improve efficiency in other ways – we can deliver the right solutions you need for your business. *
...less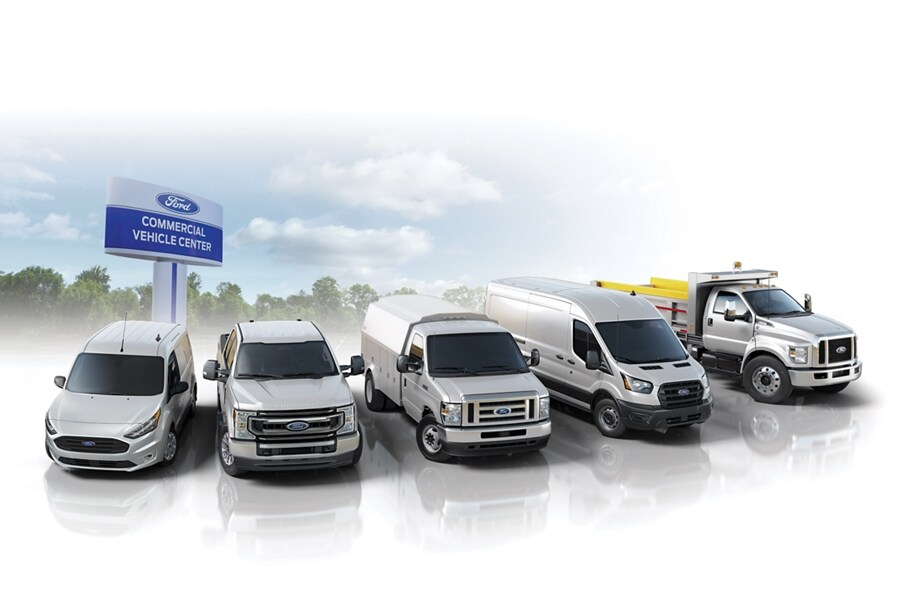 COMMERCIAL VEHICLE CENTER
Over 600 dealers in our extensive nationwide network are specially trained and equipped to sell, service and finance the complete line of Class 1-7 Ford commercial vehicles. Let a Ford commercial dealer show you all the exceptional services available to your business. *
...less
*Computer-generated image shown. Available features and aftermarket equipment shown.
POTENTIAL TAX SAVING OPPORTUNITY 
Under Section 168(k) of the IRS Tax Code, many businesses that invest in new equipment, including qualifying new vehicles, can potentially deduct a maximum of the entire purchase cost, of one or more business vehicles, on their IRS tax returns. *
Qualifying Ford commercial vehicles include Ford Transit, E-Series, F-150, F-250/350/450/550/600 Super Duty®, F-650/750 Medium Duty and Stripped Chassis. * For more information, visit IRS.gov and contact your tax professional.
...less
*Under Bonus Depreciation in Section 168(k) of the Internal Revenue Code, companies may be eligible to fully expense the cost of trucks, vans and SUVs rated over 6,000 lbs. GVWR, when purchased for business use. Trucks and vans that are considered passenger vehicles, rated under 6,000 lbs. GVWR, are limited to $18,100 of depreciation in the year of purchase with normal MACRS depreciation on the remaining basis in the vehicle in subsequent years. A vehicle is not considered a passenger vehicle, and is thus not limited to the lower depreciation amounts, if it is considered a "qualified non-personal use vehicle." Qualified non-personal use vehicles are vehicles that, by virtue of their nature or design, are not likely to be used more than a de minimis amount for personal purposes. Examples of qualified non-personal use vehicles include 1) a vehicle that can seat nine-plus passengers behind the driver's seat, 2) a heavy non-SUV vehicle with a cargo area of at least six feet in interior length or 3) a vehicle with a fully enclosed driver's compartment/cargo area, no seating behind the driver's seat, and no body section protruding more than 30 inches ahead of the leading edge of the windshield. For more information, see IRC Section 280F(d)(7), Income Tax Reg. Sec. 1.280F-6(c) (3)(iii), Income Tax Reg. Sec. 1.274-5T(k), and Revenue Ruling 86-97, and contact your tax advisor for details. Only applies to business vehicle purchases occurring after Dec. 31, 2020, and by Dec. 31, 2021. Consult your tax advisor as to the proper tax treatment of all business-vehicle purchases.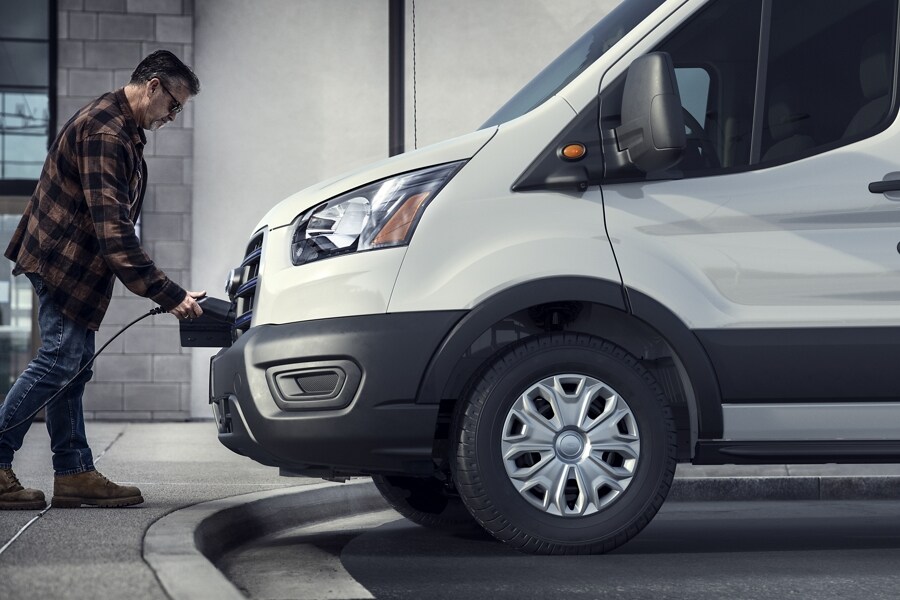 2022 ALL-ELECTRIC FORD TRANSIT
*Based on total U.S. reported sales (2019CY).
**Available for the 2022 model year. Pre-production model shown.
***Based on original equipment manufacturers/automotive manufacturers that sell all-electric vehicles and have publicly announced charging networks. Department of Energy data used. FordPass, compatible with select smartphone platforms, is available via a download. Message and data rates may apply.