BRAINS, MEET BRAWN.
Don't settle for less. Ford Super Duty® leads in power and capability and features advances in technology to match. With available driver-assist features such as Pre-Collision Assist with Automatic Emergency Braking (AEB) and Pro Trailer Backup Assist™ aiding your driving skills and features like SYNC® and FordPass™ keeping you connected, you can feel prepared for the road ahead.
...less
FORD CO-PILOT360™ TECHNOLOGY
Driver-assist technologies are about supplementing your driving skills.10  They can alert you to a potential collision and help you react possibly before it can occur. With this advanced technology, you can feel in command when you're on the road.*
...less
*Feature availability varies by vehicle.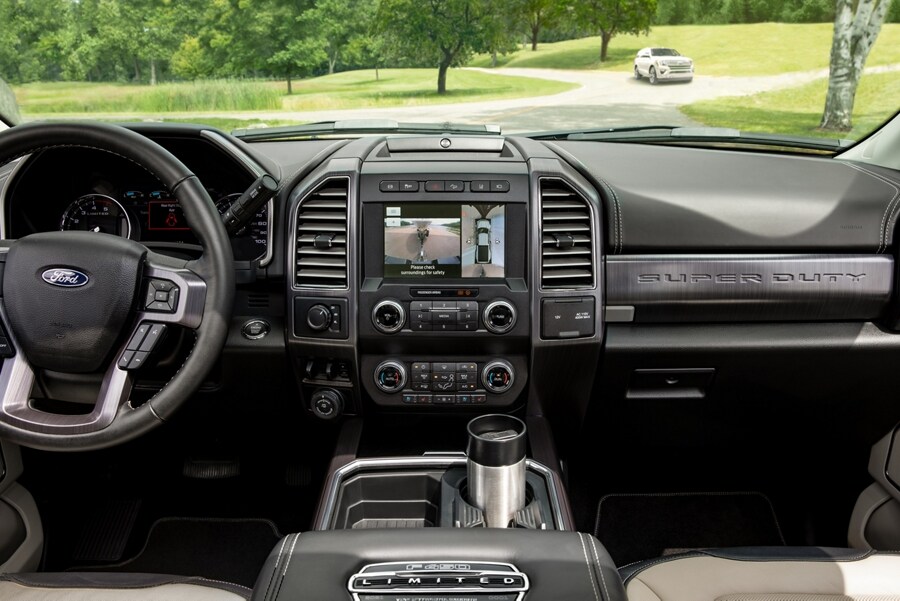 ULTIMATE TRAILER TOW CAMERA SYSTEM WITH PRO TRAILER BACKUP ASSIST™
Included:
Pro Trailer Backup Assist™ — Rotate the Pro Trailer Backup Assist knob to help maintain greater control over backing up your trailer. Initial set-up required.
Trailer Reverse Guidance — Expanded view via cameras in the sideview mirrors and visual guides in the center dash screen show the direction of the truck and the trailer, with guidelines changing with steering wheel movement.10
180-/360-Degree Cameras — Images are created from cameras for a view of all sides of the truck.
Customer-placed camera — Available for mounting to the back of a trailer.
Center high-mounted stop lamp camera — provides a view of the pickup bed, which is helpful when hooking up to a fifth-wheel or gooseneck hitch.
...less
STAY CONNECTED WHEREVER YOU ARE ON THE JOB
No matter where your job takes you, on or off the road, Ford puts you quickly and easily in touch through an in-vehicle touchscreen and voice-activated technology as well as smartphone apps. Connect with people, navigate to a destination, get useful trip information just about anytime, anywhere.
...less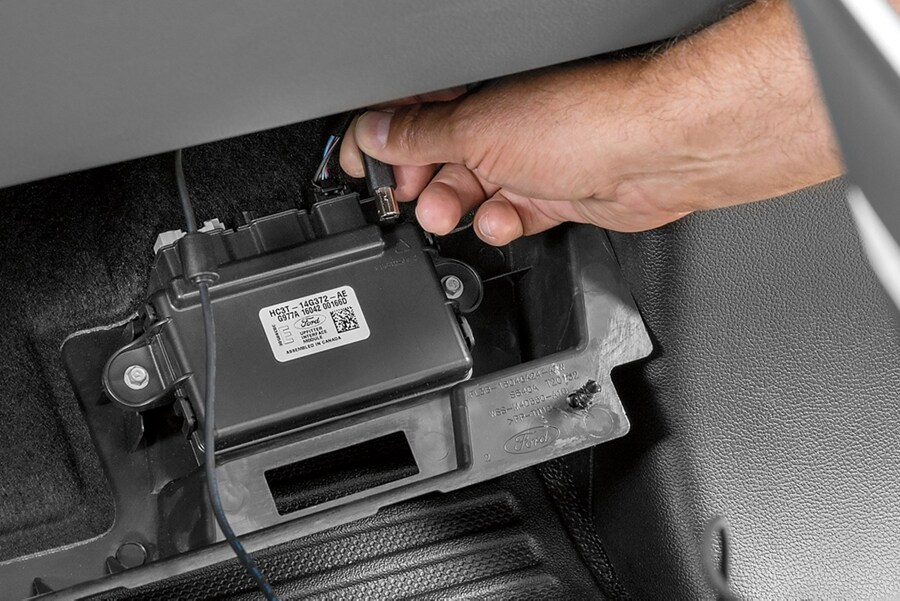 UPFITTER INTERFACE MODULE
Super Duty® offers an available factory-installed programmable Upfitter Interface Module that helps upfitters properly connect the vehicle's electrical system quickly and easily. It allows a direct programmable logic interface to control devices using a laptop or notebook.
...less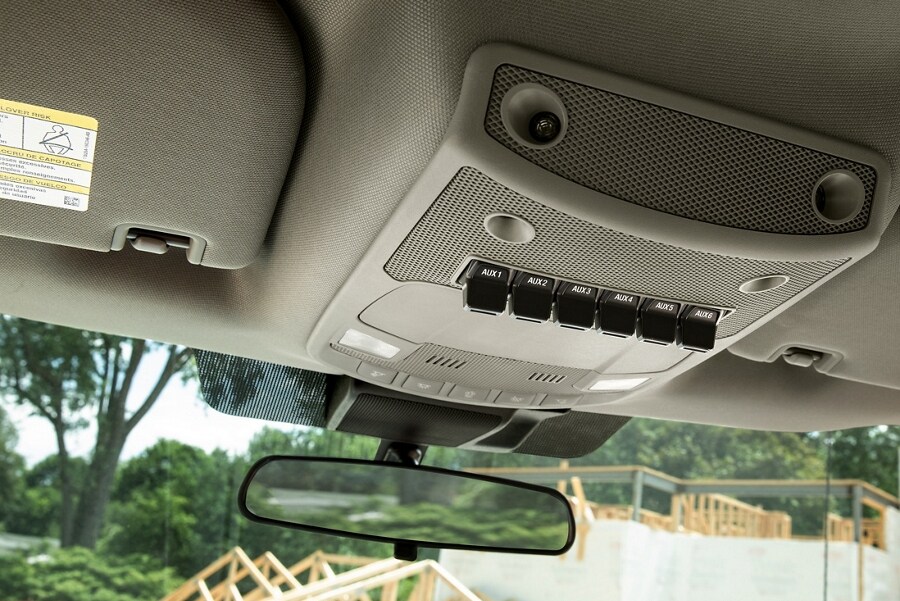 UPFITTER SWITCHES
Super Duty® offers available upfitter switches, located in an overhead console, for a variety of aftermarket accessories, such as a winch, lights, strobes, two-way radio. They're factory installed, so there's no need to cut into the truck's electrical system. Six switches include two 40-amp switches (ignition on or off) plus four 25-amp switches (ignition on).
...less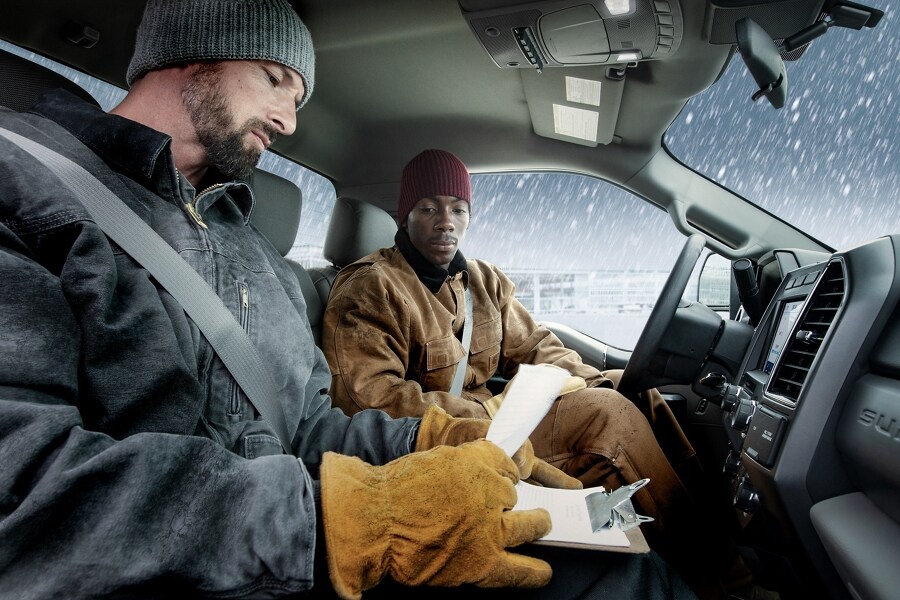 RAPID HEAT SUPPLEMENTAL CAB HEATER (DIESEL)
The optional rapid-heat feature (available on diesel only) is a self-regulating supplemental heater that provides instant heat to the cab until the engine gets warm enough, adding greater comfort and convenience to jobs in colder weather conditions.
...less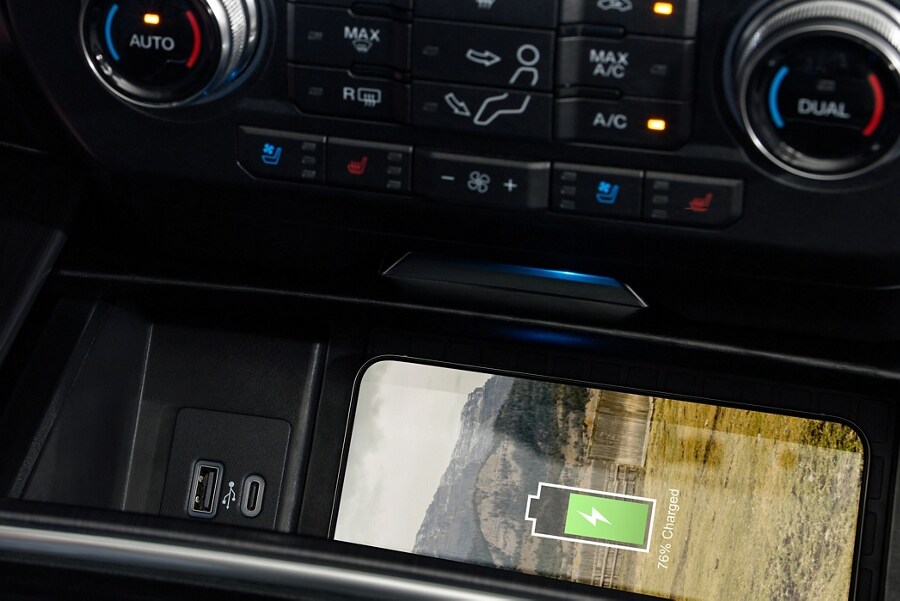 WIRELESS CHARGING PAD
The available wireless charging pad accepts a wide range of devices with built-in charging capability. Simply set your phone with charging side down on the pad, located in the center console, while the vehicle is either running or in accessory mode. When your phone is fully charged, the unit will maintain it even while you're streaming music or making a call through the available SYNC® 3 system.
...less
Not all phones are compatible with wireless charging. Devices without built-in wireless charging require an additional manufacturer-approved receiver or sleeve. Wireless phone charger supports Qi.