Built To Support Those Who Support Our World.
Your job has never been tougher. And we'll be here to help you keep working.
WITH 18 CONTENDERS, F-650 COMES OUT ON TOP

Ford F-650 is the winner of Work Truck Magazine's Medium Duty Truck of the Year award for 2020. Judged on criteria including durability, quality, servicing, maintenance and life cycle costs, the F-650 has now scored the seventh Truck of the Year win for Ford as chosen by Work Truck readers.
...less
BUILT FORD TOUGH® FROM THE GROUND UP.

The 2021 F-650 and F-750 trucks feature a new class-exclusive* available 7.3L V8 gas engine, with GCWRs up to 50,000 lbs and GVWRs as high as 37,000 lbs. And we're proud to say,
F-650/F-750 trucks and tractors are built in America at our Ohio Assembly Plant in Avon
Lake. ** By controlling every phase of truck development in-house, from design and engineering to manufacturing, we're able to cover every aspect of customer service from the day of initial purchase to a continuing commitment to quality care long down the road.
...less
*Class is 6–7 Classic Conventional Cabs.
**Assembled in the USA with domestic and foreign parts.

POTENTIAL TAX SAVINGS OPPORTUNITY
Under Section 168(k) of the IRS Tax Code, many businesses that invest in new equipment, including qualifying new vehicles, can potentially deduct a maximum of the entire purchase cost, of one or more business vehicles, on their IRS tax returns.*
Qualifying Ford commercial vehicles include Ford Transit, E-Series, F-150, F-250/350/450/550/600 Super Duty®, F-650/750 Medium Duty and Stripped Chassis.* For more information, visit IRS.gov and contact your tax professional.
...less
*Under Bonus Depreciation in Section 168(k) of the Internal Revenue Code, companies may be eligible to fully expense the cost of trucks, vans and SUVs rated over 6,000 lbs. GVWR, when purchased for business use. Trucks and vans that are considered passenger vehicles, rated under 6,000 lbs. GVWR, are limited to $18,100 of depreciation in the year of purchase with normal MACRS depreciation on the remaining basis in the vehicle in subsequent years. A vehicle is not considered a passenger vehicle, and is thus not limited to the lower depreciation amounts, if it is considered a "qualified non-personal use vehicle." Qualified non-personal use vehicles are vehicles that, by virtue of their nature or design, are not likely to be used more than a de minimis amount for personal purposes. Examples of qualified non-personal use vehicles include 1) a vehicle that can seat nine-plus passengers behind the driver's seat, 2) a heavy non-SUV vehicle with a cargo area of at least six feet in interior length or 3) a vehicle with a fully enclosed driver's compartment/cargo area, no seating behind the driver's seat, and no body section protruding more than 30 inches ahead of the leading edge of the windshield. For more information, see IRC Section 280F(d)(7), Income Tax Reg. Sec. 1.280F-6(c) (3)(iii), Income Tax Reg. Sec. 1.274-5T(k), and Revenue Ruling 86-97, and contact your tax advisor for details. Only applies to business vehicle purchases occurring after Dec. 31, 2020, and by Dec. 31, 2021. Consult your tax advisor as to the proper tax treatment of all business-vehicle purchases.
POWER TO GET THE JOB DONE

2021 Ford Medium Duty F-650 and F-750 trucks provide the power you need. Team the new 7.3L V8 gas engine or the improved Power Stroke® V8 Turbo Diesel engine with the Ford Torqshift® HD 6-speed automatic transmission and you'll be ready to take on the job.
...less
Vehicle shown with aftermarket equipment.
NEW CLASS-EXCLUSIVE* 7.3L V8 GAS ENGINE

The new 7.3L V8 gas engine is Built Ford Proud, featuring a best-in-class gas V8 output of 350 hp at 5,500 rpm and best-in-class torque of 468 lbs.-ft. at 3,900 rpm. This engine has the largest displacement in its class and features an overhead valve architecture that generates power low in the rev range to help get heavier loads moving sooner and with greater confidence. It also features a variable-displacement oil pump, extra-large main bearings, forged steel crankshaft for durability and piston cooling jets to help manage temperatures under heavy load. Ford remains the only OEM in segment to make our own transmission and engine.

...less

*Class is 6–7 Classic Conventional Cabs based on Ford segmentation.

6.7L POWER STROKE® V8 TURBO DIESEL ENGINE

The 6.7L Power Stroke® V8 Turbo Diesel engine has a standard power rating of 270 hp/700 lbs.-ft. of torque. You also have your choice of available 300 hp/725 lbs.-ft. of torque and 330 hp/750 lbs.-ft. of torque power ratings. The 6.7L was tested to over 500,000 simulated customer miles, which contributes to a B10 design life of more than half a million miles. * The unique inverse-flow design locates the turbocharger between the cylinder heads and the top of the block, with the exhaust manifold inboard and close to the turbo, for faster air displacement and greater power. The driver-activated engine exhaust braking restricts exhaust flow to create back pressure for seamless braking and reduced brake wear on downhill grades. ...less

*B10 design life based on the 330-hp output version and Ford engine dynamometer testing.

FORD TORQSHIFT® HD 6-SPEED AUTOMATIC TRANSMISSION

The TorqShift® HD 6-speed automatic easily handles the heavy torque of the diesel and gas engines. The Tow/Haul feature minimizes gear hunting on an uphill; on a downhill, it prevents upshifting and increases in speed, and it reduces brake pressure. TorqShift offers the available live-drive power takeoff provision with stationary and mobile modes. ...less
HARD WORKING FROM THE INSIDE OUT
Drivers experience Ford Medium Duty comfort not only while seated but also while getting in and out many times over a long workday. Drivers familiar with the comfort of a Ford Super Duty® pickup or chassis cab will feel right at home in a Ford Medium Duty. Seating is supportive. Leg room can suit drivers of any size. Gauges are easy to read, controls easy to reach. The large steering wheel has multifunction switches. For the long workday, Medium Duty comfort means business.

...less
LIVE-DRIVE POWER TAKEOFF PROVISION WITH MOBILE MODE

The Ford TorqShift® HD 6-speed automatic with available live-drive power takeoff (PTO) provision* includes stationary and mobile modes for diesel and gas engines. An output PTO gear connects directly to the transmission's torque converter impeller hub to allow Live Drive to power the PTO anytime the engine is running, whether the truck is moving or stopped. Split-shaft capability (diesel only) allows a customer to install a SplitShaft Gearbox attached to the output shaft of the transmission which provides torque to 2 separate PTO outlets, giving you the ability to power two separate accessories when the truck is in stationary mode.
...less
*Requires aftermarket power takeoff (PTO) accessory.
Vehicle shown with aftermarket equipment.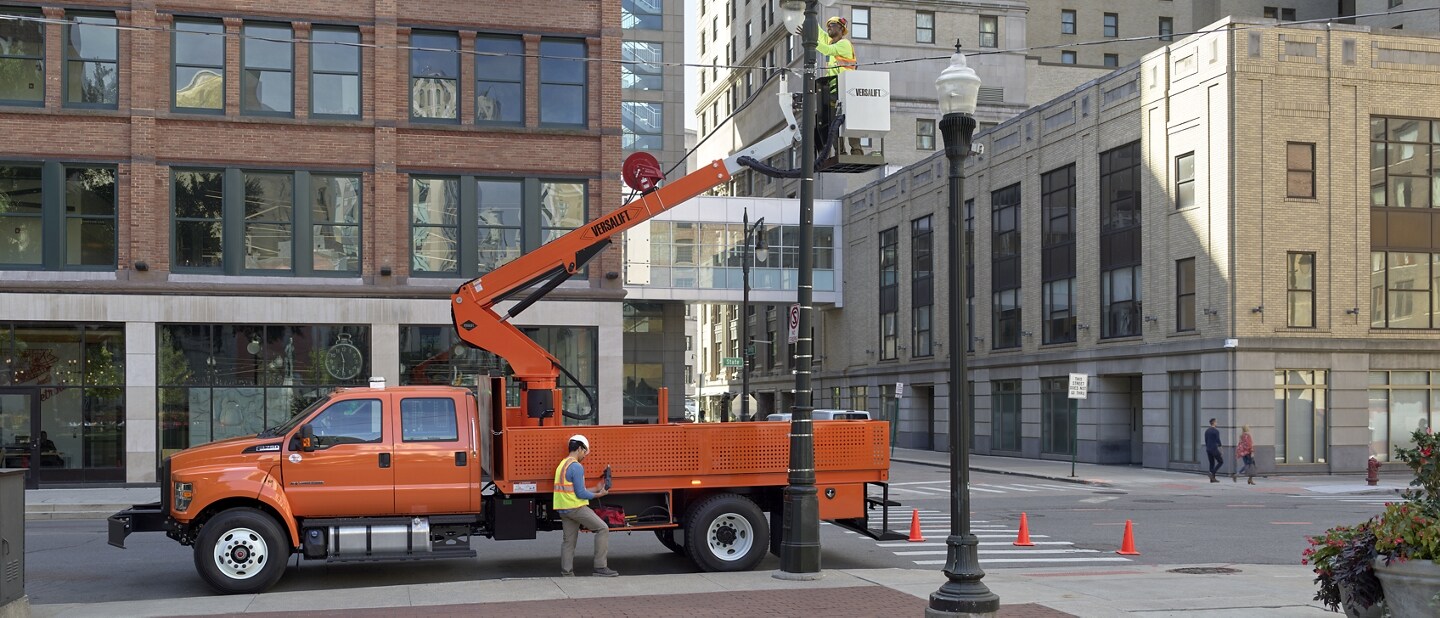 DRIVER-ASSIST TECHNOLOGY PACKAGES
The 2021 Ford F-650 and F-750 Medium Duty trucks are equipped with available driver-assist technology features* to help you feel comfortable and in control. Features like hill start assist are standard on all models, while the available driver-assist technology package includes Pre-Collision Assist with Automatic Emergency Braking, Auto High-Beam Headlamps, Lane-Keeping Alert, and more. Ford F-650/F-750 driver-assist technology features are designed to help you be aware and alert you on the road ahead. **
...less
*Driver-assist features are supplemental and do not replace the driver's attention, judgment and need to control the vehicle.
**Feature availability varies by vehicle.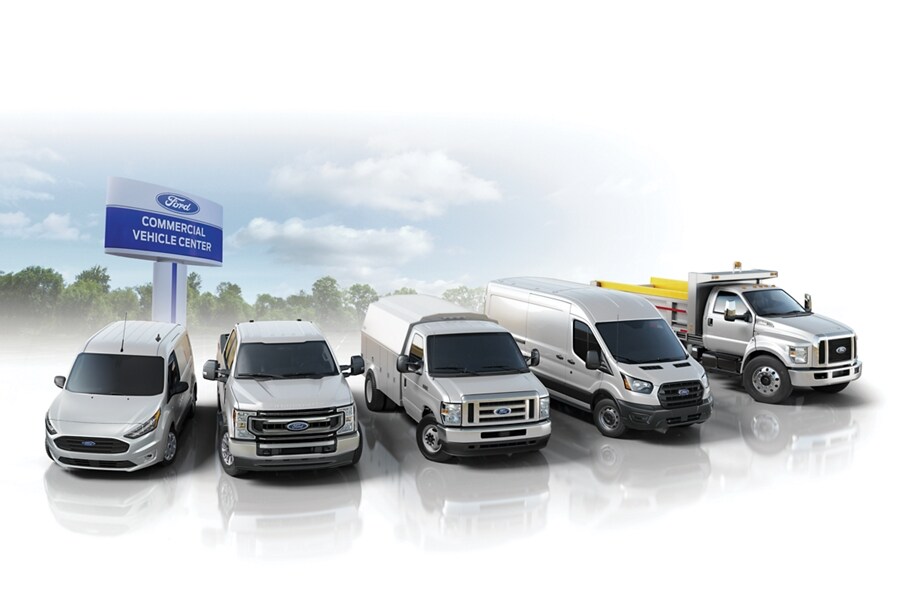 COMMERCIAL VEHICLE CENTER

Over 600 dealers in our extensive nationwide network are specially trained and equipped to sell, service and finance the complete line of Class 1-7 Ford commercial vehicles. Let a Ford commercial dealer show you all the exceptional services available to your business.
...less
Computer-generated image shown. Available features and aftermarket equipment shown.
CONVENIENT AND EASY UPFITTING

F-650 and F-750 trucks feature a work-ready frame developed with leading upfitters to accommodate vocational bodies requiring few or no modifications. This collaboration resulted in components such as fuel tanks, wiring harnesses and diesel exhaust fluid reservoirs located under the cab. Choose from 36 standard clean CA offerings ranging from 72 to 207 inches. Available Upfitter Interface Module (UIM) allows you to develop "smart" logic controls for your final-stage installed equipment – allowing you to be confident in controlling unique upfit functions.
...less
FORD COMMERCIAL SOLUTIONS

We've engineered manufacturer-grade commercial tools in conjunction with the Ford vehicles that make up your fleet. Our software and hardware work seamlessly with your vehicles to help you solve problems, optimize your fleet and keep your operations running smoothly. Ford Telematics™ and Ford Data Services™ give you the power of choice to run your business how you want.
...less
OPTIMIZE YOUR FLEET OPERATIONS WITH FORD TELEMATICS™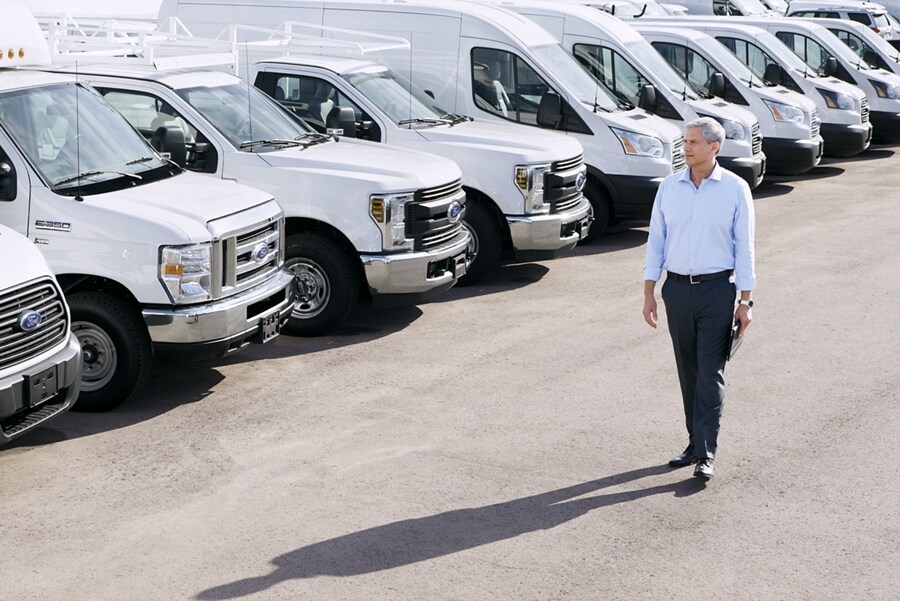 Help improve your business operations with Ford Telematics™ software that delivers manufacturer-grade information, insights and solutions right to your fingertips. Key benefits include:
Improve asset utilization through GPS tracking 
Maximize vehicle availability with Vehicle Health Alerts and service reminders
Optimize your running costs by monitoring fuel consumption
Protect your fleet with notifications that can help you react quickly
Improve driver behavior by receiving insights into driver performance 
For more information, please call 1-833-811-3673, email FCS1@ford.com or visit commercialsolutions.ford.com.

...less
ACCESS VEHICLE DATA WITH FORD DATA SERVICES™
Gain seamless and secure access to your vehicle data through our open platform, the Transportation Mobility Cloud (TMC). Key features include:
Always evolving: Access to new updates and vehicle signals when they become available
Security management: Our expertise provides industry-leading data protection
Third-party access: Easy API integration provides secure and easy access to processed vehicle data
Seamless integration: Designed for secure, open integration with third-party service tools

...less