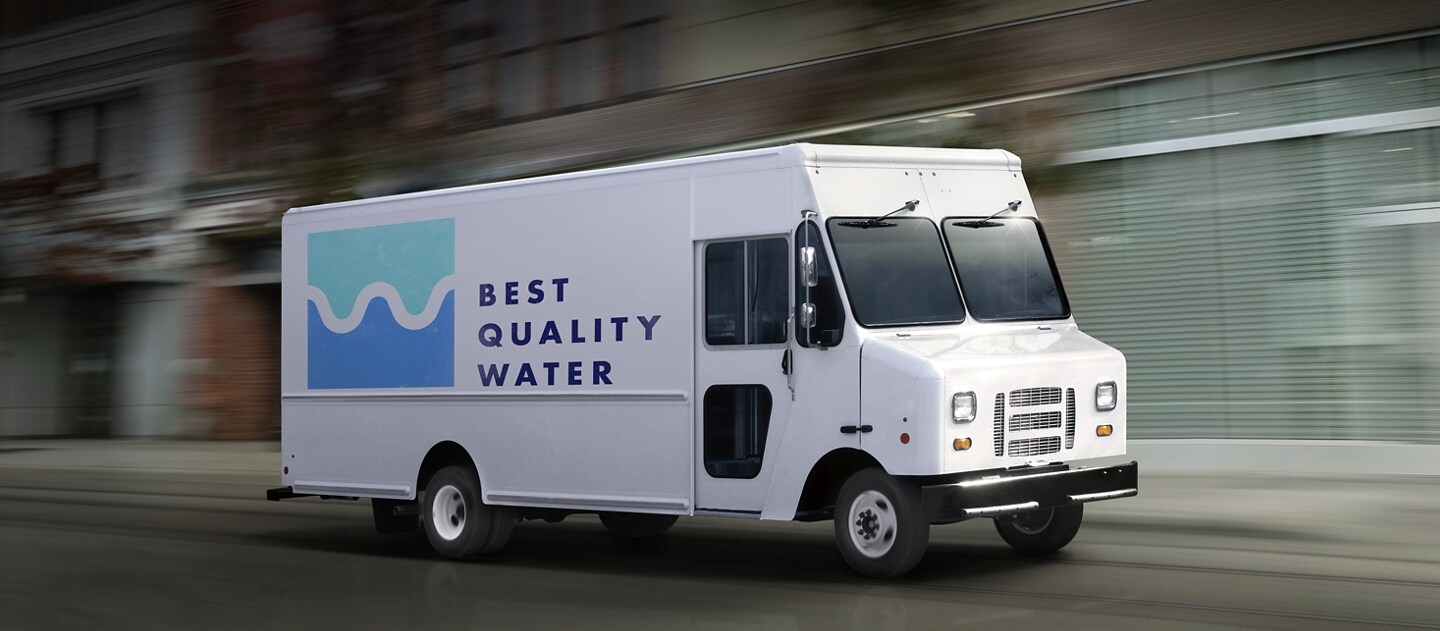 2024 FORD E-SERIES STRIPPED CHASSIS
Ford Pro™ - A One Stop Shop to Help Accelerate Your Business's Productivity
If you want to maximize productivity and growth, Ford Pro can help. With cloud-based software, service, flexible financing options and cutting-edge charging solutions, get more out of your business - regardless of the size of your fleet today or tomorrow.
...less
E-Series Stripped Chassis Models
2024 E-350 Stripped Chassis

Need high capability and performance for basic delivery applications? Look no further than the E-350 Stripped Chassis.

The E-350 offers three wheelbases and two GVWRs, as well as a standard Performance-rated 7.3L V8.

Three wheelbases: 138, 158, and 176 inches. GVWRs: 11,500 and 12,500lbs.

...less

2024 E-450 STRIPPED CHASSIS

The 2024 E-450 Stripped Chassis is built for delivery, with two GVWRs available in 14,000-lb. or 14,500-lb. as well as the standard Premium-rated 7.3L V8 engine.

Two wheelbases: 158 inches and 176 inches. GVWRs: 14,000 lbs. and 14,500 lbs.

...less
THE ENGINE THAT POWERS YOUR BUSINESS

The E-Series Stripped Chassis offers a 7.3-liter V8 Premium gas engine to get your business moving. Pair the V8 Premium engine with a 6-speed heavy-duty automatic transmission and offering upwards of 445 cubic inches of displacement for impressive power.

...less

7.3 LITER PREMIUM-RATED ENGINE

The power behind the stripped chassis. This standard engine is paired with a TorqShift® g-speed automatic transmission for a powerful 325 horsepower and 450 lb.-ft. torque rating while maintain a low 3,750 rpm. * The 7.3L V8 engine generates the raw power and durability required for the heavy-duty applications typical of a Ford Stripped Chassis. ...less

TORQSHIFT® SELECTSHIFT® 6-SPEED WITH TOW/HAUL MODE

The Ford TorqShift® SelectShift® 6-speed automatic transmission is designed for rugged commercial-duty applications. The SelectShift feature includes progressive range select (for overdrive lockout) plus full manual. And the Tow/Haul mode automatically compensates for grade and load conditions, delaying transmission upshifts to help reduce the frequency of gear hunting. ...less
CONFIDENCE-DRIVING TECHNOLOGIES
TRACTION CONTROL
Standard on the 2024 E-350 and 2024 E-450 Stripped Chassis, traction control helps maintain your vehicle's grip on the road in unfavorable weather conditions. When the system senses a loss of traction, it applies selective braking in order to keep your wheels from excessively spinning and help maintain traction.39
...less
ELECTRONIC STABILITY CONTROL
Electronic stability control (ESC) helps keep you and your business firmly on the road, even in rough conditions. Using information from steering wheel and acceleration sensors, ESC can sense when you start to lose control or traction. When the system senses a loss of traction, it automatically applies selective braking to help prevent your vehicle from sliding sideways and skidding.39Standard on the 2024 E-350 and 2024 E-450 Stripped Chassis.
...less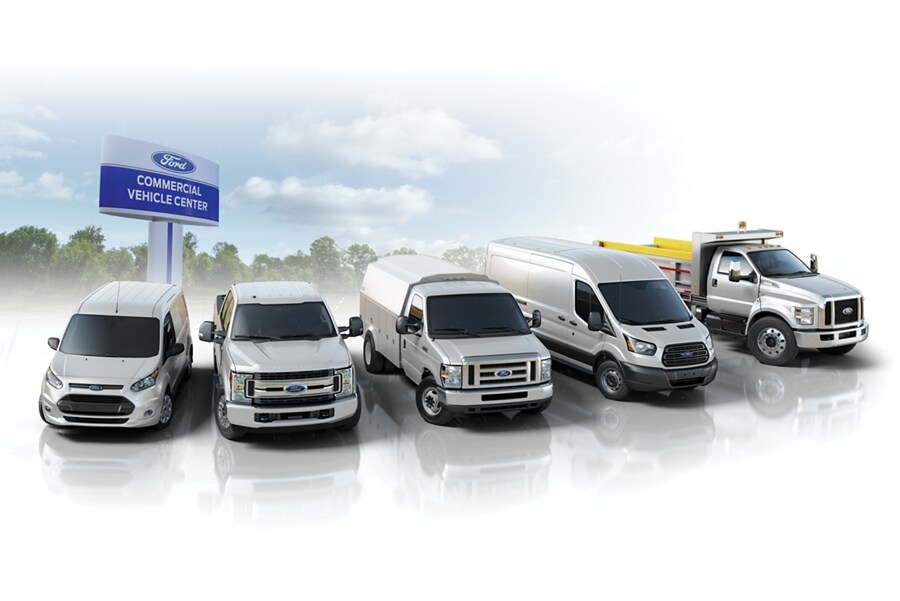 COMMERCIAL VEHICLE CENTER
Over 600 dealers in our extensive nationwide network are specially trained and equipped to sell, service and finance the complete line of Class 1–7 Ford commercial vehicles. Let a Ford Commercial Vehicle Center Dealer show you all the exceptional services available for your business.
...less
FORD PRO™
We've engineered manufacturer-grade commercial tools in conjunction with the Ford vehicles that make up your fleet. Our software and hardware work seamlessly with your vehicles to help you solve problems, optimize your fleet and keep your operations running smoothly. Ford Pro™ Telematics* and Ford Pro™ Data Services give you the power of choice about how to run your business.
...less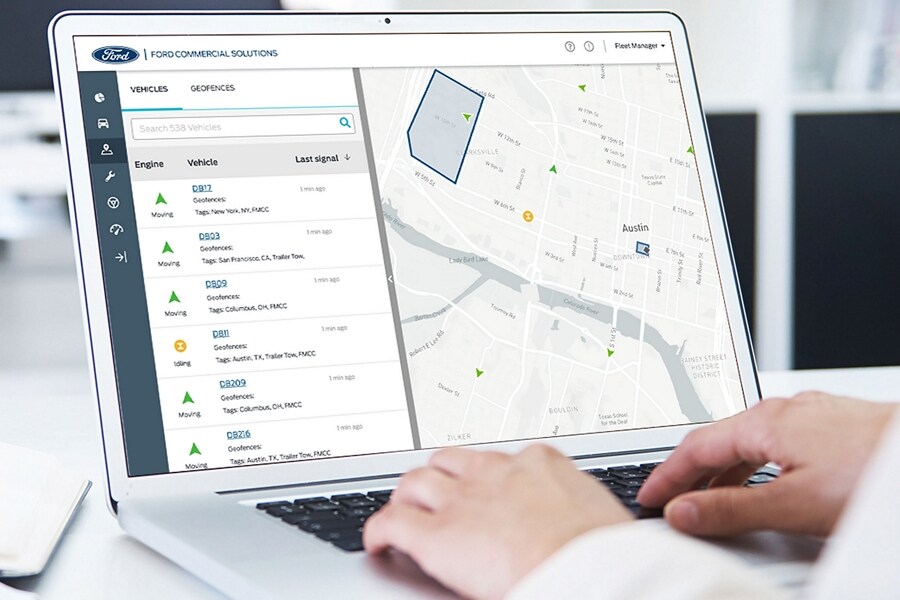 OPTIMIZE YOUR FLEET OPERATIONS WITH FORD PRO TELEMATICS
Help improve your business operations with Ford Pro Telematics™* software that delivers manufacturer-grade information, insights and solutions right to your fingertips. Key benefits include:
Improve asset utilization through GPS tracking
Maximize vehicle availability with Vehicle Health Alerts and service reminders
Help improve driver behavior by receiving insights into driver performance.
Protect your fleet with notifications that can help you react quickly
Help optimize running costs by monitoring fuel consumption.
For more information, please call 1-833-811-3673, email FCS1@ford.com or visit commercialsolutions.ford.com.
...less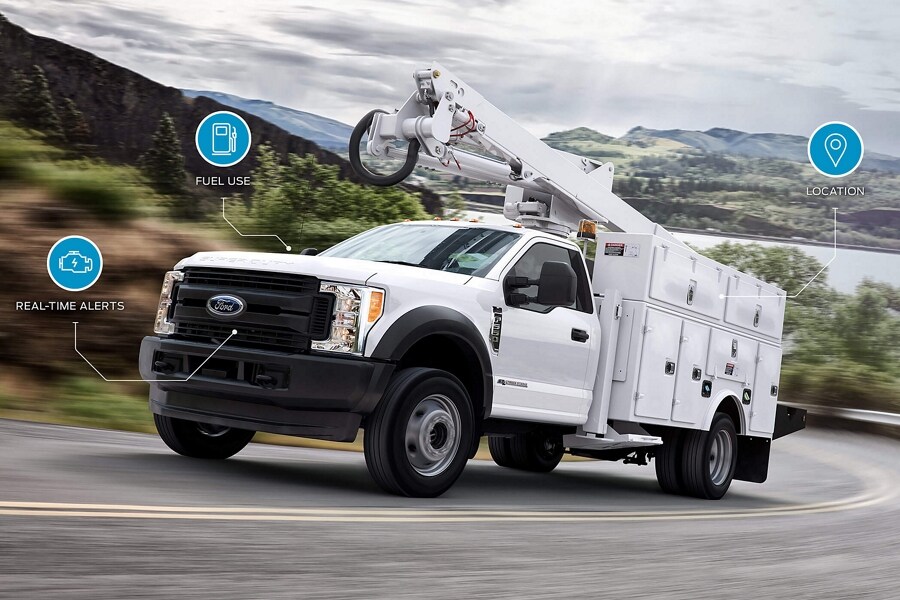 ACCESS VEHICLE DATA WITH FORD PRO DATA SERVICES
Gain seamless and secure access to your vehicle data through our open platform, the Transportation Mobility Cloud (TMC). Key features include:
Always evolving: Access to new updates and vehicle signals when they become available
Security management: Our expertise provides industry-leading data protection
Third-party access: Easy API integration provides secure and easy access to processed vehicle data
Seamless integration: Designed for secure, open integration with third-party service tools
...less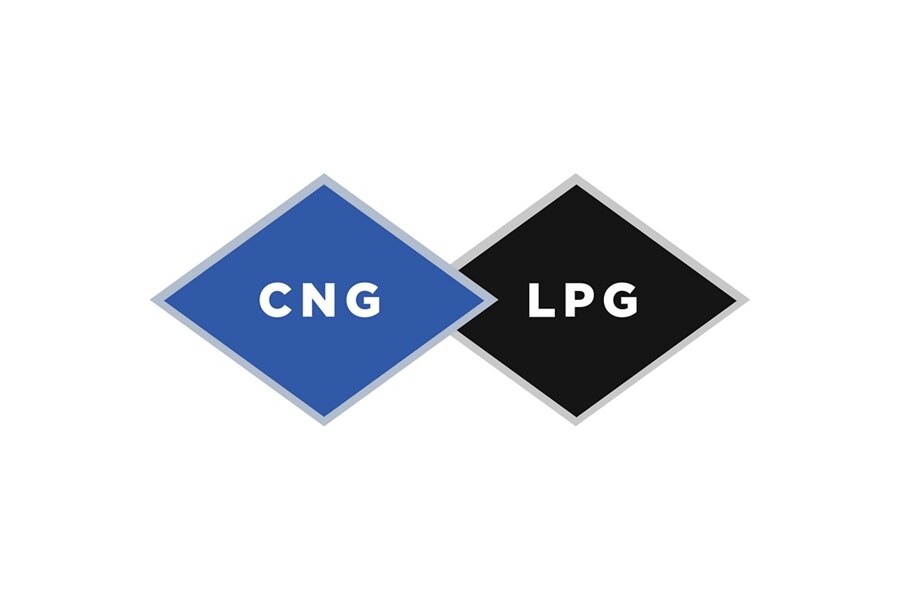 CNG/PROPANE GASEOUS ENGINE PREP PACKAGE
The available CNG/Propane Gaseous Engine Prep Package for power conversion to compressed natural gas (CNG) or propane autogas is available on 2024 E-Series engines at the time of order. Included are hardened engine intake valves, exhaust valves and valve seats. *
...less
*Vehicle will be equipped with the standard factory gasoline fuel system. This package does not include compressed natural gas/propane fuel tanks, lines, etc. See your Commercial Vehicle Center Dealer for details.